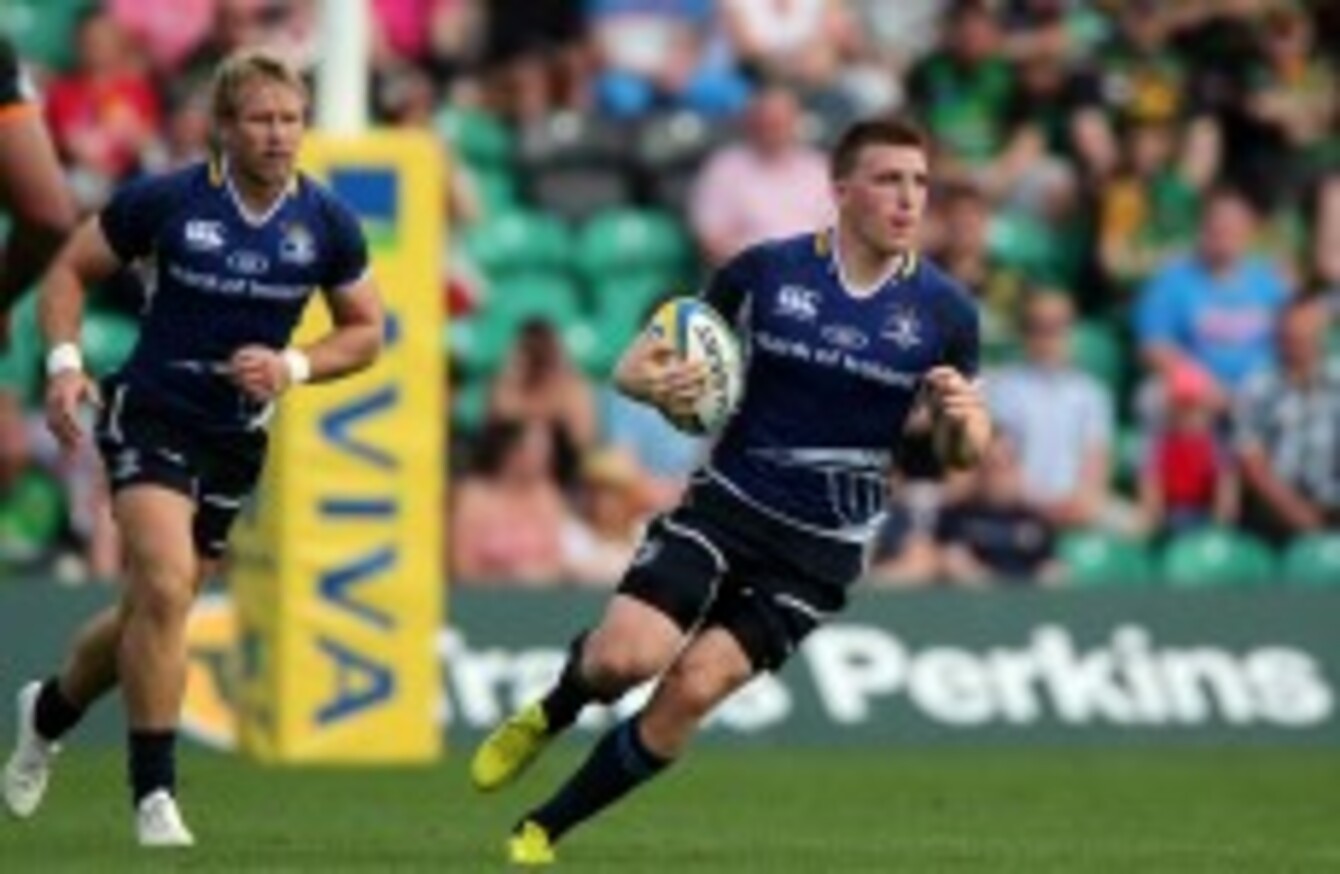 Image: ©INPHO/Dan Sheridan
Image: ©INPHO/Dan Sheridan
THE BEAUTY OF the IRFU's player welfare program is that it forces the four provinces to throw its most promising youngsters in at the deep end.
Recent years have revealed Leinster to be the standard-bearers in this regard and one of the academy's most promising prospects now feels better prepared than ever before to step alongside the big boys.
Andrew Conway has been snapping at the heels of the match-day 23 for almost three years now.
When fit, he has lived up to even his eye-catching blue and silver boots; showing some blazing bright flashes of ability to get the crowd onto its feet. But a blend of untimely knocks and Ireland under-20 commitments means the summer of 2012 has been his first opportunity to get fully fine- tuned before the league kicks off.
"I'm quite happy with how the pre-season went." Conway says as he stands upright, bright and confident in the hall of Leinster's new facility at UCD.
"It's probably the first time I've had a proper pre-season and got the five, six or seven weeks under my belt and injury free so I'm raring to go."
With Luke Fitzgerald and David Kearney out through injury, he may never get a better chance to make his mark – and the hard ground of early September will suit his electric pace.
Even withstanding those factors; the opening weeks of the season provide perhaps the best opportunity of a squad breakthrough. More even tham the Six Nations period when those culled from the international side often allowed line-out for their province.
Conway will be desperate to force his appearances tally into double figures this year. It is a feat he has, so far, fallen short of in the two full seasons since Michael Cheika blooded him against this evening's opposition. He hasn't scored a competitive try for Leinster in 18 months, but after grounding a score in the 10-10 draw with Sale Sharks, his expectations are on the rise again.
"I got to play against Northampton and Sale, (but) haven't played an 80 yet which obviously I hope to do this week providing I'm picked and then kick on and put my hand up for selection over the next couple of weeks."
With the Llanelli Scarlets also providing Leinster's opposition in the Heineken Cup pool stages. The incentive on the trip to Wales for players of Conway's stature is clear: a big performance on TG4 could easily lead to a reward when Sky Sports 1 come calling.
"We'll play the Scarlets four times this year," nods Conway, "so we'll be seeing eachother and testing each other out this week; seeing where improvements have come over the summer."
Cut-and thrust
Now though, the summer is at an end. It's not a season-change that annoys the 21-year-old. The drop in temperature means the tough base fitness work can now be punctuated by the cut-and-thrust, the nerves and adrenalin of a proper competitive game.
"You're running around in pre-season," he says, relieved to intoning a past tense, "you're hitting the gym early morning and it's all just rolling into one big sore body so you're just looking forward to getting games.
"The last two weeks have been great just to get back out on the pitch, get a bit of contact and play in front of a bit of a crowd.
"Hopefully this week's the same."