Liveblog
Full-time: Pumas 24-28 Emerging Ireland
Afternoon!
Hi everyone, and welcome to our live coverage of Emerging Ireland's second fixture of their South African voyage. The young tourists are in Bloemfontein today to take on the Currie Cup-champion Pumas, and we'll have live updates from kick-off at 4pm.
Team news, including one change to the starting side named by Simon Easterby yesterday, on its way in a moment.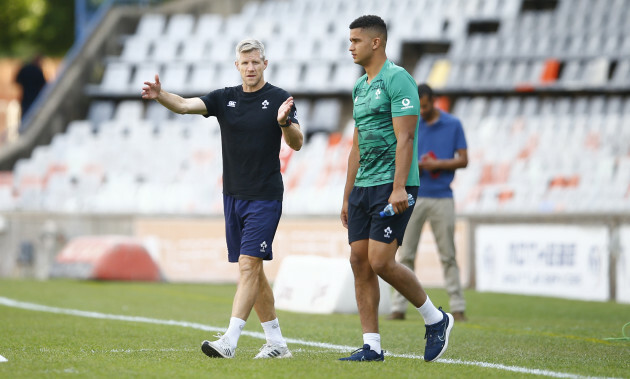 Source: Steve Haag/INPHO
Team news
So, as mentioned above, Emerging Ireland have been forced into one change: Scott Penny replaces John Hodnett at openside to make his second start of the tour, while the bench remains unchanged.
Munster's Hodnett has a knee complaint but the Irish setup are hopeful he can feature in the final game of the tour.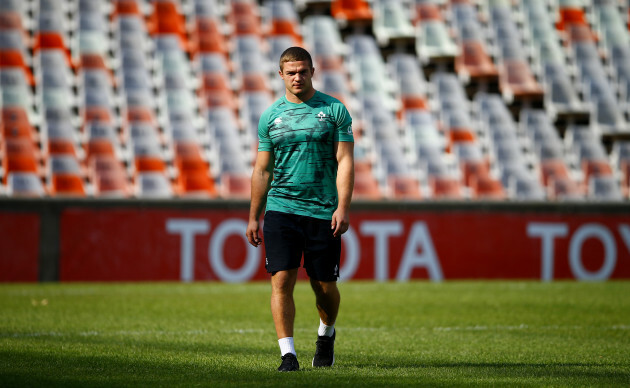 Source: Steve Haag/INPHO
Here's how Easterby's men will line up in about 20 minutes' time:
Emerging Ireland team to play Pumas
15. Chay Mullins (Connacht/IQ Rugby)
14. Ethan McIlroy (Ulster/Ballynahinch)
13. Antoine Frisch (Munster)
12. Cathal Forde (Connacht/Corinthians)
11. Andrew Smith (Leinster/Clontarf)
10. Jake Flannery (Ulster/Ballynahinch)
9. Michael McDonald (Ulster)
1. Callum Reid (Ulster/Banbridge)
2. Diarmuid Barron (Munster/Garryowen)
3. Roman Salonoa (Munster/Shannon)
4. Cormac Izuchukwu (Ulster/Ballynahinch)
5. Brian Deeny (Leinster/Clontarf)
6. Cian Prendergast (Connacht)(captain)
7. Scott Penny (Leinster/UCD)
8. James Culhane (Leinster/UCD)
Replacements:
16. Dylan Tierney-Martin (Connacht/Corinthians)
17. Josh Wycherley (Munster/Young Munster)
18. Sam Illo (Connacht/Buccaneers)
19. Tom Ahern (Munster/Shannon)
20. David McCann (Ulster/Banbridge)
21. Ben Murphy (Leinster/Clontarf)
22. Jack Crowley (Munster/Cork Constitution)
23. Shane Daly (Munster/Cork Constitution)
Streaming link
The game, by the way, is free to watch at this link, via the IRFU — just in case you missed it.
Otherwise, it's Gavan Casey here and I'll keep you up to speed in written form with goings-on from 4pm. What a treat.
Kick-off
1′ -They're under way in Bloemfontein, Jake Flannery with the kick-off.
2′ - Cormac Izuchukwu comes through the middle of a maul but manages to collapse it illegally, conceding a penalty which takes Pumas into the Irish half.
Emerging Ireland scramble in defence in an attempt to stifle a sharp-looking Pumas attack but a defender — I didn't see exactly who — knocks on a loose ball on the ground.
Scrum Pumas between the Irish 10′ and 22′.
4′ - Pumas reverse play off first phrase from the scrum but skipper Cian Prendergast and left wing Andrew Smith, and Ireland sevens player, bash the right wing into touch.
From the resulting lineout, Pumas are wild and Antoine Frisch bursts through midfield, deep into host territory.
Flag
Try Emerging Ireland!
7′ – TRYYYY! Pumas 0-7 Emerging Ireland: Sevens World Cup bronze medallist Chay Mullins slices through the Pumas 'D' to jot one down.
After Frisch's initial break, Prendergast was stopped just shy of the line. Callum Reid was next up and, after another phase, the tourists go wide to send Mullins in under the sticks. Jake Flannery adds the afters.
11′ - Emerging Ireland — I'm just gonna call them Ireland from now on if it's all the same to you? — are back on the Pumas five-metre line with a penalty. They opt to tap and go.
Flag
Try Emerging Ireland!
12′ – TRYYY! Pumas 0-14 Emerging Ireland: It's James Culhane who crashes over after Ireland tap and go, and Scott Penny feeds him with a clever reverse pass. Flannery good with the boot again.
This is going to be ugly. It's a liveblogger's nightmare trying to keep up with this, I'm not going to lie to you.
13′ - Brilliant turnover by Cian Prendergast with the jackal just outside his own 22′, earning an Irish penalty.
TMO now reviewing potential foul play by the Pumas lock in his attempted clear-out.
13′ - After an eternity, the referee brings the sanction down from red to yellow, which is a bit of a pisstake.
Lock Shane Kirkwood went in with a shoulder and a tucked arm and made definite direct contact to Cathal Sheridan's head/neck area.
Ref says the degree of danger was lowered by the fact that Kirkwood attempted the clear-out from a short distance away from Sheridan.
It looked like a stonewall red to me, to be honest, but equally, to see Pumas try to see out over an hour with 14 men would have made for tougher viewing.
Flag
Try Emerging Ireland!
16′ – TRYYY! Pumas 0-21 Emerging Ireland: Ah, it's great play by Ireland who take a quick lineout and go the width of the pitch on the attack. Ethan McIlroy is halted on the right edge but off the resulting phase, Jake Flannery makes a brilliant dart from 30 yards out and takes it to the house, slaloming his way through the Pumas' rearguard.
The Ulster 10 converts his own try.
20′ - There's a pause, here, for another TMO review: André Fouché has scored for the 14-man Pumas, and it's been awarded as a try on-field, but there may be a knock-on in the build-up.
Flag
Try Pumas!
20′ – TRYYY! Pumas 5-21 Emerging Ireland: Try given, and rightly so. Fair dues to Pumas, as Fouché burrows over in the left-hand corner despite their man disadvantage.
Conversion flashes across the face of the posts.
Serious wheels on this youngfella, Jake Flannery.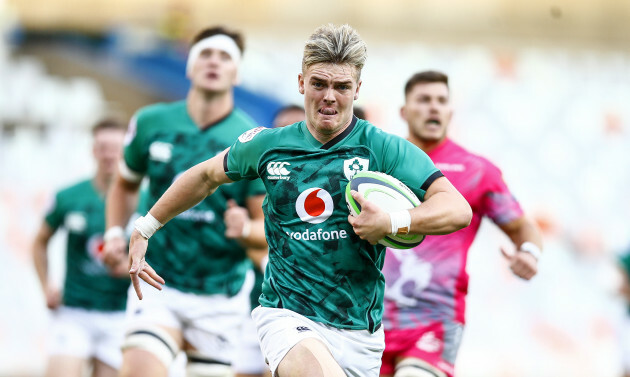 Source: Steve Haag/INPHO
28′ - Scrappy period. Pumas' scrum is holding up alright, with Callum Reid under a bit of pressure — but nothing too bad, either.
Their lineout, however, is a bit hit and miss.
30′ - Worth noting that the game kicked off three quarters of an hour ago and we're still only 29 minutes in.
Flag
Try Pumas!
30′ – TRYYY! Pumas 12-21 Emerging Ireland: Hey, there's a bit of life in the old cat, yet! Pumas' pack has kept the pace with Ireland's in spells and they've mauled over, here, in the left-hand corner. It's Eddie Swart who dots down Tinus de Beer adds the conversion from the sideline.
I may have been a bit too dismissive of the South Africans earlier. Game on?
36′ - Soft hands from Ireland who are still producing some nice attacking moments when they get going. Izuchukwu is hooked down high outside the hosts' 22′ and Flannery prods Ireland closer to the line.
39′ -The Irish attack, and a sustained spell of pressure inside the Pumas' five, breaks down as Jake Flannery makes the ill-advised decision to crossfield kick from right to left. The ball sails over Chay Mullins into touch and Flannery apologises to his teammates. He didn't have an advantage.
40′ - Pumas fluff their lines and Ireland win a penalty. Flannery puts them back into the corner.
40′ - Pumas hold the line and rip the ball back as Ireland's attacking maul dissolves.
Plenty to think about for Simon Easterby and co. at the break. This one is far from dead.
Flag
Half-time: Pumas 12-21 Emerging Ireland
Catch ye in a few!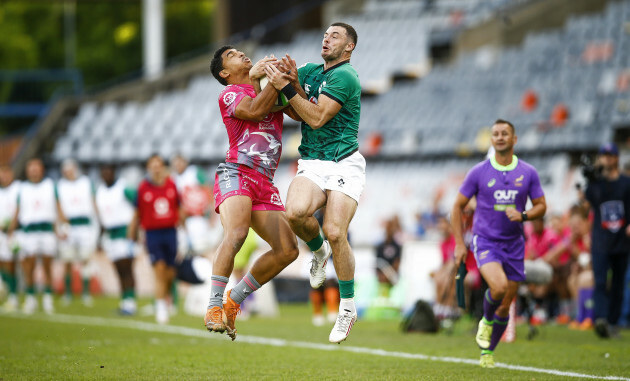 Source: Steve Haag/INPHO
Second half
41′ - Tinus de Beer gets us back up and running.
42′ - Pumas get a lineout near the Irish five after a clearance by Flannery but the lineout goes abegging. Michael McDonald gets Ireland up nearer to halfway with a box kick.
43′ - Roman Salanoa, who has been everywhere, wins a great jackal turnover on the ground as Pumas began to motor back in the Irish half.
47′ - It's been a manky second half, filled with knock-ons from either side.
A few Irish lads blowing a bit in the heat — it's about 28 Celsius locally at 6:20pm.
48′ - Pumas win a big scrum penalty in their own half, cue major celebrations and a little bit of pushing and pulling of Michael McDonald.
De Beer bangs them up to the Irish 10′.
Pumas' attack breaks down after a few passes wide.
Ireland have made a couple of changes, meanwhile, at hooker and tighthead.
50′ - Pumas win a penalty in the Irish half as Ireland are pinged for not rolling away but De Beer's kick for touch goes dead instead. Irish scrum on their own 10′.
This is — perhaps understandably given the scratch Irish team, the temperature and the overall weirdness — woeful stuff.
Free-kick to Pumas at scrum-time, almost to accentuate that point.
51′ - Pumas see their free-kick won turned into a penalty conceded for more pushing and shoving. Incredible.
53′ - Ben Murphy is on at nine and doing his best to inject a bit of impetus back into his side. Scott Penny is putting in a shift, too, despite his late-notice start.
Flag
Try Emerging Ireland!
53′ – TRYYY! Pumas 12-28 Emerging Ireland: Finally, Ireland put together some phases and it's a wonderful score, finished off by James Culhane (his second). There was a brilliant offload in the build-up by Izuchukwu, who kept the move flowing with some lovely hands.
Flannery does the rest from point-blank range and Ireland have scoreboard control once more.
54′ - Poor by Ireland on the restart as their turned over as soon as the ball is taken to ground.
Penalty advantage to the Pumas on the Irish 10′.
Ben Murphy makes a brilliant interception and he would have been in from all of 75 yards, but it's taken back for the Irish infringement at the breakdown.
56′ - De Beer takes us up to the Irish 22′ but Izuchukwu steals the lineout — he's been exceptional.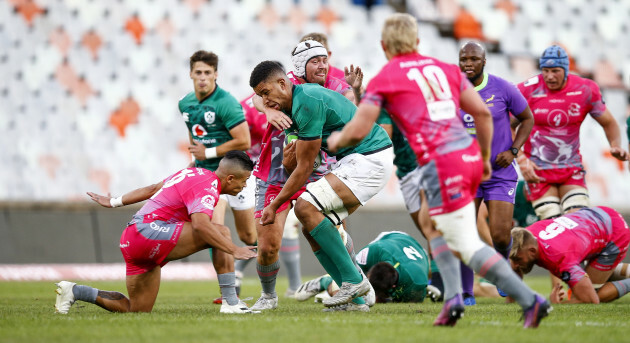 Source: Steve Haag/INPHO
Flag
Try Pumas!
60′ – TRYYY! Pumas 17-28 Emerging Ireland: Oh, what a score by the hosts!
Ireland win a free-kick at scrum time in Pumas territory and opt to scrum it again. This time, though, Pumas get a huge shove on and win it against the head with a penalty advantage.
They zip it out left and Sebastian de Klerk explodes down the edge after a brilliant offload by Giovan Snyman.
Wonderful rugby football all around by the South Africans.
64′ - Much better stuff again, now, in absolute fairness to both teams. The game has been helped by several replacements freshening things up, particularly on the Irish side.
Pumas refuse to give up and even as Ireland go close again, they win a brilliant jackal turnover near their own line.
Flag
Try Pumas!
65′ – TRYYY! Pumas 24-28 Emerging Ireland: It's the outside centre De Klerk again, moonlighting as left wing and bolting around Ethan McIlroy to take it home. Wow — the comeback is on for the hosts!
De Beer converts from the touchline and it's a four-point game!
71′ - Scott Penny with what feels like a crucial turnover on the ground near midfield as Ireland found the pressure cranking up. Penalty, and Jake Flannery takes them into the Pumas' 22′.
Replacement hooker Dylan Tierney-Martin, however, knocks on as he looped around the lineout.
Seven handling errors by Emerging Ireland today versus three the last day — against better opposition, obviously.
77′ - Really good kick from midfield by Frisch, who's shown several moments of quality, and it's touched by a Pumas hand before it finds touch. Irish ball in the Pumas' 22′.
78′ - An Irish attack is thwarted by a foot in touch and Pumas start marching off their own ball.
80′ - Wow. Into the final minute and Pumas launch another fast-paced attack down the left again. De Klerk, once more, is central to it. An offload inside is almost intercepted by the covering Ben Murphy but he can only bobble it into touch.
Last play, Pumas lineout exactly on the Irish 22′.
Flag
Full-time: Pumas 24-28 Emerging Ireland
A huge turnover on the ground by Ireland (I missed exactly who it was — apologies!). Antoine Frisch boots it into touch and the mild but notable celebrations from Ireland will tell you that they've just been in a serious game!
Thanks, folks!
Thanks a mill for joining us for live updates of what proved to be a messy, crazy, competitive battle between the Currie Cup champions and Simon Easterby's young guns.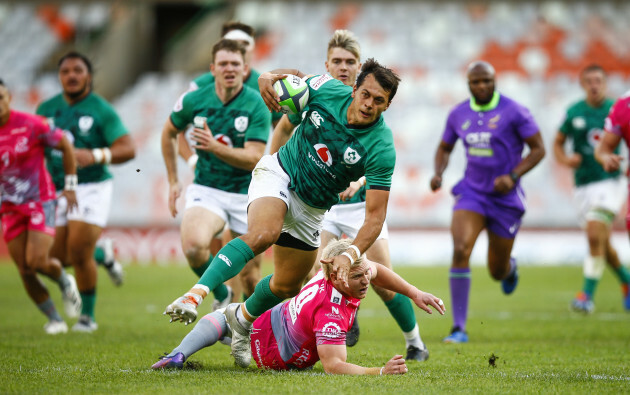 Source: Steve Haag/INPHO
Keep an eye on The42 for a full report which will follow this liveblog shortly. Plus, later on, Murray Kinsella will be on presser duty to gage the Irish reaction.
That's all from me. Take it easy.
Contribute to this story: