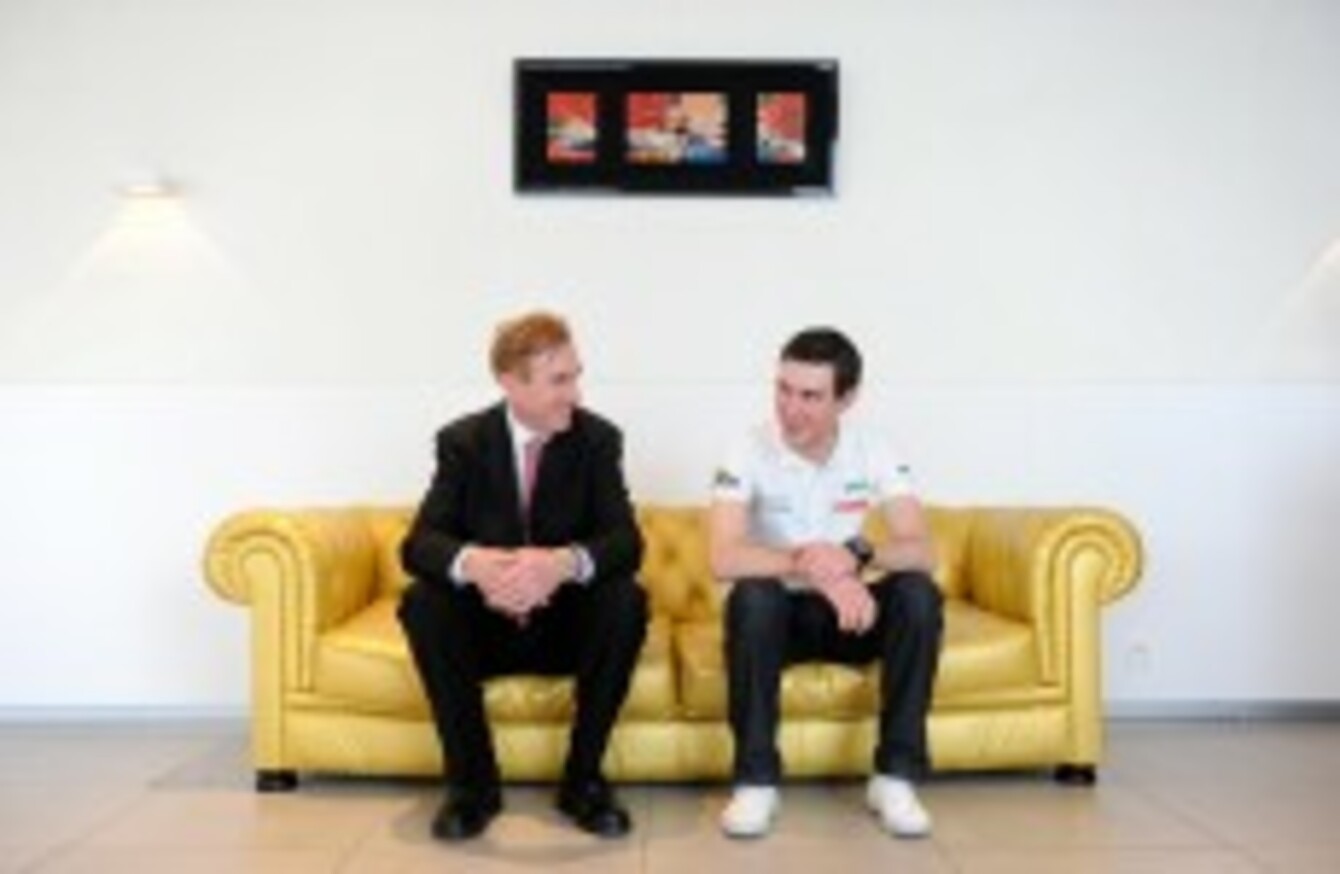 Sean Kelly pictured at the an Post Sean Kelly team launch on Thursday
Sean Kelly pictured at the an Post Sean Kelly team launch on Thursday
TIGHT FOR TIME and covering half of Gent whilst launching the An Post racing team this week.
Sean Kelly managed to put Belgium behind him for a few minutes chewing the cud with The Score.
So, once we had gotten all that nasty business about Alberto Contador out of the way, we got nattering about Irish cycling,
So, Sean, tell us about this An Post team.
We have the official press launch in Belgium today. We've already started racing of course, we were racing down in France in the tour of Besseges race. That was five days, it finished on Sunday last.
Now the launch today so we've a lot of press. Some from Ireland but also a lot from Belgium, cycling here is such a well followed sport it gets a lot of press coverage.
The Idea of the team is to develop Irish cyclists, is that right?
Yeah well that was always the idea, the reason we started the team in the beginning was for Irish riders; to give them an opportunity. a year or two year period to take them onto another level and to look after them really.
Before that, in years past, there was riders going away and going to teams in Italy and France and Belgium and not getting looked after.
They were getting maybe too much action for one month and nothing for the following month. So we decided there was a need there and we started the team. That's why we've been growing in stature every year.
There's been an awful long gap between real Irish success in cycling since the Hayday of yourself and Stephen Roche.
There was a long down-time after there was myself, Roche and Kimmage. And there was nobody there for a long time, you know. Cycling really dropped off the radar and then we started to come back with Nicolas Roche and now Dan Martin.
So we have a few more in big teams and also the an Post team.
Off the beaten track now, Sean. What's your favourite holiday destination, how do you realx and unwind? It's cold outside and we're looking for ideas.
Favourite holiday place? Eh, someplace in the sunshine anyway, not too far away. Mallorca, mainland Spain – anywhere it's 25 degrees.
That all sounds nice, would you eat some Paella while your there or what's your favourite food?
[No hesitation here] Pasta.
What kind of advice would you give to anyone who wants to undertake some long distance cycling?
Well, first of all you'd have to look at how many miles you can do per day, then per week. Then it's down to the individual, how long are they biking, is he used to biking or another sport.
They'd have to examine what the make-up of terrain he's going over. There's so much more to it than just saying '100 miles per day', where will you sleep for instance.
First and foremost you have to have the fitness, it's really, really important. You have to be ready for it and build up that condition. Because you're going to be doing something similar and repetitive over a long period of time.
Irish riders with the an Post team in Gent, Belgium this week. Stephen McCarthy / Sportsfile.
You were noted for your own mental approach to the sport, it's said you were willing to suffer, that's surely important too.
Well, it's different in competition. There is a winning aspect of it – chasing that finish line. When you're doing a charity cycle or a challenge, mentally it's more demanding to keep focused. It's so much more difficult because you're out there on your own, every day.
You don't have the same sense of achievement at the end of a day as you would finishing a race.
See Sport
Differently
Get closer to the stories that matter with exclusive analysis, insight and debate in The42 Membership
Become a Member
You're a Waterford man, are you following the hurling?
Not big time, I follow it a bit. But the problem is I'm in Ireland for a while and then I'm away again for four or five weeks at a time so I get clued-out on what's happening, especially during the winter.
[At this point we fill Sean on in the mini-drama surrounding the Deise: Eoin Kelly, John Mullane, that sort of thing]
Ah yeah, I heard about Kelly. I hadn't heard about Mullane, I've been in Belgium the last couple of days – ok, he's a big loss.
Back to the An Post team, what are your hopes for the season ahead?
Well, there's a number of riders on the team who we're hoping will win a number of races. The Irish guys, the like of (Sam) Bennett, if they ride anything like he can and if the winds are right he get can win race.
Bagdonas, who last year won the An Post ras, he should perform well this year because he was with us last year and he'll be stronger again this year. And we've a Belgian guy who's always winning races, every year he seems to win five or six.
And there's a few younger guys coming through. Amongst the Irish guys we have Sean Downey coming through. It's interesting to see how he'll go – it's his first year, he'll probably need a second year before he can really develop to be strong enough to win races at this level.
As you say, it's all about the development of these Riders.
The team is about taking young riders and taking them along for a two year period to see if they've got the talent. If they've got the talent they'll go on to the next rank.
How long have you been away and when do you hope to get back to Ireland?
Away since Tuesday, I haven planned going back yet, but hopefully over the weekend at some stage.
Great to talk to you, Sean. Thanks for your time.
Ok, bye bye.