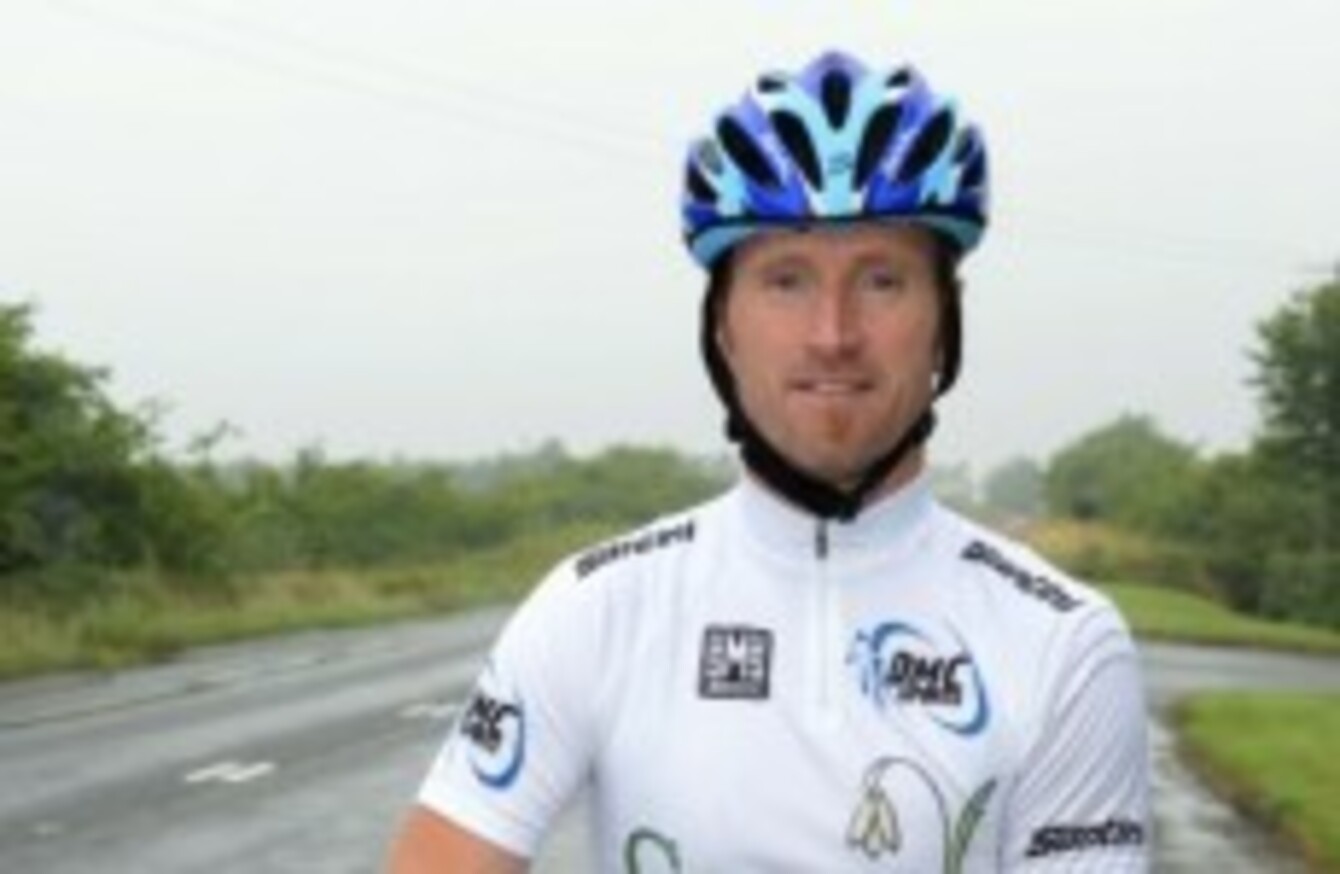 RICKY GEOGHEGAN IS one of six Irishman lining up in Trim, Co Meath this morning for an event regarded as one of the toughest endurance challenges in the world.
The Race Around Ireland is only in its seventh year but has gained quite a formidable reputation as a brutal test of mind and body – hence how just 15 souls will brave the event solo, 13 of which are men.
Geoghegan, from Meath, has been training for it almost two years and is no stranger to such madcap challenges.
In no particular order, he's the current record holder for Mizen to Malin on a road bike, a mountain bike, a hybrid bike with panniers while he has the record time for riding from the most easterly point in Ireland to the most westerly point.
He's ridden up and down the Hill of Tara 65 times non-stop on a mountain-bike, ridden through the night more times than he cares to remember, stays awake for up to 40 hours at a time and thinks nothing of logging 800 kilometres on the bike in a training week.
Winning the Race Around Ireland is his aim, despite having never done it before.
Suffice to say, he's a fairly ambitious type of individual – and a very generous one too as he's doing it while raising funds and awareness for the national suicide prevention and bereavement charity Console.
"I've been preparing for this for the last two years; I missed last year because two of my crew pulled out two days beforehand and with just three others available it became impossible," he said of last year's late withdrawal.
"But I kept focussed, I've trained hard and I'm looking forward to it."
The event starts at 3pm this Sunday and competitors must finish within 132 hours (5 and a half days).
He has five support crew members, all of whom have a very specific job. "We have a rota," outlines Geoghegan.
"There's a driver and a navigator working all the time and they'll typically do six-hour shifts before changing with two others.
"Then I'll have one or two floaters, helping with nutrition and food and whatnot but I don't stop for a sleep for two days…it's hard on the crew and very stressful," he added.
The challenge he faces himself, of course, is the most significant of all; 2,143 kilometres, as quickly as he can.
"The riders themselves aren't actually going that fast," he says, rather self-deprecatingly, "but with night-time navigation, the onus is on the driver and navigator so it's important to keep the crew fresh.
"I've been doing these races a while now and they're not too bad; when I started it was very stressful as there was no body of knowledge and it was new to the country.
"But in the last 18 months I've nailed the preparation and I've got things like diet right and how it works for an event like this."
Four days is the target, he says, and he made no secret of actually wanting to win.
"I'm aiming for the podium and if I can hold it together I'd be very disappointed not to be up there.
"But there are some really good guys; Donncha Cuttriss from Cork is going to be string. He's done it four times and has done the Race Across America while German Bernt Paul is a two-time winner."
To be in the shape to be able to compete, Geoghegan details some of the torture he's put himself through.
"With an event like this it's hugely psychological so getting used to night rides was a big thing initially, though now I'm so used to it I think nothing of it.
"I average about 3-400 kilometres cycling and I could be riding 30 hours a week, sometimes training twice a day, it's all psychological.
"That's why I've done all the challenges like the Mizen-Malin, you need to build that strength of character. That's why you have to get through. It won't just appear on the day."
If his attitude to that savage workload wasn't impressive enough, his approach to injuries is even more laudable.
"You manage them and get on with it.
"Okay, repetitive injuries tend to put riders out but broken bones are fine, guys would ride through that (Geoghegan rode for 400 kilometres with broken ribs in 2012 en route to sending the Mizen-Malin record).
"Tendon injuries are the worst because the pain is everywhere and you can't localise the pain."