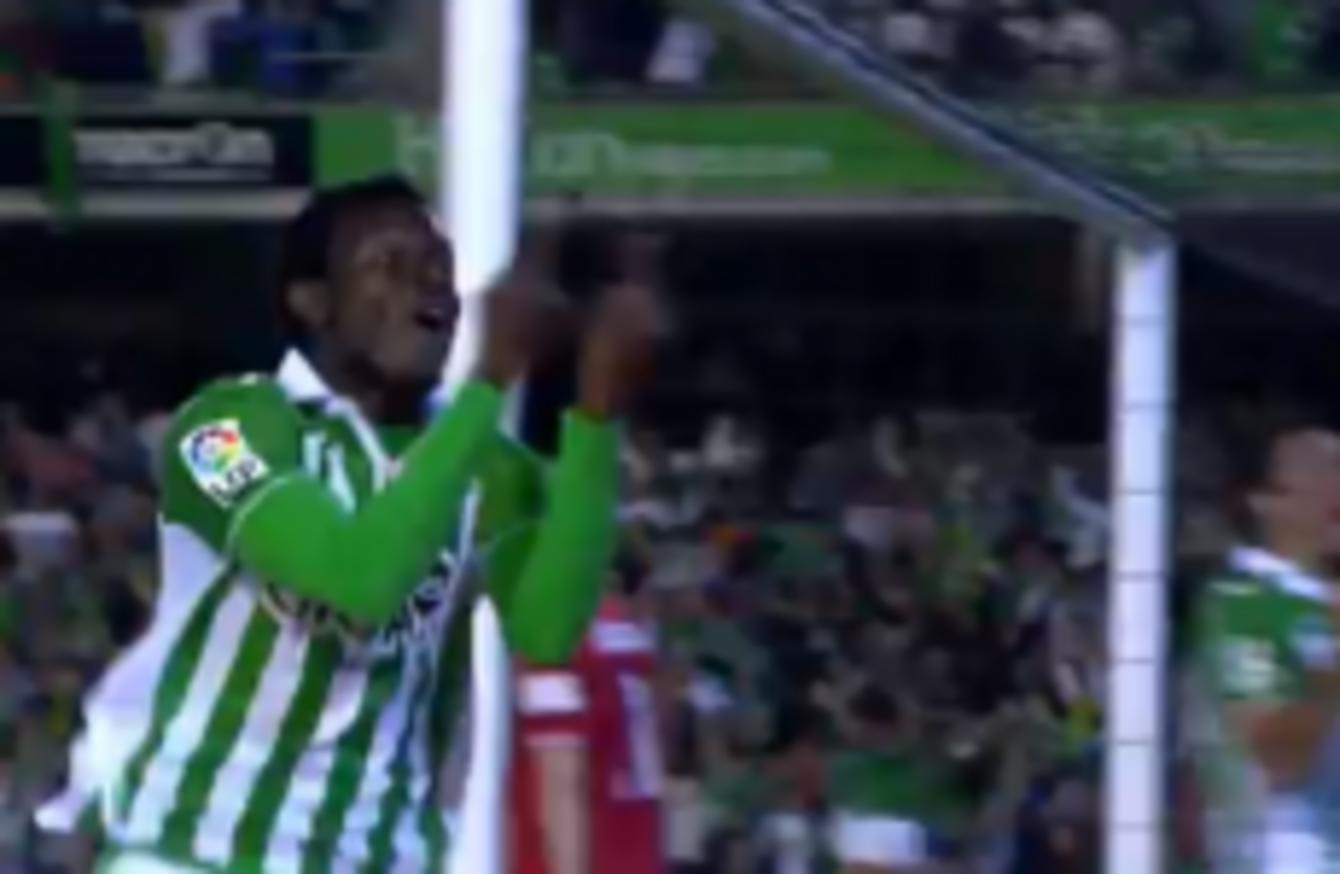 Image: YouTube Screengrab
Image: YouTube Screengrab
REAL BETIS MIDFIELDER Nosa Igiebor has claimed he was racially abused by his own supporters as he warmed-up during Friday's Seville derby against Sevilla.
The Nigerian came off the bench to score Betis's third goal as they recovered from 3-0 down to claim a 3-3 draw.
However, the 22-year-old celebrated his goal by raising the middle finger on both hands towards his own fans.
And, whilst he apologised for the gesture on Monday, he said it had been born out of frustration.
"I want to apologise to the fans for the gesture, which was not directed at them," he told Seville sport daily Estadio Deportivo.
"But I will not tolerate the racial abuse which I was receiving from some brainless fanatics. The act was one of frustration."
Racist abuse of black players remains a major issue in a number of grounds across Spain, with Barcelona defender Dani Alves describing the situation as a "lost war."

YouTube credit:
angelmantiene
Alves was abused during Barca's 1-1 draw with Real Madrid in their Copa del Rey clash at the Santiago Bernabeu in January, but no action was ever taken against Madrid by the Spanish Football Federation (RFEF).
"I know that things are being done to fight against this, but it still takes place," Alves said after that match. "For me, it is a lost war. I have been in Spain for 10 years and it has happened since the first day.
"It hasn't only happened in the Bernabeu, but rather in all the stadiums we visit."
The RFEF was fined 100,000 Swiss francs (£44,750, $88,000) for racist abuse directed towards a number of England players in a friendly at the Bernabeu in November 2004 and more recently were hit with a 20,000 euro fine (£17,000, $26,000) for chants directed by Spanish supporters towards Italian striker Mario Balotelli at last year's European Championships.