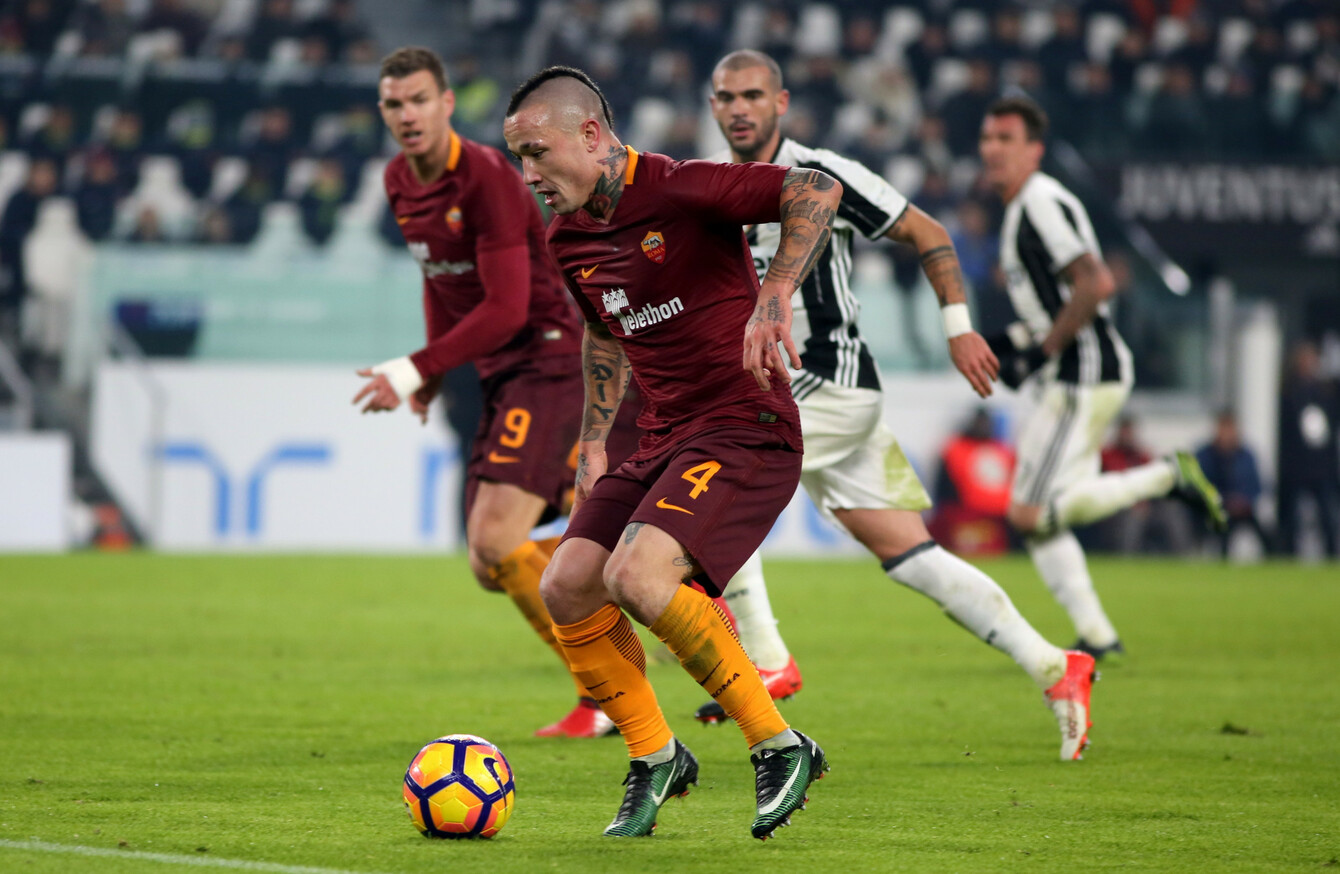 Image: Massimiliano Ferraro
Image: Massimiliano Ferraro
RADJA NAINGGOLAN HAS in recent times proven himself one of the most introspective and fascinating footballers in the sport today.
Roma's Belgian midfielder admitted at the end of last month that, in spite of the physical demands of his chosen profession, he both drinks and smokes, telling Belgian publication HLN: "I have never hidden my lifestyle and I'm not ashamed of it."
Indeed, the tattooed tough man hides little on either side of the whitewash, his interviews engaging and expletive, his opinions rarely diplomatic.
He openly detests Roma's Serie A rivals, Juventus, but only in his most recent tell-all – this time with the returning Roman publication Il Romanista – has he been asked to explain why, and perhaps more pertinently, as to whether he regrets some of his previous musings about the perennial Italian champions.
Suffice to say he didn't need to be asked twice.
"Never, I say what I think. It all started from my time at Cagliari: I saw on the pitch certain attitudes of players towards the officials, and the officials, to me, seemed a bit 'influenced.'
"When it then happened that, in a match against them, we conceded two penalties for fouls outside of the box, I said that the story is always the same, it never changes. And Juventus attacked me. I just answered."
It's then put to Nainggolan that he 'enjoyed' the goal he scored versus Juve in Roma's 3-1 victory over the eventual champions back in May.
The Belgian's reply was concise: "They called me a piece of shit for the whole game."
A couple of weeks later, Nainggolan took to Instagram to goad Juventus fans following their side's 4-1 Champions League final defeat to Real Madrid in Cardiff.
"I am in the training retreat with my national team, unfortunately others are already on vacation. There are those who are on retreat, those on vacation and those who had a day trip to Cardiff," he said during the live broadcast.
"I made this video to reply to some who had insulted me and talked beforehand – you don't do that. You never talk before the event.
"I just wanted to see if the same people who said those things would reply to me now. I made this video for the Juventus fans, but maybe it's too expensive to be connected this long. They already spent so much during the game.
"Three days ago you were bigging yourselves up, so what do you say now?"
Provided he's fit and selected, Nainggolan will do battle with the Old Lady, or his own personal Old Enemy, at Juventus Stadium on 23 December this year.
Elsewhere in his more recent Il Romanista interview, the 29-year-old said of pundits suggesting Roma's players were not behind their manager, Eusebio Di Francesco: "It's football, you know how it works. But whoever says we do not believe in him is talking shit."
Subscribe to The42 podcasts here: