Updated at 18.45
NOT THAT HE has any plans to retire, but whenever Raffaele Cretaro eventually decides to one day hang up his boots there is no question he will down as a bona fide Sligo Rovers legend.
With 508 appearances to his name, only Tony Fagan has played more times for the Bit O'Red, while he's also second on their all-time goalscorers list — behind Scot Johnny Armstrong — on 84.
Nicknamed 'the Tubbercurry Tornado', Cretaro has done what so many footballers can only dream of by achieving enormous success with his hometown club. During three spells at Sligo spanning over 17 years, the dynamic forward can boast winning the SSE Airtricity League Premier Division title, the FAI Cup, the Setanta Sports Cup and the First Division.
With his brother Fabio also hurling at inter-county level, the family name is these days synonymous with Sligo sport. Their father, Raffael Senior, had moved to Ireland more over 40 years ago and originally lived in Dublin before meeting his future wife in Ballina.
They relocated to Tubbercurry and decided to open a restaurant, pizzeria and takeaway. "The rest is history," Cretaro tells The42 this week. "They've lived there ever since."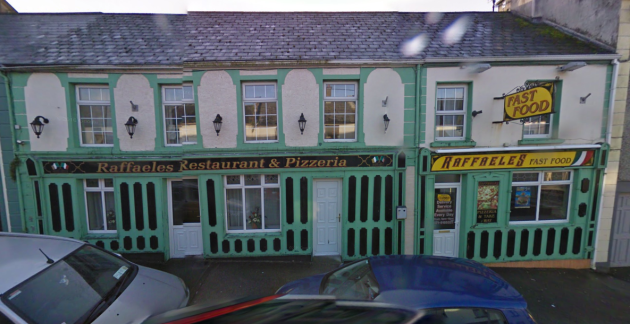 Google Maps The family business in Tubbercurry. Google Maps
Raff's dad began lining out for local side, and that's where his children began their football education.
He used to play, not at a very high level or that. He was a goalkeeper by trade with Real Tubber, who I played for all the way up through youth football.
"I realised that I wasn't too bad and luckily a few people had the same opinion. Any chance I got I had a football at my feet — whether that was at school or at home with my mates. It was an early obsession."
While soccer was his first love, Cretaro admits being a bit of an all-rounder and he played hurling and basketball as well as representing Sligo at minor level in Gaelic football before committing to one sport.
Younger sibling Fabio chose a different route and he has gone to hurl at senior level while running the family business.
Raff was developing well through his school years and in 1999, just after sitting his Leaving Certificate, he was invited to train with Sligo Rovers along with a promising centre-half Michael McNamara by manager Tommy Cassidy.
They were both handed deals but it would be a couple of months before Cretaro tasted first-team football with the then First Division outfit. Injuries and suspensions meant he got the nod against Monaghan United up in Gortakeegan one evening.
Introduced off the bench with Sligo trailing 2-1, the teenager took just five minutes to open his account with a debut goal.
That was a great start to my career," he says. "It was one of those things — you dream of coming on to make your debut and end up getting a goal, so it was nice.
Tommy was really good with me after that. He gave me a lot more game-time and when the lads got fit again I was contesting for a place and pushing the more senior lads at an early age.
"We were in the First Division at that stage but I was still playing at senior level and at 17 that was fantastic."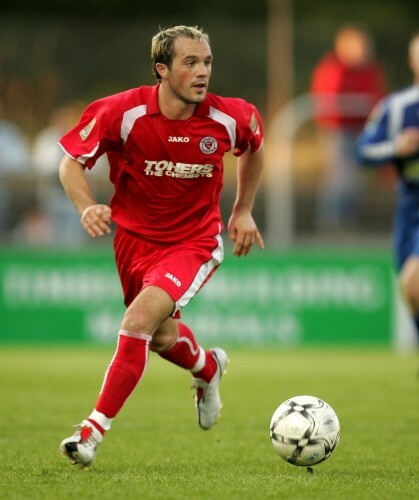 James Crombie / INPHO With Sligo Rovers back in 2007. James Crombie / INPHO / INPHO
He went on to become an important member of the team over the following five seasons and won the First Division title in 2005. But he then opted for a move to Connacht rivals Galway United.
"I was playing regularly at right back for most of the season and had won Young Player of the Year. Sligo were going to a full-time set-up and I was still working at the time. I didn't know whether to leave or what to do. Galway manager Stephen Lally got onto me and it suited better at that stage of my career. It was a year later that I decided I was going to give full-time a big push with Sligo."
While with the Tribesmen, Cretaro missed two months due to a broken jaw but still earned a place in the First Division Team of the Year before Rob McDonald persuaded him to return home.
In 2009, a superb season in the red and white prompted interest from at home and abroad.
"The Millwall manager at the time, don't ask me his name, was ringing me flat out," he recalls. "I was flattered and couldn't believe it, my agent was telling me there were a couple of clubs in Scotland as well.
"At the end of it all, I'm a home bird and I didn't want to go too far. I moved to Dublin and I still felt homesick so that will tell you!"
Bohemians, who had just won back-to-back titles, offered a significant contract and he accepted.
"The fact that there was a two-year deal with an option of the third on a 52-week contract was a big one, as it was unheard of.
"I was getting on at 28 and was thinking about getting married and starting a family so that's where I was at. That said, when I went I was thinking 'Why did I leave?' because underneath it all I'm a Sligo man.
That is home and it was always the place I felt I played my best football."
During one campaign with the Gypsies, Sligo boss Paul Cook was regularly in touch and Cretaro didn't hesitate when he was invited back in 2011. Without him, Sligo had just won the FAI Cup and finished third in the Premier Division.
Cathal Noonan / INPHO Celebrating a goal for Bohs. Cathal Noonan / INPHO / INPHO
It was clear they were building something special and that team went on to achieve remarkable things over the next four years. After pushing Shamrock Rovers all the way in the league and claiming runners-up spot, they saw off Shelbourne in the FAI Cup final.
With the game tied at 1-1 after 120 minutes played, a penalty shootout was needed and Cretaro dispatched the winning spot-kick.
12 months later, Sligo lifted the Premier Division trophy for the first time in 35 years under Cook's replacement Ian Baraclough after he departed for Accrington Stanley. This time, the forward bagged two goals against St Pat's at a packed Showgrounds to clinch the title.
As a young footballer, you probably think you have loads of time to win a league but that's not how it works," he says. "You've got to work extremely hard to get yourself into a position with a team that are pushing towards a league title or any sort of silverware.
"I had a fantastic relationship with Paul and I would have spoken to him regularly while I was at Bohs. He tried to get me back to Sligo in July of that year so that will tell you the relationship we had. He eventually did and I was delighted to be back involved and home playing with my hometown club.
"For a local lad to go on and have the success we had over a four or five-year period, it's something you can only dream of doing. I was just privileged to be part of it, I've got some great memories."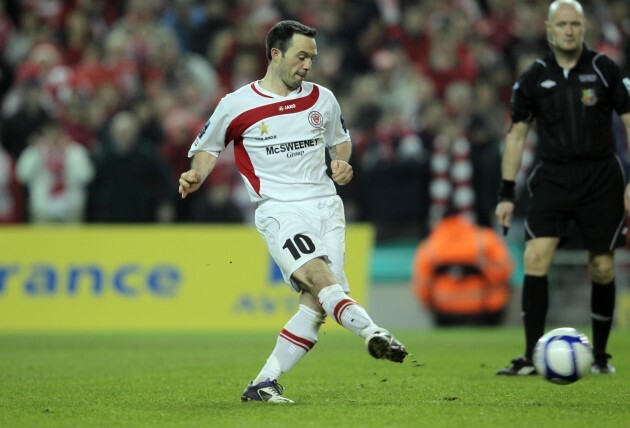 Donall Farmer / INPHO He scored the winning penalty in the 2011 FAI Cup final. Donall Farmer / INPHO / INPHO
"We had a big squad with quality all over the park," he adds. "Paul had been building it for two or three years leading up to us pushing for the league title. There were great characters and there was so much confidence within the team. Without being cocky or arrogant in and way, shape or form, we used to go out knowing we were going to win every game.
"That was the mindset. Lads would be going into matches so relaxed knowing that if Mark Quigley or Danny North didn't produce, Rommy Boco or Raff Cretaro would or Jason McGuinness might come up something at a set-piece.
"That's a massive factor in football, when you have a confident group. We're lacking a bit of confidence this year but a win or two can change that."
Lorraine O'Sullivan / INPHO With Pascal Millien and Gary Rogers after winning the Premier Division title in 2012. Lorraine O'Sullivan / INPHO / INPHO
As he alludes to, this season has been difficult one for the club thus far. Dave Robertson joined Baraclough, John Coleman, Owen Heary and Micky Adams as the latest manager to depart back in April after a string of poor results.
"He had a great first season when we finished fifth," Cretaro says of Robertson. "We had lost one or two decent players in the off-season and for whatever reason it just didn't happen for us under him."
Ex-Cliftonville boss Gerard Lyttle has been handed the task of keeping Sligo up this term and several new signings have arrived but they are currently languishing second from bottom — level on points with Galway United.
"The lads that have come in have done tremendously — big Benny [Igiehon], Mooresy [Greg Moorehouse], Omar [Haughton], Vinny [Faherty]," he says. "There's that camaraderie and everyone one is chipping in together to give us as much confidence as possible going into each game.
"Everyone is remaining positive and upbeat. The main thing is that no one has thrown in the towel. Even though we haven't had the best time of it, everyone has stuck together throughout the season.
We're still fighting for our lives now and the big thing is to keep going. There are seven games to go so that's a lot of points to be played for. We'll be aiming to try to win every game we play. That has to be the mindset if we're to avoid relegation."
Despite carrying an abdominal strain in recent weeks, Cretaro has featured in all but two of Sligo's league matches this season and he intends to soldier on as the Bit O'Red bid to drag themselves out of the bottom three.
"I've had to taper back a few aspects of training and the strength and conditioning part with the abdominal pain and hip flexor. I can carry on but it's a case of getting through the warm-up with a couple of painkillers and I'm away — it doesn't bother me."
Donall Farmer / INPHO Sligo boss Gerard Lyttle. Donall Farmer / INPHO / INPHO
Tonight, they travel to Turner's Cross to face champions-elect Cork City. Despite the fact Sligo are without an away league win all season, Cretaro is eyeing an upset.
"I don't see why we can't go there and win — we did it last season. You don't disrespect Cork and they're a good side. They're not clear at the top of the table for no reason, but they can have an off-night and we're hoping that will be Friday."
Now 35, Cretaro has taken up coaching at the club but he has no intention of calling time on his playing career in the foreseeable future.
"I'm involved with the U19s down here but in terms of feeling good, I played nearly every game bar two against Pat's where I was on the bench but didn't come on. I'm still feeling comfortable, I'm enjoying training and playing.
"People will speak about how this year has gone but the main thing is you've got to remain positive and if you don't you'll end up in a bad way."
In recent years, several high-profile footballers and managers have opted to have hair transplants to stave off baldness. It's over a decade since Cretaro made the decision to do something about his receding hairline and appeared on advertisements for Advanced Hair Studio but he's surprised at just how popular it has become.
"It's actually mad how it's become really common, not just in football but in general," he says. "It was something I felt I needed to do at quite a young age as the full-backs were bombing on!
"I wanted to have my hairline so I looked into it. I was lucky enough to go to a company who realised after the treatment that  played football so they used me as a marketing tool. So I've been lucky to be looked after by them for a number of years.
"It's funny when you see the likes of Wayne Rooney and loads of other players who have done it since."
Predictions
Every week, we're giving readers the chance to take us on in predicting the Premier Division results. After Week 22, here are the standings:
The Readers: 70
The42: 68
Next up is Shamrock Rovers fan Colum McGrath…
Cork City v Sligo Rovers – Cork win
Bray Wanderers v Drogheda United – Draw
Galway United v Shamrock Rovers – Rovers win
St Patrick's Athletic v Finn Harps – Pat's win
Limerick v Bohemians – Bohs win
Derry City v Dundalk – Dundalk win
The42 (Ben Blake)
Cork City v Sligo Rovers – Cork win
Bray Wanderers v Drogheda United – Draw
Galway United v Shamrock Rovers – Draw
St Patrick's Athletic v Finn Harps – Pat's win
Limerick v Bohemians – Bohs win
Derry City v Dundalk – Dundalk win
Subscribe to The42 podcasts here: