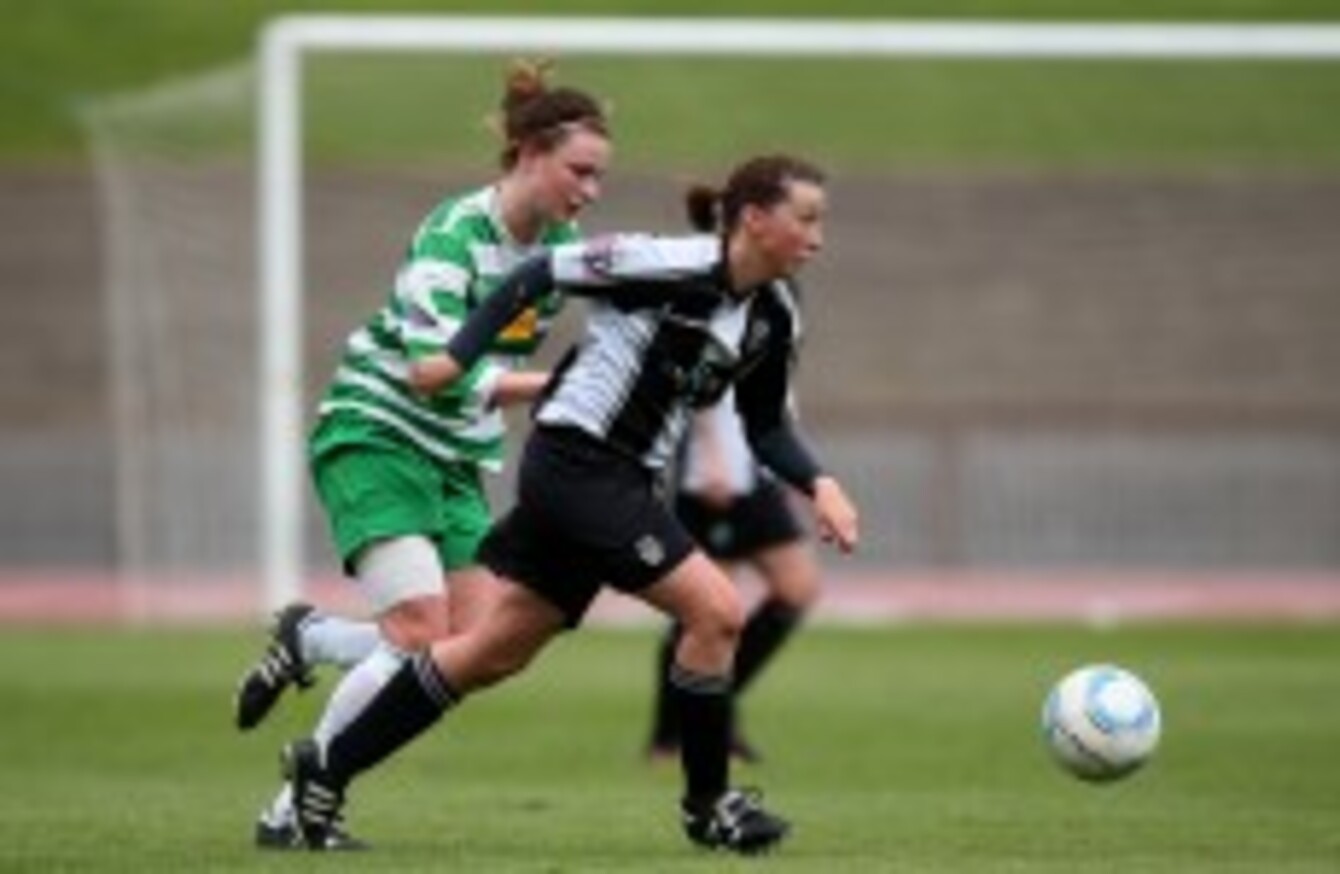 Raheny recently reached the last 32 of the women's Champions League (file pic).
Raheny recently reached the last 32 of the women's Champions League (file pic).
RAHENY UNITED MANAGER Casey McQuillan has called for "equal funding" in the men and women's domestic game after his side qualified for the Champions League last 32 during the week.
McQuillan also discussed the level of sacrifice that his players put in, often with scant reward.
"There has to be equal funding in my eyes," he told Johnny Lyons this morning on 98FM's Now That's What I Call Sport. "If the FAI are going to support the national league, well  there has to be equal funding and the same support given on both sides. We've girls travelling from Cork, from Limerick, from Carlow, up to train, up to play football and it's costing them money.
"They don't get anything. They pay us membership and they pay towards their insurance and they'll do a bit of fundraising in the club."
He also suggested female soccer players are at a disadvantage compared with athletes in other sports.
"If you look at athletics and stuff like that, there's funding for the athletes to be elite athletes. We haven't got the funding to the same extent for elite athletes in soccer and it's definitely something to be looked at. How they do it and how we help them do it, I don't know the answers yet but that's why people should be getting together and looking at the bigger picture as opposed to the smaller picture."
Largely as a consequence of these issues, the manager is less than optimistic about the future of the women's national league, despite Raheny's recent success.
"Is it in danger? At the moment I think it's in danger because the girls are trying to juggle work, family life, football, as near to being a professional as possible, all these things together and that's going to lead to problems."
McQuillan is also hopeful that the women's game can benefit from the recent exposure it gained from Raheny's Champions League success, and he is hopeful that they can build on it in the long term.
"There's no point jumping on the bandwagon everytime somebody does well. When Peamount did well a few years ago there was loads of publicity. We've had a little break from that, now we're (Raheny) on and people are on the bandwagon. It's not good enough. We have to look forward and we have to make sure that, that wave we're on at the moment keeps rolling.
"It's great, don't get me wrong, we're loving the attention at the moment but next year it could be another team and the support structures have to be there for them to go and do well and the year after that and not just 'hey aren't we all great this year, isn't women's sport great'. It is great but let's make it great long term as opposed to just this odd little bubble every now and again.
"I think we have to keep raising the profile of the women's national league but we have to be working together. As in, the FAI have to work with the teams in the league and raise the profile of the whole league and not just the elite players in it. We have to make more elite players in the league and the only way we're going to do that is working together.
"The pool that they're picking from at elite level is very small and that's where the problems come in. It deserves more recognition. The girls put in a lot of time, that doesn't justify people coming out to watch them, but there's good quality football on show throughout the national league."
98FM's Now That's What I Call Sport airs every Sunday at 9AM