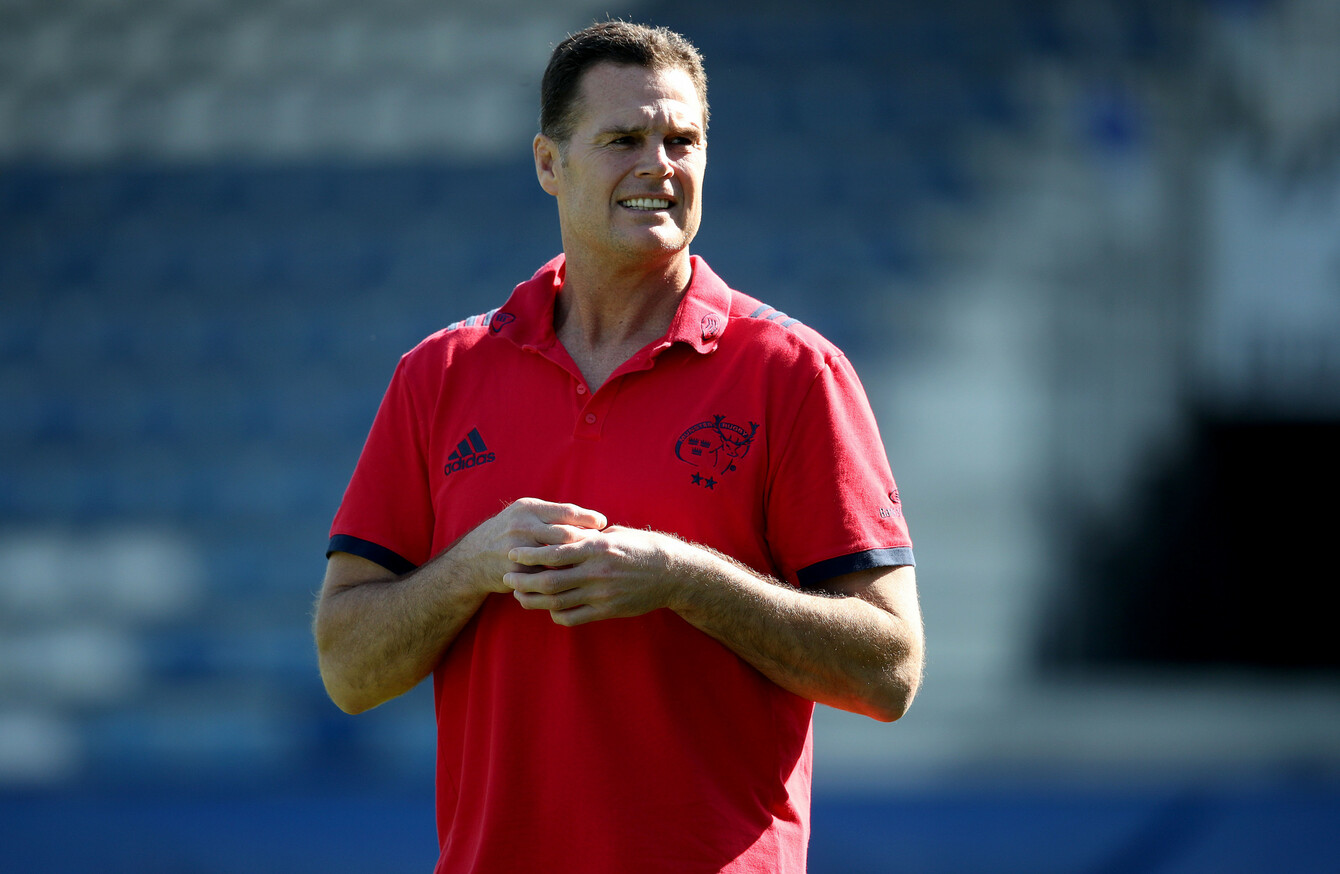 Image: Dan Sheridan/INPHO
Image: Dan Sheridan/INPHO
RASSIE ERASMUS SAYS he will remain with Munster as long as he is needed by CEO Garrett Fitzgerald and IRFU director David Nucifora.
Since confirming that he will leave the role later this season, the Munster director of rugby has consistently given assurances that he will oversee a handover between him and a new head coach.
Johann van Graan's appointment last week signalled that he would commence work as soon as his work permit was issued, with the province expecting that formality to come through in mid-November
But in the days after Van Graan's appointment, Erasmus' lawyer Frikkie Erasmus told Netwerk24: "Rassie will start working at SA Rugby on 1 November."
That sounded unambiguous, but the outgoing Munster boss, speaking after Munster's hard-earned draw away to Castres today, said:
"The only people that can give that answer is Garrett (Fitzgerald) and David Nucifora. There are 60 million people in South Africa and if everybody on that side's opinion is asked you will get a lot of different opinions.
Now we know Johann van Graan is the new coach and once he and Munster are comfortable then I will leave. If that happens before 1 November then I will leave but I'll definitely stay to welcome the new coach and help until he takes the reigns.
Erasmus adds: "The only people who can give accurate answers are Garrett and David Nucifora. All the other things on the other side are difficult for me to comment on."
With Munster back in Champions Cup action against Leicester Tigers in December, it seems an Erasmus exit before then would leave Van Graan on a very steep learning curve before taking over. Again though, Erasmus was keen to issue a wait-and-see notice.
"It depends on a work permit. If the work permit doesn't come through then definitely I will still be here in December but if it comes through and he arrives in the next two or three weeks then it depends how long he, Munster, the players need me to stay."
The 42 is on Instagram! Tap the button below on your phone to follow us!