ELEVEN DAYS OUT from their Champions Cup semi-final against Saracens, Munster director of rugby Rassie Erasmus has a mounting injury list to deal with.
There were already doubts surrounding the fitness of Conor Murray and CJ Stander after their quarter-final win over Toulouse, but a knee injury to James Cronin and concussions for Donnacha Ryan and Tyler Bleyendaal from Saturday's battle with Glasgow will limit their options for Saturday's inter-pro with Ulster.
According to Erasmus, Murray and Stander are both unlikely to play this weekend and the number eight is the more likely of the two to feature at the Aviva Stadium in a fortnight.
Cronin was yesterday scheduled for a scan on the knee he injured at the weekend, while it is a case of wait and see with Bleyendaal and Ryan who are set to undergo concussion tests this week.
"James got a bang on his knee, he is going for a scan today," said Erasmus. "I hope it's not bad, this morning he didn't present to bat, but the scan will give us nice clarity on that.
"Then there were the two concussions and those guys will go through the normal HIA process. So hopefully they pass all of those tests and will be available for Saturday.
They always go through the first step of the test, they went okay. If we can handle it in seven days that would be great, but if we can't get it in seven days, they will only be available for the week after.
"I am the last guy to comment on medical stuff, but I don't think it is one of the worst concussions we have ever seen. There is a chance they won't pass the concussion test but I don't think that's more significant than some of the others we've had this year."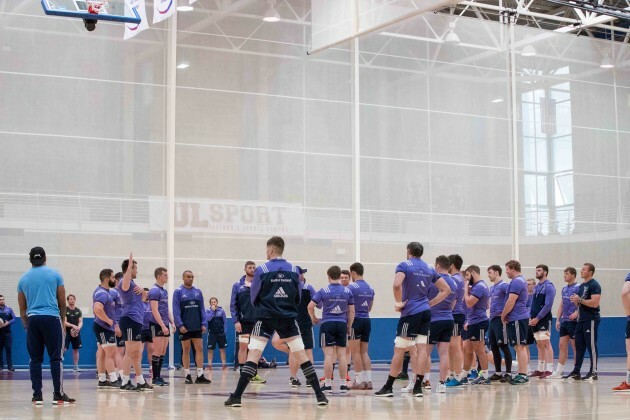 Morgan Treacy / INPHO The Munster squad during an indoor session on Monday. Morgan Treacy / INPHO / INPHO
It is now more than five weeks since Murray exited Ireland's Six Nations clash with Wales just after half-time with a 'stinger' injury to his shoulder, but despite being reported as very close to playing against England the following week and for Munster against Toulouse, the scrum-half remains a doubt for the province's biggest game in the last three seasons.
According to Erasmus there has been some improvement in Murray's recovery as he continues to train on the field with the rest of the squad, but he says it is likely the injury was worse that they had first imagined.
"Obviously Conor and CJ, we are trying to get them back, but like last week we are not quite sure if they'll be ready this week.
"There is a change (for Conor), but it is just the speed of recovery. That's why maybe I look not so positive because I am really positive about it. He almost came back for the Ireland game and then the next week and then the next week. I must also accept it is something where it just takes time to heal.
"When you get a stinger, it does some damage. I think he did more damage initially that everybody thought. I think the shot, the actual stinger he got, did more damage that initially thought there. That would be my assessment.
"He has done a lot of work with us, and that's why we must be careful not to get too excited. He passes well, he runs with us, he does the patterns with us and a little bit of contact here and there.
"But I am nervous for them – they are important players – like any other coach would be at this stage of the season.
"It would be great to have Conor and CJ available in that match just because they are world class players. Gut feeling: I think CJ has probably got a better chance than Conor, just with the speed of recovery of the two at this stage.
"But then again both of them might be ready or not ready, I have got a gut feeling they have got a good chance I think, but not this week."
The42 is on Instagram! Tap the button below on your phone to follow us!