THE 100-year anniversary of the 1916 Easter Rising was always going to be particularly poignant in Rathfarnham, a sprawling suburb on the south side of Dublin, where Irish revolutionary Patrick Pearse's legacy is still a main attraction.
After relocating his St Enda's school from Ranelagh to Rathfarnham in 1910 to continue his liberal approach to education and his devotion to the Irish language, it was there that his political ideas began germinating and his involvement in the push for independence took hold.
But for all the links this area has with history — Pearse was partly drawn to the region due to its association with Robert Emmet, another famous revolutionary — 2016 in Rathfarnham will be remembered for different reasons.
It was in the sporting arenas, at home and abroad, that saw these parts get more attention than usual.
************************************
IT WAS A fitting start to the biggest day in the 47-year history of Ballyboden St Enda's — one of the biggest sports clubs catering for the Rathfarnham area.
The players didn't need to be reminded of the occasion's enormity — St Patrick's Day at Croke Park is ingrained as the Holy Grail for every club player across the country.
As they stood huddled around a plaque commemorating one of the greatest to wear Boden's blue and white stripes — the late Jim Stynes — Paul McGinley, another celebrated past pupil of St Enda's GAA, delivered a rousing speech to the class of 2016.
Stynes' loss is still fresh in the memory in these parts, and the legacy he left goes deeper than his remarkable sporting achievements; the 1991 Brownlow medallist having achieved so much as a philanthropist and charity worker after his playing days came to an end.
McGinley's words were spine-tingling. Grips tightened around hips as the 50-year-old, a former team-mate of Stynes, addressed his captivated audience.
A speech by a Ballyboden man who achieved world fame in a different code, delivered in front of a plaque to recognise the life of a club man who left his country and his parish for Australia while still a fresh-faced teen.
It was a special moment at their Sancta Maria grounds; one that brought together the tales of two men who remained proud of their roots no matter where in the world their talents took them.
As the current senior footballers soaked it all in, the entire Ballyboden St Enda's story and who they were representing became clearer. Just in case they needed reminding.
The wheels were in motion, and it was time to get on the bus.
"It was a really nice moment, none of us were really expecting it," Ballyboden captain Darragh Nelson recalls.
"We just stood around in a circle and Paul gave a bit of a pep talk.
"Obviously him captaining the Ryder Cup team, he talked about his experience with that and told us just to leave everything out there.
"The management obviously organised it and it was just a nice moment to kick-start the day.
It really hit home just being around the Jim Stynes plaque, obviously a former Ballyboden man.
"And Paul McGinley, another former Ballyboden man, giving us a talk. Two huge sporting icons from the area, so it set us up for a perfect day."
Perfect being the word. Things couldn't have gone much better for Ballyboden, the same side who were widely written off ahead of their county final clash with St Vincent's just months before, their first decider in eight years.
They also entered March's All-Ireland final against Castlebar Mitchels as heavy underdogs, but they once again made the bookies look foolish.
Boden wrote their own script and raced into a 2-3 to 0-0 lead with just 16 minutes played, and the Dublin champions went on to win their first All-Ireland title at a canter.
It was something few would have predicted when the group got together for pre-season training at the start of 2015. But coach Andy McEntee, who recently left the club to take the reins with Meath's seniors (after winning the Division 1 league title), had them well drilled.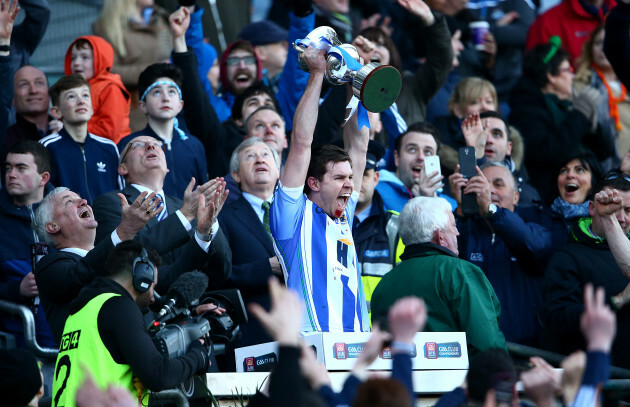 Cathal Noonan / INPHO Cathal Noonan / INPHO / INPHO
"Preparations went well and on the day, getting a start in the match was hugely significant … it was just a great day," Nelson adds.
"That's why you play club football.
"You want to be playing on the biggest stage for your club.
"And to play in Croke Park, especially in the centenary as well, 100 years on since 1916, it was just a really, really special year to be crowned All-Ireland club champions.
"Seeing a sea of blue of white, all the Ballyboden fans — your family and friends, everyone that has been around the club for years and just seeing them after the game was just surreal."
To many across the country Ballyboden — a 1969 amalgamation of Ballyboden Wanderers and Rathfarnham St Enda's —  is another monstrous Dublin club that dwarfs the majority of their opponents with their catchment area but Nelson is quick to point out that there is nothing industrial about it.
It's a club like any other, a place with a beating heart and human soul, and an organisation that relies heavily on its administrators  – the like of games officer Brian O'Regan maintaining the structures for Gaelic games to thrive in the community. It's a place that embraces its identity, and is proud of it too.
Exclusive Six
Nations Analysis
Get Murray Kinsella's exclusive analysis of Ireland's Six Nations campaign this spring
Become a Member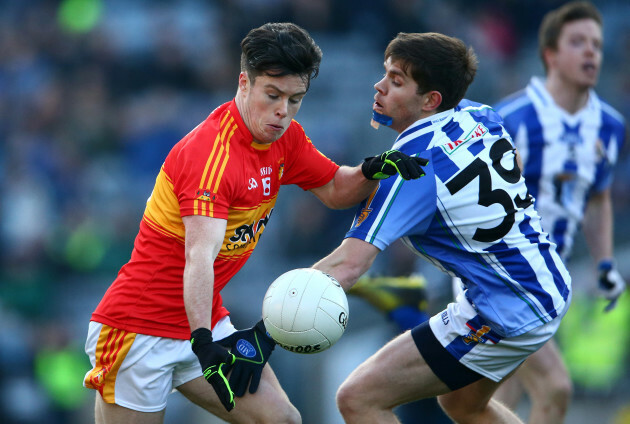 Cathal Noonan / INPHO Ballyboden's Darragh Nelson tackles Cian Costello of Castlebar Mitchels. Cathal Noonan / INPHO / INPHO
Nelson recalls the warming atmosphere around the Rathfarnham, Firhouse, Knocklyon and Ballyboden areas during those dark winter months in between their county title and the All-Ireland series.
"Winning the All-Ireland meant so much to us and so much to the people of Ballyboden and to the management.
"In terms of what the GAA means to the people of Ballyboden as well, it's on a par with some of the parish clubs down the country.
There would be a lot of other sports around the area. I don't think we've had to battle to try and keep players. I think the players that play in Ballyboden know what a big club it is.
"I've been around the club since I've been about eight or nine and it's just been enjoyable all my life."
Padraig Harrington, another local man and former Ballyboden player, was representing the area in Rio, with McGinley in his corner, just five months after the All-Ireland win. But it was the performance of Annalise Murphy, who also lives locally, that stole the show.
It had been a whirlwhind couple of weeks for the 26-year-old, but when she saw a sign above the Rathfarnham Credit Union congratulating her on her Olympic silver medal, she couldn't help but smile.
Looking back now, fresh from competing in a largely male foiling moth field in Bermuda, the reality of her achievement has started to dawn.
"Yeah, I've been able to let it sink in," Murphy tells The42.
"I've sort of dreamt my whole life of the Olympics and I don't know if I actually dreamt of winning an Olympic medal because I never really knew if I'd be good enough to win an Olympic medal.
"It's been great, just even the support I've got from so many people has made it really great as well.
"I've won a few awards and I look at it and go 'I don't know if I deserve this, I think other people do more than me'.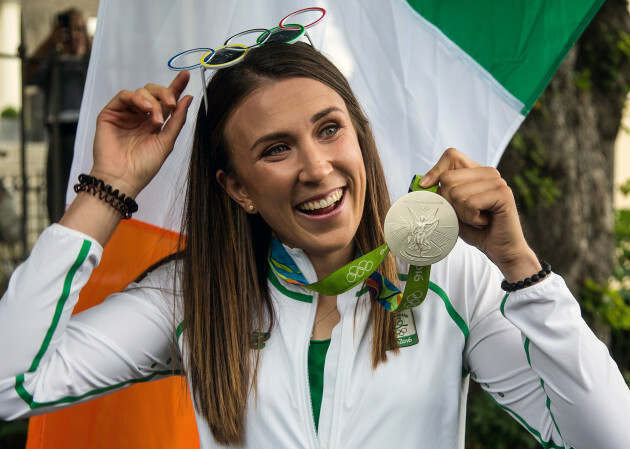 Tommy Dickson / INPHO Tommy Dickson / INPHO / INPHO
There may not be a coastline in sight but Rathfarnham was the base from which Murphy constructed her already remarkable sailing career, her agonising fourth-place finish in London 2012 making this year's result that bit sweeter.
Childhood weekends were spent learning her craft, the sport that brought Murphy's parents together, at Blessington Lakes before eventually moving on to the sailing club in Dún Laoghaire when her age hit double figures.
After claiming the first Irish Olympic sailing medal for 26 years, Rathfarnham's residents were quick to let people know Murphy was one of their own.
"All of my neighbours and the people in the estate I live in have been very supportive," adds Murphy, who conveys that her individual success is the fruit of a dedicated team effort.
"I've lived there for the majority of my life and it's nice that everyone else was excited about it."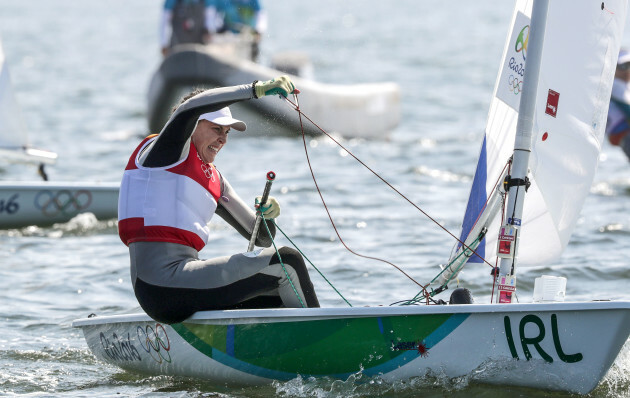 Morgan Treacy / INPHO Morgan Treacy / INPHO / INPHO
Not one to rest on her laurels, between picking up countless awards Murphy has been testing herself on Caribbean waters in recent weeks — which she insists weren't as tropical as they sound — against some of her heroes.
"It was great but it was hard work," she says of her time in Bermuda.
"I was competing in an event in a different type of boat and there were 50 people competing and it was myself, one other girl and 48 men. It's tough racing against the guys.
"When I do everything right I am kind of able to be in with a chance of having some good races but when I make mistakes I'm really punished for them.
"The racing was in a foiling moth. It's a hydrofoil one-person boat. It's at the sort of high-end of development in sailing.
"All the best sailors in the world like to sail this boat because it means everyone can race each other on the same platform.
Guys that are in the America's Cup and Olympic guys from all different classes, the Laser, the 49er. Everyone's racing this boat.
"It's really exciting because I've been sailing this boat for three years now and I was actually at the world championships two years ago.
"I was racing against my sailing heroes, I was racing against the helms of America's Cup boats, multiple Olympic medallists and guys that I really look up to.
"And I was able to race against them and actually beat a few of them.
"It's really fast, they do it between 20 and 30 knots of speed so when it's windy it can be pretty scary. I've scared myself a few times."
Having returned home for Christmas, a beaming Murphy is back among her family and friends reflecting on a remarkable 2016.
Back at home in a Dublin suburb that has had quite a successful year itself.
The42 is on Instagram! Tap the button below on your phone to follow us!