WHEN JAMAICA RETURN to the Olympic bobsleigh run this weekend, few will be watching more closely than a small-town mayor in northern Virginia.
It was George Fitch who came up with the unlikely idea of the Caribbean island nation vying for glory and gold at the Winter Olympics, and he's rightly proud of the outcome.
"I guess you could describe it as a challenge," recalled Fitch, 65, this week in Warrenton, a picturesque rural community of 9,000 where he is winding up his fourth and last term as mayor.
"So the challenge was, if I could get them into the Winter Olympics — but be competitive."
With help from the Jamaican military, Fitch pulled together the four-man team that thrilled spectators and rivals alike in Calgary in 1988 with its chutzpah and flair, only to wipe out spectacularly at breakneck speed on its third run down the twisting icy course.
Undaunted, Jamaica returned for the next four Winter Olympics, and the 1993 Disney cult classic "Cool Runnings" secured their place in popular culture.
Having failed to qualify in 2006 and 2010, they're making a comeback at Sochi in the two-man event, with driver Winston Watts and brakeman Marvin Dixon bearing their nation's black, green and gold colours. Jamaica returns to competitive bobsleigh in the heats on Sunday and Monday.
Disgraced? No.
The late Canadian comedian John Candy portrayed Fitch in "Cool Runnings," but the former US trade diplomat, born in China to missionary parents, is all too happy to point out the film's many factual errors.
For one thing, Fitch was never a disgraced Olympian bobsledder turned small-time bookie washed up on a sun-kissed beach. In fact, he was never an Olympian at all.
Rather, Fitch was in Jamaica in 1987 for a wedding when he got to talking sports with friend William Maloney and wondered how a country famous for reggae and rum might do competing on ice and snow.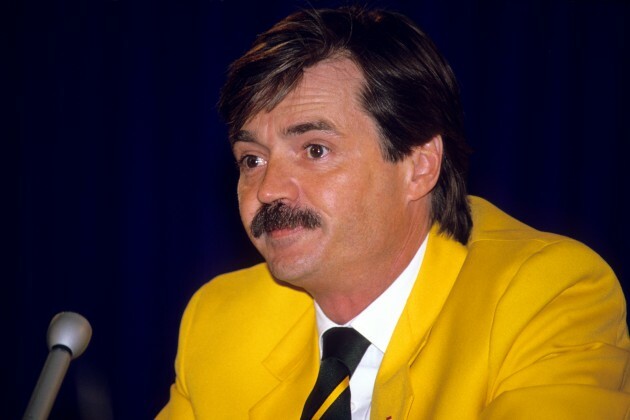 S&G and Barratts / EMPICS Sport S&G and Barratts / EMPICS Sport / EMPICS Sport
"On a per capita basis, Jamaica wins more medals in the Summer Olympics than anybody else," and it boasts track-and-field strengths that could easily cross over to winter competition, Fitch said.
"Bobsleigh was the sport because it best suits Jamaica's skills — speed. Half the race is how quickly you can push this 600-pound (272-kilogram) object before you get in. That's speed. That's Jamaica."
With armed forces helicopter pilot Dudley Stokes as driver, Jamaica debuted in Calgary in the two-man event, then scratched up enough money at a last-minute fundraiser in a local bar to buy a four-man sled for $25,000 from the Canadian side.
"We wanted to show the world that Jamaica could participate," remembered Fitch amid his collection of souvenir photos, including one of him in a cowboy hat with the team in yellow jackets at the Calgary opening ceremonies."But we were very serious," he said. "We wanted to be competitive. We minded very much if we came last."
No longer directly connected with the team, Fitch is nevertheless selling replicas of Jamaica's original Calgary T-shirt online, with proceeds going in part to the Jamaica Bobsleigh Federation.
But he's encouraged by the wild cheers he heard given to Watts and Dixon at the Sochi opening ceremonies.
"It was quite a loud noise," he said. "The Jamaican team is still loved by a lot of people, because they are the underdogs."
Fitch is also delighted to see other snowless lands joining the winter games — places like Bermuda, British Virgin Island, Cayman Islands, Dominica, Thailand, Tonga and Zimbabwe — mainly in ski events.
"I look back now with a very satisfying smile that this inspired others to do what we tried to do," he said. "So what if you have no snow or ice. So what if your temperature year-round is 92 degrees (Fahrenheit, or 33 degrees Celsius)? Just try it."