RED BULL BELIEVE that they broke the world record for the fastest Formula 1 pit stop at the US Grand Prix.
The race was won by Sebastian Vettel who set a new benchmark with his eighth consecutive victory of the season.
But team-mate Mark Webber and the Red Bull pit crew may have also earned a place in the record books after this lightning fast stop.
"The team's car data recorded Mark as being stationary for just 1.923 seconds," Red Bull said. "An incredible feat."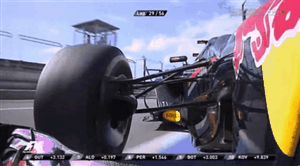 Under F1 rules teams are no longer allowed to refuel cars during races and, as a result, pit stops have become quicker and quicker.
Red Bull recorded a stop time of 2.05 seconds at the Malaysian Grand Prix this year and now also have claims to be the first team to break the two-second barrier.