IT'S THE IMPOSSIBLE job.
You can't be right all of the time and being right most of the time isn't good enough.
Perhaps it's time to ban replays rather than highlighting mistakes because it's only add to the fury.
If you were to go to Croke Park to watch a GAA match or to the Aviva Stadium to see soccer or rugby, you'd be shown replays. But not contentious ones because the authorities wouldn't want to rile up the fans. The don't want any cause for incitement.
So the tens of thousands in the stands wonder in ignorance if it was or wasn't a free/wide/jersey pull/dive/punch while the hundreds of thousands at home in front of a TV spit out a lung.
If you were at GAA HQ last for last year's Leinster semi-final, Kildare fans' reactions ranged from gritted teeth to angry screaming at a decisive soft free given to Bernard Brogan for a pull by Andrew McLoughlin.
For referee Cormac Reilly, a replay on the big screen might have put his health in danger a la Martin Sludden after the Joe Sheridan 'goal' in the 2010 Leinster final. That's not to suggest 100% that it was or wasn't a free for Brogan last year, but there's enough of a doubt and a tidal wave of emotion to see it spill out onto the pitch.
After an incident like that, fans with access to a slow-motion replay online will upload it on the various social media website and cry foul – so the referee will get it in the ear for a long time after. And if it's something that will rouse a punter's interest, it's of course going to be pedalled by media outlets. It's job scrutiny to the nth degree, by anyone with even a passing interest.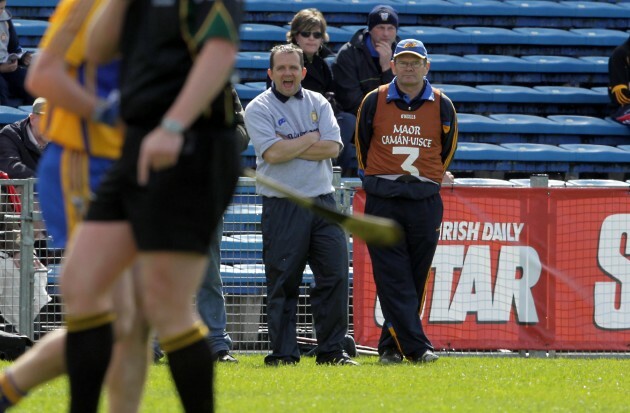 Clare manager Davy Fitzgerald shouts at referee Alan Kelly during his side's loss to Kilkenny ©INPHO/Donall Farmer
The regular talk of instant replays and video referees is all well and good, though so often it is dismissed because it needs to be standard across all GAA grounds for it to be fair. With the astronomical cost of hiring a crew to cover just a single game – and taking into account how sparsely covered the 2012 leagues have been – it won't be happening any time soon. Some will hope it never does.
Because lucky are the referees who officiate a match that is without cameras. Or a game that has less cameras because the scrutiny tapers off with its taping. In recent weeks, only a handful of people knew whether Ryan O'Dwyer should have been sent off against Galway because there was no video evidence; while at the weekend in Semple Stadium, one player would certainly be facing a ban had cameras caught what the match officials didn't: a hurley being thrust into the groin of an opponent.
When you see a referee such as Alan Kelly getting called out by a manager such as Davy Fitzgerald after Clare's loss to Kilkenny, you wonder why any person would choose to be a referee. History tells us they shouldn't. John Denton will never be welcome in Galway, Sludden in Louth, Reilly in Kildare and so on, their names will always be followed by an asterisk. And for what? Most people couldn't name five retired referees who never put a peep of the whistle wrong, and are celebrated as paragons of officialdom.
In an ideal world, ex-players would take the whistle but they know better than anyone else what sort of a job it is. Indeed many will say that the only people who take over the black uniforms are those not good enough to wear any other colour as a player. The inference being that they aren't good enough to play and, in some way, will less understand the dynamics of the game.
Another spiteful allegation made – from the odd hurler, anyway – is that certain referees are from counties where they wouldn't know the handle from the bas. Or because the man in the middle is from a neighbouring county, he must be biased against you. No, this is not some perverse Eurovision-type sham.
Let's be real, most referees try to do their job to the best of their abilities. Some referees have bad days; others are just bad referees. Once in a blue moon, he might pull against a team – and find us the GAA player who hasn't got on the wrong side of a referee via his own big gob – and that is a problem.
It's not perfect and it never will be. When players stop diving, holding opponents' arm and falling over to draw a free, when managers stop roaring for lineballs that aren't theirs, when goalkeepers stop calling wide ball for a point, when forwards stop calling point for a wide ball, and when stones don't break glass houses, should referees get such scrutiny.
But as long as managers allow their players con referees, they should not exhibit the incredible gaul it takes to call them out in public. It's a hard enough job as it is.