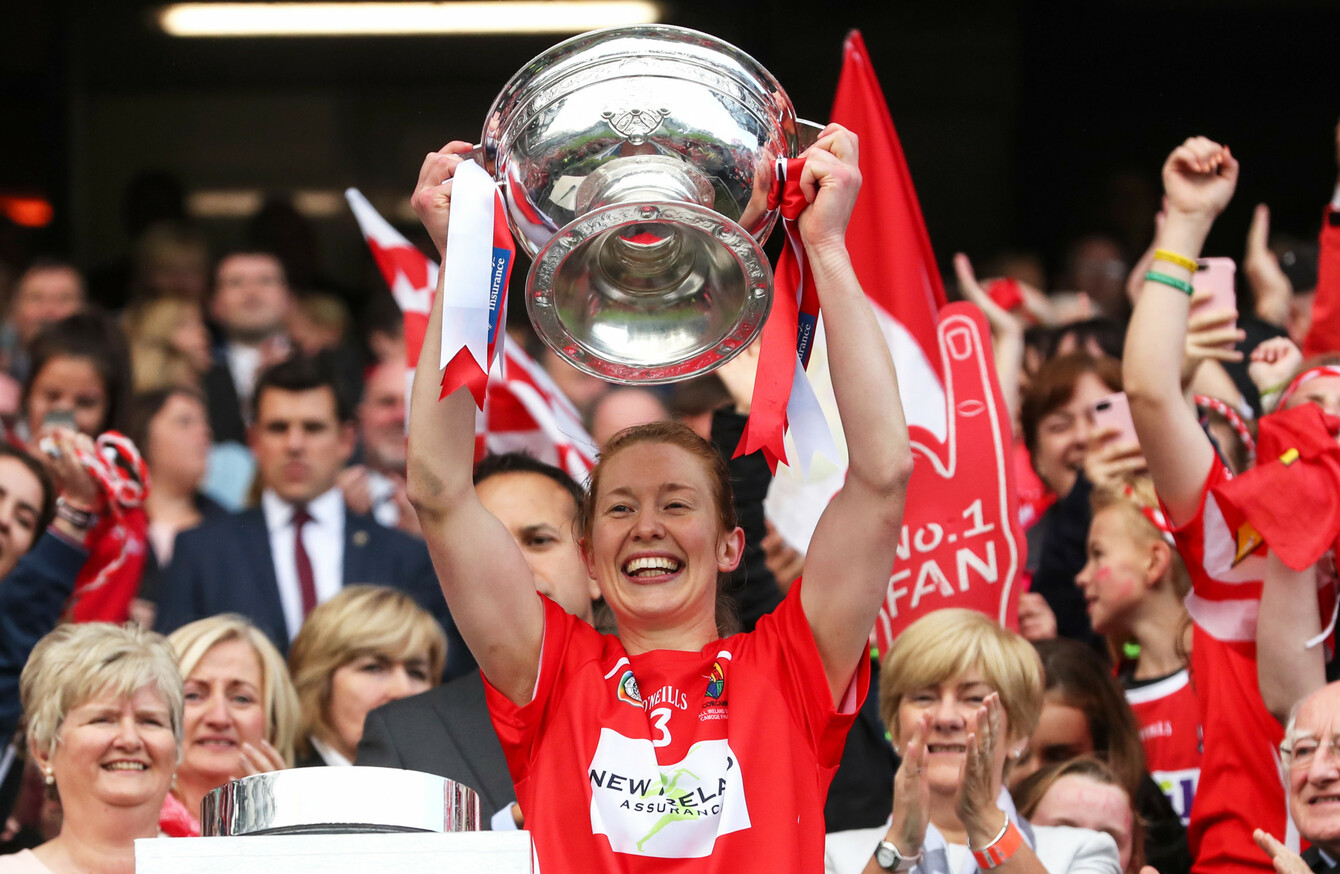 Rena Buckley lifts the O'Duffy Cup after Cork's All-Ireland final victory over Kilkenny in 2017.
Image: James Crombie/INPHO
Rena Buckley lifts the O'Duffy Cup after Cork's All-Ireland final victory over Kilkenny in 2017.
Image: James Crombie/INPHO
RENA BUCKLEY HAS recalled an incident where the 18-time All-Ireland winner was invited to a Cork underage function last year, but was specifically told that she would not be asked to present an U12 boys side with their medals.
The 31-year-old was speaking at the launch of the 20×20 campaign on Monday, a movement which aims to increase the media coverage, participation and involvement in women's sport by 20% by 2020. 
The Cork dual star spoke about how she was invited to the event last year, highlighting the discrimination still faced by female athletes today.
"In my mind I thought there was a huge shift after coming in women's sport, but I remember last year I was asked to present medals to a club team in west Cork," she began.
"The boys and girls had come together and they had won the U14 championship in ladies football and the U12 in boys. So they asked me to come down and present the medals.
Cork, 2017 - Rena, with her 18 All-Ireland medals, is asked to present medals to the u12 boys & girls of a local #GAA club, when she arrived she was told they didn't want her to present them to the U12 boys, only the girls.

Remarkable story from Rena Buckley at the #20x20 panel! pic.twitter.com/SmvqlD1Nue

— Off The Ball (@offtheball) October 15, 2018
"I went along and when I got down there on the night the lad who invited me took me aside and said 'look we're really sorry, but the GAA team actually don't want you to present the boys with the medals.'
They got some local guy to do it. He was absolutely mortified, he could hardly look at me, he was really embarrassed."
Buckley is the most decorated players in GAA history and is the only player to have captained her county to All-Ireland titles in both football and camogie. She said that the incident highlighted the ways in which female athletes continue to be mistreated.
"That's just the mindset of whoever's organising it. So we're looking for a shift in that. It's a rare thing but it does happen. That was in 2017, you know? That wasn't in in 1986.
"So we are looking for this massive shift, and I suppose this [20x20 campaign] is looking to accelerate that as quickly as we can."
#20×20 is a national campaign devised to increase the involvement in and national media coverage of women's sport in Ireland. 
"20×20 is asking Irish society to show their stripes by doing something that can increase visibility of girls' and women's sport," a statement said.
"For sports clubs, schools, gyms and universities it could be pledging to create greater parity and more opportunities for girls to get involved.
"For the media, it could be pledging to increase visibility of female athletes and their competitions.
"For athletes it could be lending support with coaching or sports fans pledging to attend more women's games and events. And, crucially, for parents to be aware of how they can encourage their daughters."
You can find more information about the 20×20 campaign here.
Subscribe to our new podcast, Heineken Rugby Weekly on The42, here: