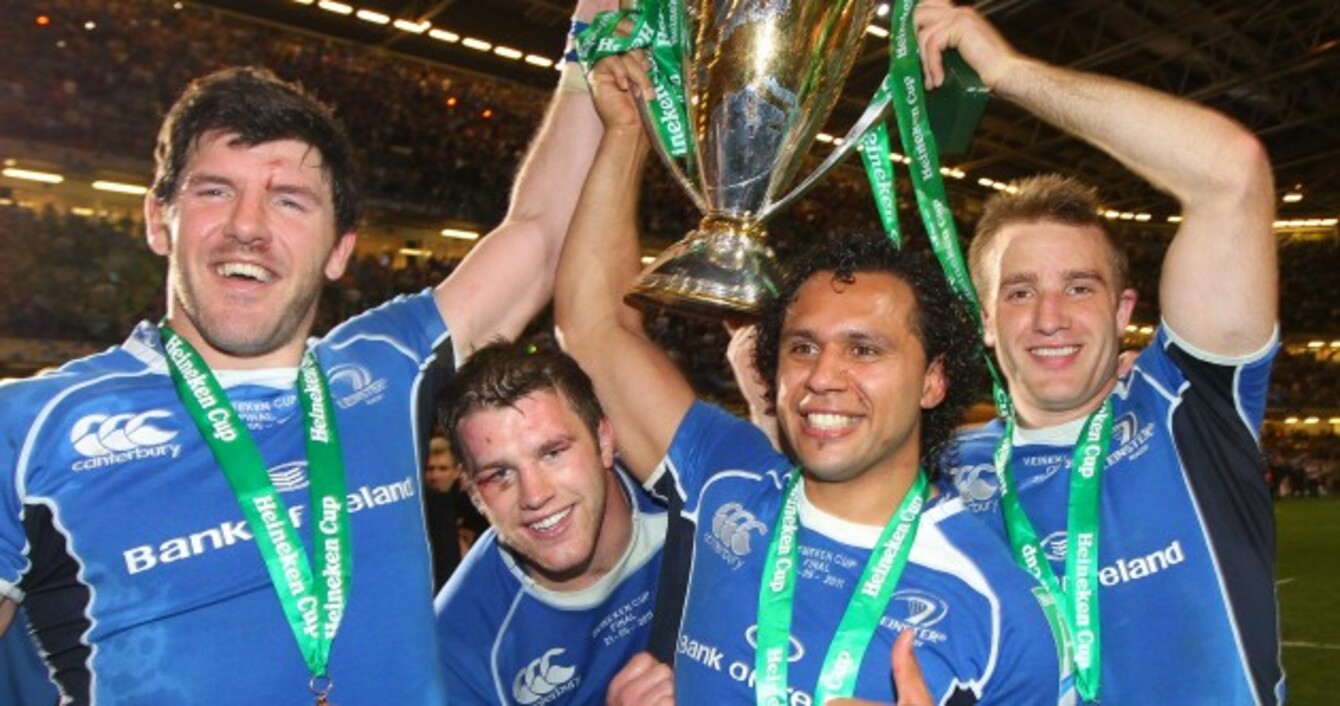 Image: ©INPHO/Billy Stickland
Image: ©INPHO/Billy Stickland
FOR MOST LEINSTER fans, the province's second Heineken Cup crown takes pride of place.
While their first in 2009 managed to wedge an almighty monkey off the back, and the third in 2012 allowed them flex their European muscle and confirm their dominance over their national rivals; 2011 is the one that will always be remembered most fondly.
Saturday's encounter with Northampton will bring all those May 21 2011 memories flooding back: the groans and strings of Elbow's One Day Like This that soundtracked the trophy presentation, the indoor fireworks, that shining trophy and the comfort of, 15 minutes from time, knowing that it would be going back to Dublin that night.

YouTube credit:  MickysVids
You all might even laugh at the horror felt at half time of the same game, after Brian Mujati had wrought havoc on the blue scrum and even when the tight-head visited the sin-bin, Ben Foden bolted over for a try. Saints (they thought) were within touching distance of their second European crown.
Joe Schmidt's glorious opening season in charge looked like ending on a very, very sour note indeed.
Then came one of the great half-time teak-talks: Greg Feek took Mike Ross in around the iPad to get a a good hard look at what Mujati was up to, Brian O'Driscoll reminded his backs of their precise duties and, when all 15 came together before heading back out under the great Cardiff roof, a star name turned into a driving force. By full-time, Jonathan Sexton had made himself into much more than a number 10, he appointed himself leader in word and then in deed.

YouTube credit: MrGoosty
Naturally, every full-time question wondered what the hell happened at half-time and to a man, the players name-checked their 10. Sexton's pointed interval words turned focus onto the to-do list rather than any failings that had already passed and the blue squad stormed out at a furious pace for the second half.
Northampton on the other hand, had put up the shutters. With the finish line in sight and a 22 – 6 lead to their name, they looked like a team who were waiting on a single breakaway score to be handed to them. The combination meant a perfect storm for Sexton, Schmidt and Leinster – with Shane Jennings now on to oil the gears of the breakdown.
©INPHO/Dan Sheridan
Sexton led the charge, making a big carry into heavy traffic that you would normally advise the out-half to avoid. Then Sean O'Brien. O'Driscoll, a break. Jamie Heaslip, stopped inside five metres. Saints were on the rack and Eoin Reddan spotted Sexton lined up in an agility mis-match with Soane Tonga'uiha.
Game on.
From 13 – 22, the impossible suddenly began to feel a little inevitable. On 53 minutes Leinster were back in the redzone and Heaslip sent Sexton looping around while the number eight ensured Phil Dowson was all tangled up allowing the 10 bull his way to his and Leinster's 20th point of the day… and he wasn't done yet.
©INPHO/Billy Stickland
Sexton added two more penalties to finally turn the scoreboard against Northampton, but the tide had long since gone blue. By the time Nathan Hines' try came, 22 minutes after Sexton's first, the Saints could not bring themselves to fight the irresistible force.
Two and a half years on, the personnel at Franklin's Gardens will have changed slightly, but when the green shirted Saints face Leinster blue on Saturday, they'll spot that middle of the trio of stars above the crest and a nagging doubt will form. They will know the job will never be done until it's done.