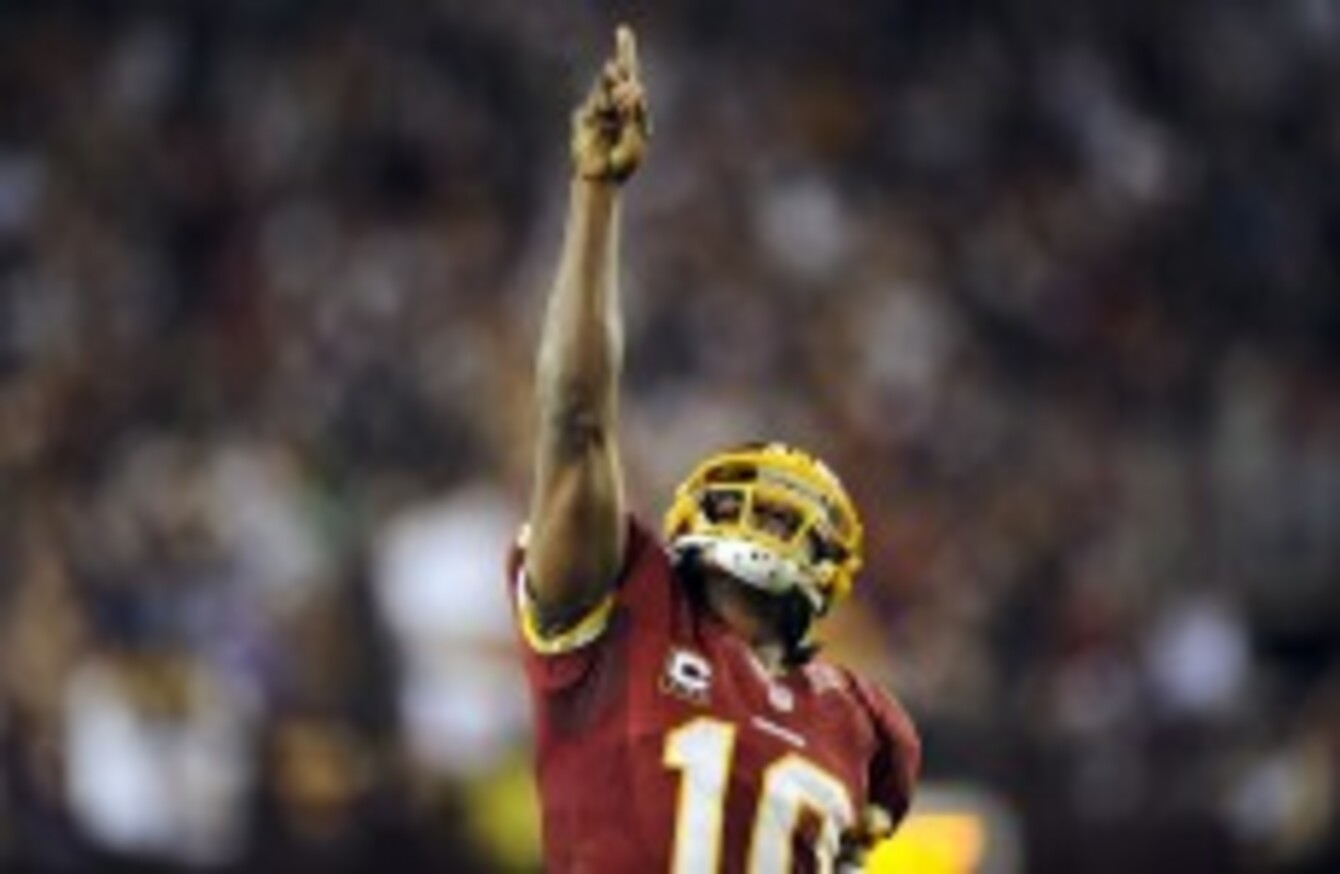 Image: Nick Wass/AP/Press Association Images
Image: Nick Wass/AP/Press Association Images
THE WASHINGTON REDSKINS moved another step closer to first place New York, defeating the Giants 17-16 behind a fourth quarter touchdown pass from rookie quarterback Robert Griffin III.
New York (7-5) now have a slim one-game lead in the NFC East division over Washington who are tied for second with the Dallas Cowboys at 6-6. Dallas defeated the Philadelphia Eagles on Sunday night.
"We knew three weeks ago that every game we played was going to be like a playoff game," said Washington head coach Mike Shanahan.
Griffin passed for 163 yards on 13-of-21 attempts and added 72 yards on five carries as Washington won their third consecutive game.
Alfred Morris rushed the ball 22 times for 124 yards while Pierre Garcon grabbed eight passes for 106 yards and a touchdown at FedEx Field.
New York quarterback Eli Manning was 20-for-33 with 280 yards and a touchdown and Martellus Bennett recorded five catches for 82 yards and a touchdown for the Giants, who have lost three of their last four contests.
Ahmad Bradshaw earned 103 yards on 24 carries and Victor Cruz caught five passes for 104 yards in the loss.
The Giants led 13-10 at halftime and then tacked on three more points when Lawrence Tynes nailed a 35-yard field goal with just over three minutes left in the third quarter.
Garcon caught an eight yard touchdown pass from Griffin with 11:31 left in the game to give the Redskins a 17-16 lead and the victory.