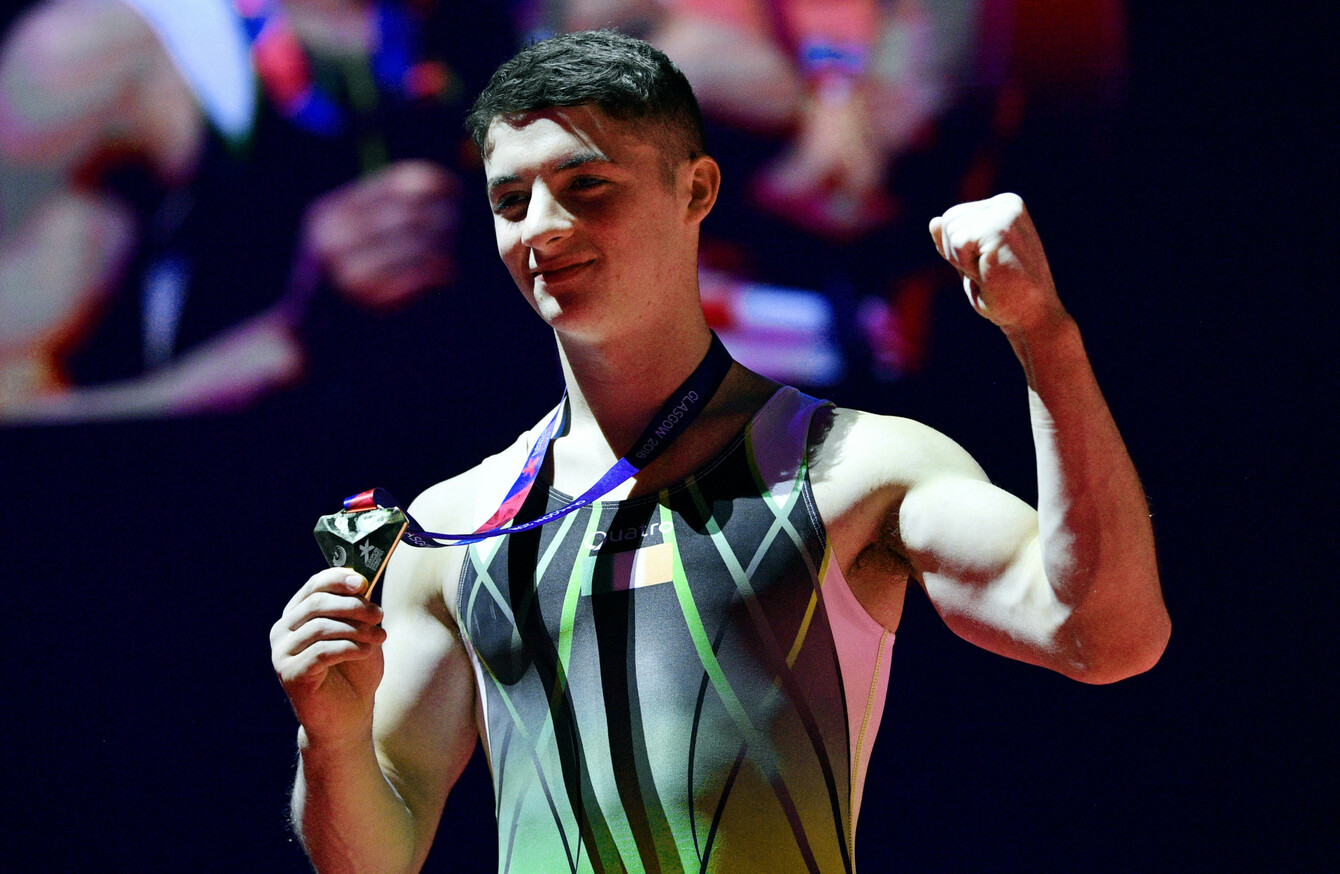 Image: Neil Hall/INPHO
Image: Neil Hall/INPHO
2018 HAS BEEN a massively successful year for Rhys McClenaghan, but the way he talks about it would make you believe otherwise.
The Down gymnast made headlines with a gold medal at the Commonwealth Games in Australia, surpassing Olympic champion Max Whitlock on the pommel horse, to propel himself into the national consciousness.
Not since Kieran Behan's heroic performance at the 2016 Rio Olympics, where he performed through the pain of a dislocated knee, had an Irish gymnast commanded so much media attention.
What followed put more weight behind the idea that this 19-year-old prodigious talent was set for greater things.
In September, for the first time ever, Ireland celebrated a gold medal at the European Championships thanks to McClenaghan – who was as the youngest gymnast in the competition.
A flawless pommel routine cemented him as favorite to make it a hat-trick of success at the World Championships in October.
"I'd been piling on the numbers and the routines," he tells The42.
"The week before the World Championships I had a flare up because I was hitting four or five routines per day. That's way more than what you would even be wanting at that stage.
"I was perfectly on track. But with the added load, I think that's what aggravated the shoulder and it started to take effect after a day off that I had.
"I came back and it just wasn't the same really. I felt really tired putting pressure on the shoulder and each skill wasn't executed the same way.
"My shoulder just didn't feel quite the same."
Setbacks
The injury came about as a small tear in his labrum had caused fluid from his left shoulder to leak into the muscle, forming a cyst.
As the cyst grew larger, it began putting pressure on the nerves in his shoulder causing weakness in the muscles.
It was for this reason McClenaghan fell twice during his routine in Doha.
There was always going to be that disappointment. I haven't failed the pommel routine since 2015 and that was almost unheard of."
So, decisions needed to be made. How would they best cope with the injury? Thankfully for the Newtownard native, nothing had ruptured nor had their been a dislocation.
"I went to the doctors at the institute of Sport Ireland and they were brilliant. The physios guided me in the right direction. We all decided that surgery would be the best option for now."
McClenaghen now faces nine weeks on the sidelines, which is something that he says is unlikely to hold him back.
"My body is still young and I'll be down in the institute where the physios and the doctors will be helping me out big time with the rehab.
"There's still no off days. I'm still trying to find every way to keep fit – core exercises, leg exercises.
"Just to keep myself fit really. It's not that I'm sitting at home everyday waiting for my shoulder to heal. I'm doing everything physically possible for me to do as well as letting it heal."
A time for reflection
The time away from the sport has given McClenaghan time to reflect on his performances.
His rise to prominence may be a welcome surprise in a sport which Ireland has only produced two male and one female Olympians – Behan, Ellis O'Reilly and Barry McDonald – the latter of which accepting invitational place in 1996.
From his point of view, the results of the last 12 months did not come by fluke.
I knew what I was capable of at World Championships. That competition didn't reflect my gymnastics in any case. I was disappointed to go out there and give the performance that I did.
"But I know that it wasn't my ability that was flawed – it was just an unfortunate injury that I'm sure every athlete will go through at some time in their career.
"At the time, when it was fresh and I'd just come off the pommel, I was devastated, of course.
"I'd set these expectations of myself and I don't let myself get overwhelmed. I know where I am in this sport.
I'm close to that top spot. To fall off at the qualification stages, it just wasn't my gymnastics. I'm sure a lot of people could see that.
"It wasn't right for me to fall off because no one had seen me do it before on the international stage. A lot of people put it down to the pressure that was put on me but I don't think that was the case.
I think I handle the pressure better than anybody else out there in the field.
"I know that from the commonwealth games and from the European championships. At the Europeans, I qualified [for the final] in first position.
"I went out there, held my head up high, was confident and followed through – and I came out on top.
"Things like that are a test of my character. The fact I can go out there with a lot of pressure on myself and still produce that high level routine.
"It does all come down to that injury.
"Something that does give me confidence is the fact that I have all these numbers behind me in training. I think that stands out for myself."
Work Ethic
McClenaghan previously described his commitment to gymnastics to that of a full-time job.
His work ethic, one that may have inadvertently led to his injury in the run-up to the World Championships, is something that he truly believe sets him apart.
Since the age of nine, his attitude toward his training has been something which has accelerated his rise to the world's elite ranks.
"At worlds and Europeans, you're training with the other gymnasts. You can kind of watch what they're doing and I very rarely see a gymnast do full routines out on the training halls.
"To me that's very strange. Maybe because I'm younger I can do more numbers, but I still find it very strange. I go and do two routines each day in training.
That proves to me that I have enough confidence in my abilities that I can be woken up in the middle of the night by someone and if they say: 'Right, the times have changed. You have to do a routine at 3am.'
"I should be able to wake up and present to the judges my routine. That's what goes through my head. To be that prepared.
"That's how prepared I am going into these competitions. So when the injury comes along and changes my whole programme, and my skills, that's what throws me off."
McClenaghan insists it's all he knows. From finishing school and heading to training sessions, having to eat meals in the car to make sure he would have enough in him to get him through, his life has been rooted in gymnastics.
It's for this reason the teenager will not just be satisfied with making up the numbers at the top level.
"I want to be so far ahead of everyone else. That's my goal.
I don't want to just scrape into a final. I'm that person that if I do my routine clean, I'll be on the podium or I'll be on the top spot.
"Because I'm so young and I'm already making these podium places, I want to be so far ahead of everyone else in the next couple of years.
I want my standards to be raised so high that no one can come near me."
Coaching
What becomes clear speaking to McClenaghan is his appreciation for those who have come before him. O'Reilly and Behan were Ireland's only gymnasts to make the trip to the Brazilian capital more than two years ago.
On top of their achievements, their pathway is McClenaghan is hoping to build for those coming up behind him.
"I take my hat of to Ellis and Kieran. They did a great job in making history for Ireland.
"It's amazing for young gymnasts looking up to them. They're the role models that help younger generations see that they can go to the Olympics – that it's not impossible for an Irish gymnast to do that.
"I'm trying to open another gate. I'm trying to prove that it's possible for a full Irish team to go to the Olympics.
"A dream of mine would to be on an Irish team going to the Olympics.
I want it to be possible for an Irish gymnast to go to the Olympic Games and medal. To maybe even take a gold medal.
"In my eyes, that's definitely possible for myself.
"Looking at the World Championships scores and the score that I got at the European Championships. If I had of gone out there and done that in the final, I would have been the world champion.
"I can't sit back and say 'should of, could of, would of,' it's about proving to myself and proving to others that I'm good enough to be in that spot.
"It's a very exciting time for that younger generation. They can watch someone who's Irish hitting them big world class scores. They sit back and think maybe it is possible.
"It drives them to go to the gym and work extra hard. I want them to beat me. I want them to beat my achievements. That's the reflection of how sport is improving in the country."
Raising standards
Alongside coach Luke Carson, the pommel horse specialist has refused to shy away from the spotlight.
Having cut ties with Rathgael Gymnastics Club in Bangor, the pair are now leading the way in Gymnastics Ireland's high performance pathway from the Sport Ireland institute in Abbotstown.
McClenaghan insists that the time to change culture and the Irish attitude at international tournaments must come to an end.
I hate the words 'this is how we've always done it.' Things need to change. I think people are in the trap of this is how we've always done it and they're very comfortable that way.
"Luke is brave in saying the things he says.
"It's setting the expectations for the kids very high. That's what you need to do as a coach. Set the expectations very high.
"If people look at the bigger nations and think Ireland are never going to meet them in competitions because they're just out of our league, that's the wrong mentality to have.
We need a positive mentality. We need people to believe that, yes, we can win medals at the Olympics in this many years.
"He's got a plan and I'm looking forward to seeing what he can deliver from the country in terms of high performance standards.
"I'm referring to the coaches that have been there for quite a while. Any coaches who have got comfortable in the old system.
"I know Gymnastics Ireland are doing everything in their ability and they've got a very strong team and smart team around them.
"We're at the point where they are changing things. They're developing a performance pathway that's very intelligent and well set out.
"From my point of view – someone who's in that performance pathway – they're going in the right direction."
But for those who don't share the teenagers organic confidence, that evolution to a self-assured team of athletes could take time.
The only way to change perception is through results, he explains, and making a statement in major competitions.
With the second half of the Tokyo 2020 Olympic cycle in view, success in Japan is at the top of the McClenaghan's agenda.
"I know I can get some of the highest scores in the world. I've visualised it since I was eight years old. I don't know if everyone else does that, but it's something I've always done.
"It's possible in my eyes. I'm developing so quickly in this sport. And there's so many more years where I'll be on top as well.
"It's not daunting at all. Thinking about it now it almost seems so far away from me in terms of the timeline.
"There's World Cups and qualifying for the Olympics first. That's the focus. I can't skip a stage now and start focusing on the medal. I need to focus on the step by step programme that my coach is setting me.
"But I've conquered Europe. I conquered the Commonwealth Games. I'm equipped for those pressure situations."
So the curtain comes down on the Irish teenager's year and, should he overcome his injury, there can be no doubt who will light up the world of gymnastics in 2019.