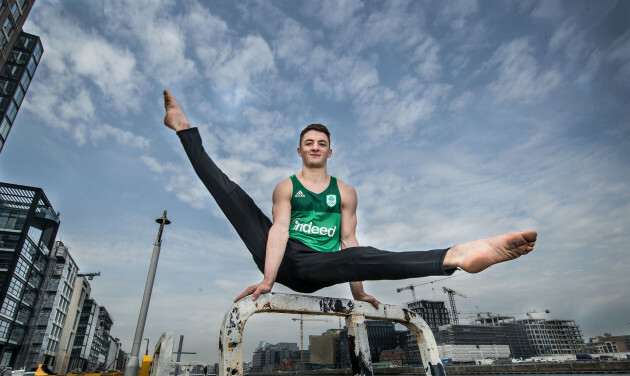 Indeed Indeed ambassador Rhys McClenaghan. Indeed
WITH THE RESCHEDULED Tokyo Games upon us, The42 is running a new series with Indeed, proud partner of Team Ireland. 
Talent Unleashed: The Series tells the stories of three Irish athletes aiming to make a big impact in Japan, exploring how they have dealt with wins and setbacks along the way — from their humble beginnings to the Olympic Stadium in Shinjuku.
Next up is 22-year-old gymnast Rhys McClenaghan, who will be competing at the Olympics for the very first time on Saturday. The42′s Ciarán Kennedy takes a look back at Rhys' path to Tokyo…
Rhys McClenaghan never lost belief.
Not when shoulder surgery forced him to radically adapt his training methods. Not when he found himself without a suitable gym to train in. Not even when the 2020 Olympics, the target he had been working so hard towards, was pushed back a year.
In each instance, McClenaghan just ploughed on.
That ability to adapt has been central to the story of Rhys' journey, which will soon bring the Down native to the biggest stage, a stage on which he has always felt he belongs.
Indeed / YouTube
McClenaghan realised he had a talent for gymnastics at an early age. He took his first steps into that world when he was just six years old, with some gentle encouragement from an aunt who had represented Northern Ireland herself.
It wasn't the most obvious sporting path for a young boy in Newtownards, and with that came its own challenges. McClenaghan was teased for taking part in a sport more generally associated with female athletes, but the young gymnast already had the self-confidence and belief to brush off any negativity sent his way.
Something which began as a hobby quickly became a passion. By 2016, training out of Bangor's Rathgael Gymnastics Club, he was making his presence felt in world gymnastics, winning silver on the pommel horse at the Junior European Gymnastics Championships, and in the process becoming Ireland's first ever medallist at the championships.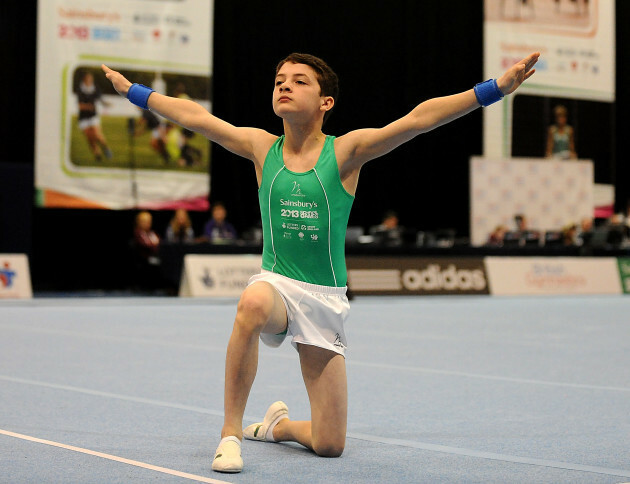 PA Archive / PA Images Rhys's talent was clear from early on. PA Archive / PA Images / PA Images
Yet just as his star was rising, McClenaghan was dealt a major setback, losing the use of his regular training facility in Bangor. Determined to avoid as little disruption to his training regime as possible, he put a pommel horse in his back garden and got back to work, knowing that facilities always come second to desire and discipline.
In 2018, he beat pommel horse Olympic champion Max Whitlock to gold at the Commonwealth Games, took gold for Ireland at the European Championships in Glasgow and ended the year as RTÉ's Young Sportsperson of the Year.
Yet 2018 also represented the toughest challenge yet of McClenaghan's young career. At the World Championship in Doha, McClenaghan fell off the pommel horse twice as he battled a shoulder injury. The subsequent surgery to remedy the problem left him initially unable to lift his arm to head height.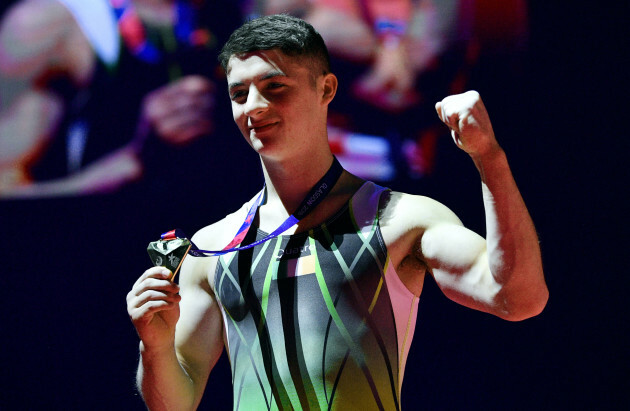 Neil Hall / INPHO McClenaghan with his gold medal at the 2018 European Championships in Glasgow. Neil Hall / INPHO / INPHO
Again, McClenaghan adapted, making the most of the limited training he could do. As the Indeed ambassador recalls:
We could either take it as a very negative thing that we're going back to basics, or we could take it as a positive.
"We chose the positive. My coach, Luke Carson, thought it would be a good time to focus on the minute details."
With the help of Carson's scaled back programme, McClenaghan marked his return to competitive action six months later with a stunning silver medal performance at the World Challenge Cup.
Later that year, he took gold at the World Cup in Slovenia and won bronze at the World Championships, the latter representing another first for Ireland at the event, and, crucially, securing his place at the Tokyo Games.
Billy Stickland / INPHO At Indeed's Capital Dock office in Dublin. Billy Stickland / INPHO / INPHO
"When I went to the World Championships in 2019, the little things that me and Luke focused on on that comeback from surgery, it all paid off in that competition," McClenaghan said.
"We came home with a bronze medal that I'm incredibly proud of, but we want that top spot.
We want to be that far ahead of the field that we're undeniably the best in the world. We want to go out there to the Olympic Games and come back with a gold medal."
McClenaghan's unwavering self-belief hit new levels during the difficulties experienced during the pandemic. A new box room in his house – which McClenaghan built himself with his father – became his go-to gym, before access to the National Sport Campus finally reopened.
The 22-year-old has shown incredible levels of mental resilience and determination to reach this summer's Olympics. Along the way, he's helped put gymnastics on the map in Ireland, with participation in the sport rising in the region of 20% year-on-year before the pandemic hit.
Bryan Keane / INPHO Alongside coach Luke Carson. Bryan Keane / INPHO / INPHO
"People within gymnastics in Ireland now have a hero," Carson told The42 in a previous interview.
"Every kid starts like Rhys did. They go to a club, they join for recreational purposes, but then they get selected for the B team and the A team and then the High Performance team.
It hasn't been an easy road for Rhys and to be able to tick off all these boxes and have all these medals, it has been wonderfully positive for the sport.
"I know a lot of the gym owners in Dublin and they tell us that after each result there's an influx in participation. It's directly correlated."
And with McClenaghan's biggest challenge yet finally coming into view, the man who has breathed new life into gymnastics in Ireland looks well placed to make even more history, with his eyes, as ever, firmly fixed on gold.
Rhys McClenaghan is an ambassador for Indeed, who are proud partners of Team Ireland at the 2020 Tokyo Olympics. He competes in the qualification rounds on Saturday, 24 July before the men's pommel horse final on Sunday, 1 August. Achieve your own dreams by searching millions of jobs online with Indeed, right here.