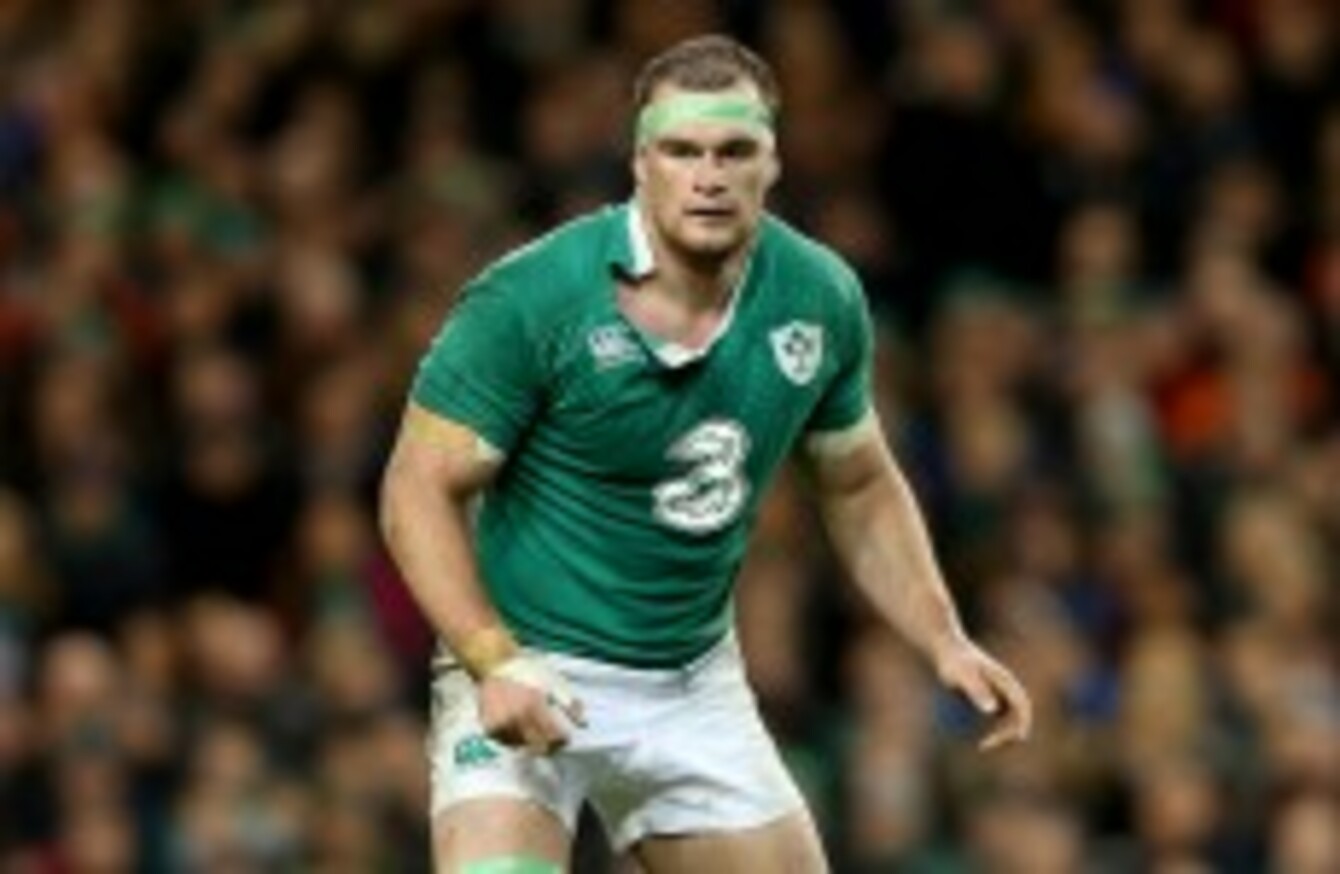 Ruddock was drafted into the Irish team after the injury to Chris Henry.
Image: Dan Sheridan/INPHO
Ruddock was drafted into the Irish team after the injury to Chris Henry.
Image: Dan Sheridan/INPHO
RHYS RUDDOCK'S BROKEN arm couldn't have come at a worse time for the 24-year-old.
Going into the autumn tests a lot of Irish fans were worried about the absence of the marauding Sean O'Brien and one of the reasons that ended up being such a non-issue is because of players like Ruddock stepping up.
The flanker was called into the starting line-up for the South Africa test on short notice after the injury to Chris Henry but capped a composed performance with a try off a rampaging maul.
But after breaking his arm in the second back-to-back Champions Cup fixture against Harlequins Ruddock has seen O'Brien, Jordi Murphy and Tommy O'Donnell all come into the Ireland squad and perform well.
It was particularly tough for Ruddock because he initially hoped to be ready to play before the Six Nations but instead had to settle for a Pro12 return against the Ospreys last Friday night.
"It is hugely frustrating when you set your mind on being back just before the Six Nations like I did but obviously it didn't work out that way," Ruddock said.
"I had a little bit longer to wait and I was just itching to get back on the field. Now that I am back on the field a little bit of the frustration is relieved and hopefully I can get the rest out when I am on the field."
Source: AnLaighin King/YouTube
While he hasn't been involved in the national squad since the autumn, Ruddock hasn't been cut adrift entirely. Joe Schmidt remains an omnipresent figure, checking in with the injured internationals regularly and studying their comeback games to see if they are ready for an invitation back to the exclusive club that convenes regularly at Carton House.
"More in terms of seeing how I was getting on and when the return to play was," Ruddock said when asked if the Irish boss had been in touch.
"I was delighted to tell him that I would be back in action last week. He knows where I'm at in terms of the injury and I presume he will be, as ever, watching the performances of people on the edge of the circle to see how they get on and when they are ready to be involved."
Now that he is on Schmidt's radar again Ruddock is keenly focused on returning to the level he was at before breaking his arm as soon as possible. He gave an honest assessment of his display last week, saying he was happy with his fitness levels but acknowledged he was still short a bit of match sharpness that caused him to make a few errors.
Ruddock knows that the only way he can force is way back into the Ireland squad is to excel at provincial level and the visit to Wales to face the Scarlets on Saturday gives him his second opportunity to impress.
"The only way to do that [get back in the squad] is to have a big performance with Leinster when I get a chance," Ruddock said.
"They [Ireland] are going so well that I would probably be relying on an injury or two but there is definitely more of an emphasis on myself playing well with Leinster."
Much like at international level, the competition in the back row at Leinster is also fierce. There is so much talent at certain positions at the province that players can end up starved of game time, like Brendan Macken who last week completed a loan move to Gloucester for the remainder of the season.
Ruddock wishes Macken well and admits that with so many back rows around, he had some similar frustrations earlier in his career.
"There were times when I probably wasn't getting enough game time to keep me fully happy and there was a little bit of frustration there," Ruddock said.
"I think he [Macken] will improve hugely as a player with game time. Definitely for any player who is on the fringes, you do get that decision to make at times and hopefully it works out for Brendan."