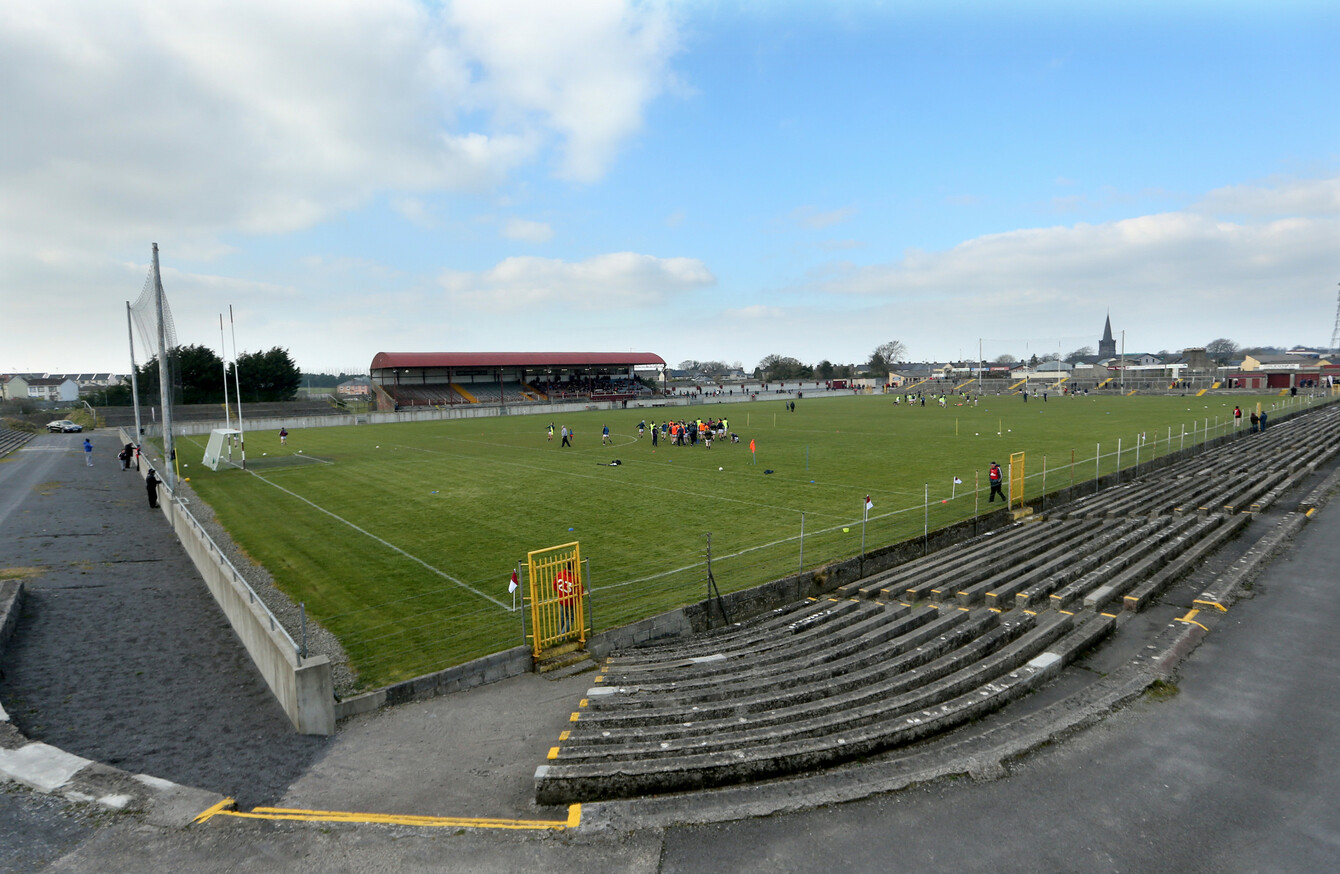 Image: James Crombie/INPHO
Image: James Crombie/INPHO
Rice College 1-13
St Attractas 0-10
Colm Gannon reports from Tuam Stadium
THE ONE THING certain before throw in at Tuam Stadium was that a Mayo man would be lifting the Aonghus Murphy cup, with Charlestown man Paul Towey captaining St Attracta's College, Tubbercurry against his fellow county men from Rice College, Westport.
It was the Westport men who prevailed at the end, winning their first ever Connacht Post Primary Schools A title by six points – after a top class display in tough conditions.
The first half started in a literal flash of light, with flares on the far side of the field engulfing a third of the field not long after throw-in.
The smoke that took a few minutes to clear didn't stop the men from Westport getting off to a great start and pushing themselves into an early four point lead as early as the sixth minute.
The scores came from frees by Pat Lambert and Stephen Loftus, with Keith Joyce and Patrick Chambers landing the other two.
But the Sligo men were't going to let this game pass them by that easy and they rallied with a four point run of their own, thanks to two frees from Red Og Murphy and scores from Paul Towey and Conor Murray at the quarter-of-an-hour mark.
Rice hit the front again with a well taken score by Joyce, but his side were dealt a serious blow 17 minutes in when midfielder Fintan McManamon was shown a straight red card for a challenge on Gavin Gorman.
A long punt from Liam Kerrigan bounced over the bar to tie the game up shortly after, but Rice College adapted their tactics to play with 14 men and hit four more unanswered points to go in leading 0-9 to 0-5 at the break.
The Sligo side got in for a goal chance right after the restart when Alan Reilly found himself in space behind the Rice cover, his shot was well saved by Cian Kennedy in the Westport goal.
That scare spurred the Rice attack into life with Liam Tunny and Patrick Chambers scoring quick-fire points to put their school six to the good and looking good for victory,
Two Red Og Murphy pointed frees closed the gap back to just four and when Pat Lambert and Mark Lundy swapped scores, there was still a chance for the Tubbercurry men to make their man advantage count.
The next score was the vital one in the game and it went to the Westport school with Joyce rising highest to palm the ball to the net and put his team 1-12 to 0-8 in the lead with 15 minutes to go.
They stretched that out by another point not long after thanks to a fine Stephen Loftus effort and looked to be home and hosed.
St Attracta's were thrown a lifeline when Mark Lundy was hauled down inside the penalty area and the spot kick was awarded. Murphy stepped up, but his effort was brilliantly saved by Kennedy.
Murphy was shown the line not long after, when he picked up a second yellow card as the game played out to its now inevitable conclusion.
Scores for Rice College: Keith Joyce (1-3), Stephen Loftus (0-3, 2f), Pat Lambert (0-3, 1f), Patrick Chambers (0-2), Luke Tunney (0-1), Mark Moran (0-1)
Scores for St Attracta's: Red Og Murphy (0-5, 4f, 1 45'), Conor Murrary (0-1), Liam Kerrigan (0-1), Paul Towey (0-1, 1f), Mark Lundy (0-1), Rian Bailey (0-1)
Rice College – Westport
1. Cian Kennedy (Westport)
2. Luke Dawson (Westport)
3. Rory Brickenden (Westport)
4. Ray Walsh (Westport)
5. Jack Carney (Kilmeena)
6. Eoghan McLaughlin (Westport)
7. Michael Brady (Westport)
8. Fintan McManamon (Burrishoole)
9. Patrick Chambers (Burrishoole)
10. Keith Joyce (Kilmeena)
11. Mark Moran (Westport)
17. Luke Tunney (Westport)
13. Stephen Loftus (Westport)
14. Pat Lambert (Westport)
15. Cillian Heaney (Westport)
Subs:
18. Kevin McGuire (Westport) for Walsh
19. Conor Calvey (Westport) for Chambers
12. Robbie Harper (Kilmeena) for Joyce
St Attractas -Tubbercurry
1. Griffin Gallagher (Tubbercurry/Cloonacool)
2. David Barrett (Collaney/ Mullinabreena)
3. Oisin Grehan (Tubbercurry/Cloonacool)
4. Oisin McCann (Tubbercurry/Cloonacool)
5. Liam Kerrigan (Tubbercurry/Cloonacool)
6. Kevin O'Hara (Tourlestrane)
7. Niall Connolly (Collaney/Mullinabreena)
8. Gavin Gorman (Collaney/Mulllinabreena)
9. Conor Murray (Bunniadeen)
10. Paul Towey (Charlestown Sarsfields)
11. Alan Reilly (Curry)
12. Kevin O'Kennedy (Coolaney/Mullinabreena)
13. Red Og Murphy (Curry)
14. Conall Ryan (Tubbercurry/Cloonacool)
15. Eoghan Sweeney (Curry)
Subs:
24. Matthew Clavin for Gorman (BS)
24 Matthew Clavin for ReillY
18. John Durkin for O'Kennedy
22. Mark Lundy for Murray
23. Rian Bailey for Towey
25. Paul Connolly for Ryan.
Referee: Martin Flaherty.