David J. Phillip Bolt winning the 100m on Sunday. David J. Phillip
"THE BEST LIES to tell are the ones that people want to believe."
That's a line from Jasper Fforde's 'Shades of Grey: The Road to High Saffron' — a dystopian novel set in Chromatacia, an alternate version of the United Kingdom, where social class is determined by one's ability to perceive colour.
It would not, however, be out of place in the current narrative surrounding elite sprinters, specifically the 'good versus evil' storyline that played out around the men's 100m World Championships final.
In case you somehow missed it, Usain Bolt — three-time World & twice Olympic champion — triumphed over Justin Gatlin — twice banned for doping offences — in sprinting's blue riband event.
A Bolt victory had apparently, to quote BBC pundit Steve Cram, "maybe even saved his sport."
Mike Sam / YouTube
But that black and white narrative is too simplistic for journalist and author Richard Moore, who watched Bolt romp to victory in the Bird's Nest Stadium back in 2008 and couldn't help but have suspicions about what was unfolding in front of him.
However, instead of just casting aspersions on Bolt and Jamaican sprinting in general, Moore decided to find out exactly what it was that allowed a tiny corner of the world produce, not only the world's fastest man, but a succession of the world's top sprinters.
The result was 'The Bolt Supremacy: Inside Jamaica's Sprint Factory.'

"It was a number of performances that prompted it really," Moore told The42 on Friday.
"I first became aware of Bolt in 2008 but I was in Beijing to cover cycling mostly. In London I had a more wide-ranging role and was trackside for the 100m/200m and — if there was one result that really jumped out — it wasn't so much the 100m but the men's 200m where Jamaicans were first, second and third — Bolt, Blake and Weir.
"It wasn't even that they were all Jamaicans, it was that they were all coached by the same coach — Glen Mills — and, actually, they were all from the same quarter of the island and all trained in Kingston.
"When you look at that you think it's either incredibly impressive or incredibly suspicious. Just talking about it afterwards with my wife, she was really impressed while I was really suspicious.
"I guess I was probably tainted by the Tour de France which I'd just come from and there was all this suspicion around Bradley Wiggins and I was quite frustrated with that because I felt a lot of it wasn't evidence based, it was speculation.
"So I realised that, if I was being sceptical about Bolt and the Jamaicans, then it was just uninformed speculation. I knew nothing about it really so that's when I resolved to try and find out more."
AP / Press Association Images Bolt celebrates his 100m title with his traditional post. AP / Press Association Images / Press Association Images
So Moore packed his bags and travelled to the Caribbean island where he met with Bolt's family, talked to coaches and physiologists, sought as much evidence as he could to prove if Jamaica did or did not have a doping problem.
Without giving away the ending, what he found was a mixture of stupidity and naivety on the part of some athletes, a culture of homophobia and distrust that causes chaos with the testing process and a general level of disorganisation across the island.
"Yannis Pitsiladis, the British physiologist, comes to the conclusion that the island wouldn't be capable of organising doping with the kind of sophistication that would be required [to emulate East Germany].
"My book isn't saying they're clean, because I don't know if they are or not, but I was keen to determine the reasons why they were so good."
One of the reasons Moore found is because sprinting is not just seen as a sport, but an art form.
"What I did find is that the one thing Jamaica has, that no other nation in the world has, is this extraordinary culture around sprinting. It's a culture that starts when kids are still at primary school and they're taught the art of sprinting.
"That's not just running fast, there's a technique to it and that's probably something we forget in this part of the world. It's not like we don't do athletics or teach athletics, it's a core sport and there are fast kids — and slow kids like me.
"But [in the UK and Ireland] the fast kids are not given any sort of specialist training, they're just running fast. When I went to training sessions in Jamaica and watched them run and watched the training exercises and routines they do — the work they do on technique, etc — it's more like dancing than running. It's a very unnatural action in fact.
"It's something that, when we watch sprinters race, we probably don't fully appreciate — the technique, the high knees, the fact they're running on the balls of their feet rather than landing on their heels. It's almost laughably basic stuff but it's, perhaps, fundamental to their success."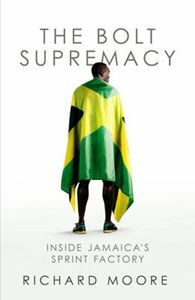 Moore's book.
However, Moore's book doesn't sugar coat or attempt to hide the fact that some athletes have a very negative attitude to drug testers, but he says that can't be just put down to trying to hide the fact they're cheating.
"Testing is a tricky one. From an athletes' point of view, I can understand how irritating it must be to have someone come around first thing in the morning and watch you pee in a bottle.
"More and more athletes are being educated in the appropriate response to that — really the testers are an athletes' friend rather than enemy — but culturally, when anti-doping kicked on and became a bit better, it took a while for that adjustment to happen for a lot of athletes.
"You do hear slightly disturbing stories from Jamaica and I've a chapter where Paul Wright (a drug tester) discusses the cultural phenomenon of athletes not wanting him to see them pee because of the very homophobic culture in Jamaica.
"That's not a sign of cheating necessarily, it could be just a sign that the culture in that country is yet another hurdle to overcome."
Exclusive Six
Nations Analysis
Get Murray Kinsella's exclusive analysis of Ireland's Six Nations campaign this spring
Become a Member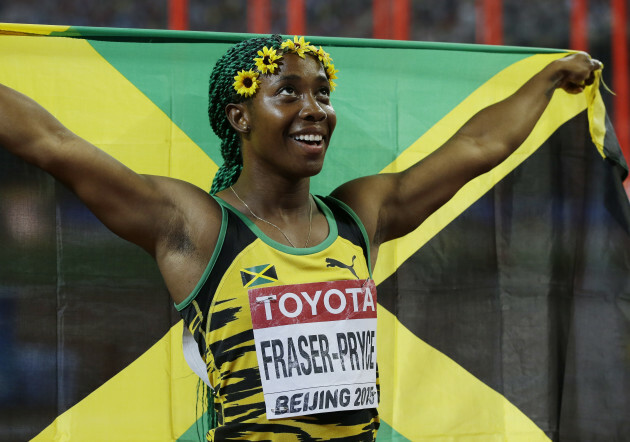 Kin Cheung Shelly-Ann Fraser-Pryce is one of many Jamaican athletes to test positive since 2008. Kin Cheung
There is no disputing the fact that since Beijing 2008 more than 20 Jamaican runners have tested positive, including Bolt's training partner Yohan Blake, and Shelly-Ann Fraser-Pryce a double Olympic 100m champion who was victorious in the same event at the Worlds on Monday.
"There have been a lot of positive tests but what I found was the vast majority have been for what you would call 'minor' doping offences.
"There is a spectrum of doping offences from stimulants to blood doping and it's why some athletes, like Sherone Simpson, are suing the supplement company because the ingredient they tested positive for wasn't labelled in the US.
"It's a big problem for athletes, supplements that are badly or incorrectly labelled, and — without wanting to sound like a doping apologist — you can get genuine mistakes, mainly from athletes looking for some sort of edge from their supplements and that is a whole grey area in doping.
"But the thing is, you can't equate Asafa Powell's doping offence with even Tyson Gay's who tested positive for testosterone because it's on a whole different order really.
"From Shelly-Ann Fraser-Pryce to Yohan Blake and Asafa Powell, they were all the type of doping offences that you'd put down to sheer stupidity rather than a desire to cheat.
"If there was some sort of sophisticated cheating going on, you'd imagine they'd be on top of things like that. Lance Armstrong never tested positive and he had an entourage around him who carefully managed what he was doing.
"It's dangerous to draw too many conclusions either way but I don't think you can look at a lot of the Jamaican cases and think it points to some sort of dark reality of a doping machine in action."
For this reason, Moore thinks that while there are some offences where life bans would be the correct punishment, he doesn't see them being implemented any time soon.
"Life bans would be appropriate in some cases. There are cut and dry cases of very serious doping — steroids in sprinting and blood doping in endurance sports, etc. For those sort of offences, there are serious arguments for a life ban but I have my doubts they'll ever come in."
It becomes clear reading The Bolt Supremacy that — rumour and innuendo aside — there is little evidence that the titular character is a cheat. However, Moore admits that it's virtually impossible to prove someone is clean.
Bolt, as he is probably only too aware, is the face of sprinting and Moore says his legacy would be destroyed if he ever tests positive.
"Say Bolt accidentally takes a banned supplement at some stage, I mean that would be the height of stupidity.
"He'd be denounced as a drugs cheat and every single performance would have a question over it and that's not necessarily an accurate reflection of his career.
"But, unfortunately, mistakes don't lend themselves to the black and white narrative."
The Bolt Supremacy is on sale now.