AT THE END of last year's All-Ireland final, as fans of Kilkenny and Galway shuffled up the steps and out of Croke Park, an elated Richie Power cherished the moment pucking a sliotar about with his son Rory below the Hogan Stand.
Another operation was on the horizon but he was going to enjoy the moment while it lasted. The possibility of having to face a long wait before getting another opportunity to grace the hallowed turf of Croker meant moments like this had to be savoured.
Little did the 29-year-old know that developments in the following months would lead to him never returning, in the same capacity, to the place that had provided him with so much success in the black and amber stripes.
Morgan Treacy / INPHO Richie Power playing with his son Rory after last year's All-Ireland SHC final against Galway. Morgan Treacy / INPHO / INPHO
"I certainly didn't go into last year's All-Ireland thinking it was going to be my last. I knew that I was probably going to need another operation on the knee afterwards but I genuinely thought in my own head that I'd be back hurling this year," Power told The42 this week.
"Whether it would be with Kilkenny or Carrickshock I didn't know.
"Some people made reference and asked me with regard to the picture at the end with Rory, did I feel like that was going to be my last time on the field? I certainly didn't think that but as things transpired later in the year from October/November when I had the operation, I was told by the surgeon that my playing days were more than likely behind me.
It was only really then when those words came out of his month that it became real. But up until that point I had ambitions to be hurling with Kilkenny this year.
So often in sport, with progressions in medical science and access to a wealth of specialists and consultants, there are narrow beams of hope for athletes in even the most unfortunate of circumstances. Is there a possibility that the eight-time All-Ireland winner can make a remarkable return to the GAA pitch? Or have his chances of a comeback completely evaporated?
"At this moment in time? Yeah, which I don't say lightly," continued the Carrickshock clubman.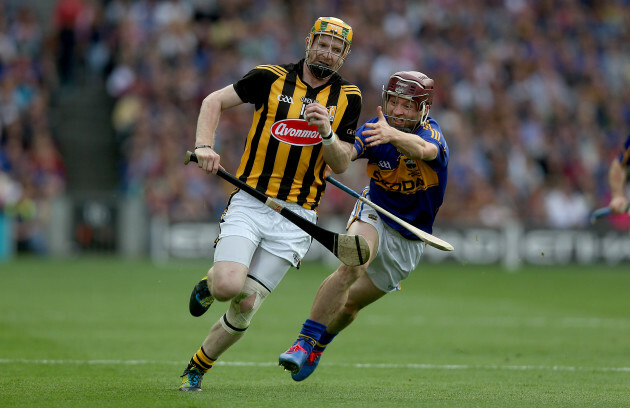 Donall Farmer / INPHO Richie Power bursts past Paddy Stapleton during the 2014 All-Ireland SHC final replay against Tipperary. Donall Farmer / INPHO / INPHO
"I've done the last eight months rehab on the knee to build up the leg as much as I possibly can. There's still no light at the end of the tunnel with regard to where I'm standing which is very much the difficult thing about it.
"At 30 years of age, you probably won't ever hurl again and you probably won't ever run again — it's unheard of really at such a young age. You have to wonder how it got to this stage or how it was let get to this point.
"I suppose there was a lot of anger at the beginning. Obviously, I'm not going to say where the anger was directed or who it was directed at.
I just couldn't understand in my head how a situation was let get to this point, get to this stage where a guy, at the age of 29 at the time, was told that his playing days were finished.
"There's anger there and a lot of questions I'd like to have answered but I don't think I'll ever have them answered and that's the frustrating thing about it."
After excelling at county minor level and leading his county to All-Ireland glory in 2003, Power was quickly fast-tracked onto Brian Cody's senior team. The forward would go on to play a pivotal role in Kilkenny's reign of domination, and by contrast, has found himself facing a lot of unfamiliar spare time in retirement.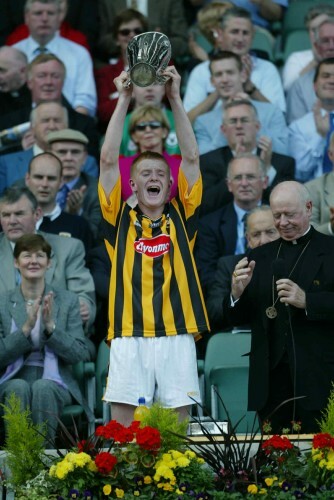 INPHO Richie Power lifts the Irish Press Cup after winning the All-Ireland MHC final against Galway. INPHO
"It's after being very difficult in the first couple of months in particular. It's a massive change for anyone that leaves an inter-county setup when you're so used to training five or six nights a week and you go back to doing very little.
"In my case, I wasn't able to do much with the way my knee was. I was literally back doing my rehab twice a week compared to training five or six nights a week so I did find it very difficult. You just need to adapt, and as time went on, it got a little bit easier."
With the addition of foresight, the 30-year old believes that things could have been done differently. Numerous operations had taken their toll on a fragile knee and the essence of time was perhaps the best medicine that could have been provided.
"I don't think I would've rushed back as quickly as I possibly have in the past after some of my keyhole surgeries.
"I suppose last year if I had known what the outcome would have been, I probably would have taken 12 months off completely just to rehab and recuperate and hopefully the knee wouldn't have got so bad.
Unfortunately I wasn't told that. I wasn't warned of any ill kind of outcome. I suppose after three operations, in the space of ten months last year, things weren't looking good for me and it's materialised that way.
"Unfortunately, that's the way things have turned out."
Exclusive Six
Nations Analysis
Get Murray Kinsella's exclusive analysis of Ireland's Six Nations campaign this spring
Become a Member
Lorraine O'Sullivan / INPHO Richie Power receives instructions from Brian Cody during the 2006 National Hurling League. Lorraine O'Sullivan / INPHO / INPHO
But matters aren't utterly bleak for the former player. With the popularity of the national sport continually soaring, job opportunities in areas such as punditry are rising, with former Cats team-mate Henry Shefflin already making the transition to the studio.
The wealth of experience Power possess makes him a highly employable prospect and it is sure to cross his mind as he begins life in retirement.
"If the opportunity arises, I don't see why not. But at the moment, there's a lot of good pundits out there and they don't seem to be going anywhere any time soon."
Hard-earned quality family time is now at the forefront of Power's mind. Inter-county hurling takes its toll on life away from the pitch and this Cat has certainly put in the time.
"I think I'll take a looking-on role from the sidelines for the time being anyway.  I can sit back and enjoy it because it's the first time in 15 years that I'm not involved at county level. It gives you a little bit more time to sit back and enjoy it.
"It gives me the chance to enjoy it with Rory then as well and we can have days out together in Croke Park."
The42 is on Snapchat! Tap the button below on your phone to add!