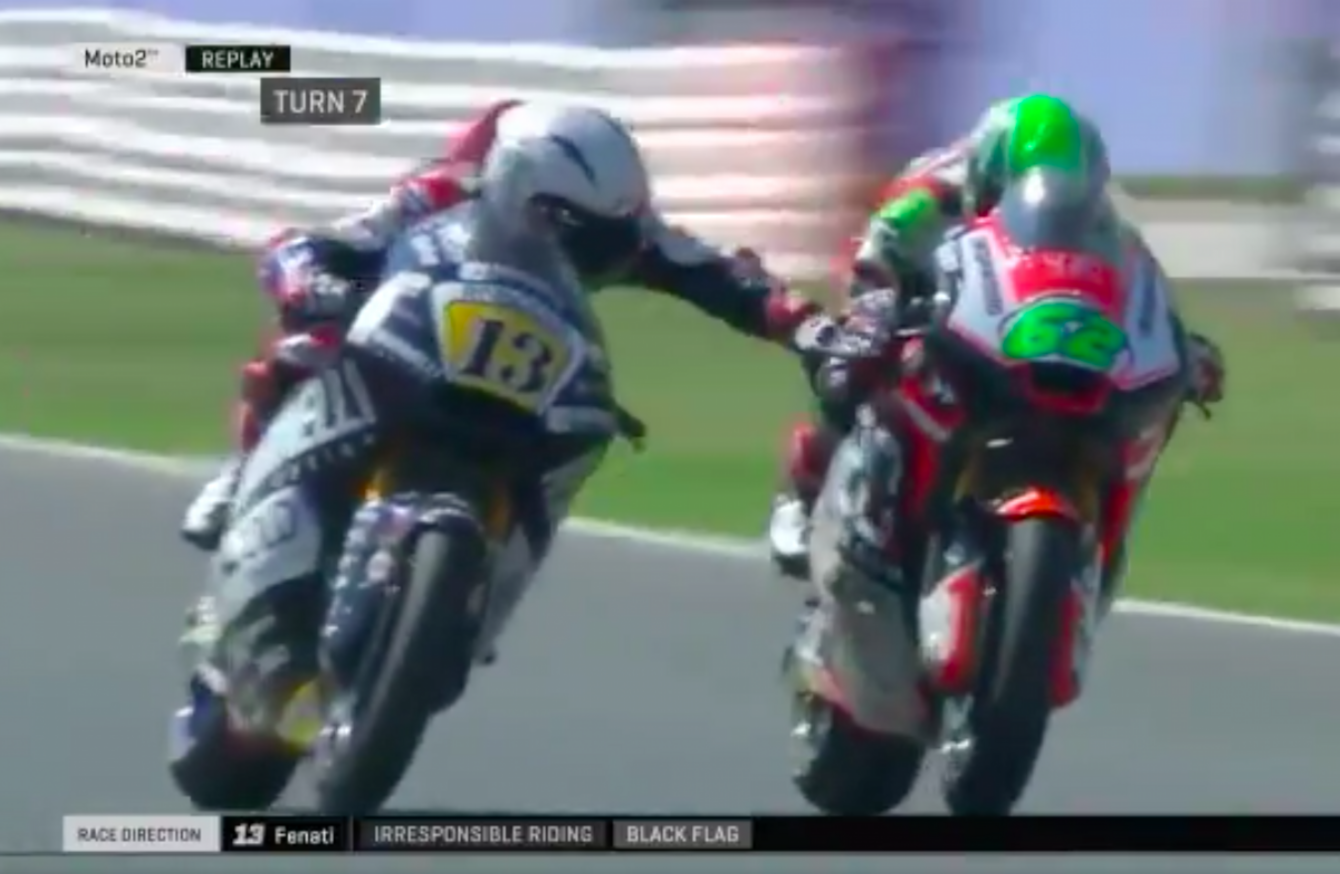 Romano Fenati (left) reaches across his opponent.
Romano Fenati (left) reaches across his opponent.
THERE WERE INCREDIBLE scenes at the San Marino Grand Prix on Sunday afternoon, as Italian Moto2 rider Romano Fenati was disqualified for reaching across and grabbing his opponent's brake lever.
The bizarre incident saw the 22-year-old reach across towards rival and compatriot Stefano Manzi and attempt to pull his brake as the pair sped side-by-side at 140 miles per hour.
Reports suggest Fenati's motivations could be due to an earlier attempt by Manzi to overtake the Italian, which resulted in both riders veering off the track and losing several positions.
BT commentator Colin Edwards said Fenati's actions could have had serious consequences, stating that he had "put somebody's life in danger."
Later on Sunday it was confirmed that Fenati had been handed a two-race ban. 
Menzi, who regained balance shortly after the setback, said that the incident had been due to the pair clashing earlier in the race before running off the track.
"We had contact two turns before, but nothing to justify such a reaction. His gesture speaks for itself," he said.
FIM MotoGP Stewards 📋

Black flag Romano Fenati for irresponsible riding 🏴#Moto2 #SanMarinoGP pic.twitter.com/sTqv6nhZer

— MotoGP™🇸🇲🏁 (@MotoGP) September 9, 2018
The42 is on Instagram! Tap the button below on your phone to follow us!