AS NICKNAMES GO 'The Fastest White Man in the World' is not too shabby.
Ireland's Paul Hession earned the tag during a period of his career (in 2007 and 2008) that saw him hold four national records.
However, when athletes like Usain Bolt and Richard Thompson are smashing 10 second barriers with regularity, the caucasian cause is lucky to stay in the picture.
Hession, a silver medallist at a World Athletics Final in 2008, has returned to Irish shores in the lead-up to the Olympic Games. He took some time out of his schedule to discuss the challenge of toppling Olympic champion Usain Bolt in the 200 metres sprint event.
What was the reasonig behind your move to Dublin from Scotland to train for the games?
I'd a disappointing World Championships last year and I had a lot of soul-searching to do. I had a lot of long chats with my coach and I came to the conclusion that I wasn't going to run any better in London than I had previously. I could have very easily sat on my laurels and accepted another semi-final position in a World/Olympic games but I want more. I decided that I need a change. I'm the type of person that needs a fresh challenge. I said I'd take a risk, to be honest, and come home. We'll see if it pays off. The way it was going I could have run another 20.4 or 20.5 (seconds) and made a semi-final but that is not what I want.
Has the success of Usain Bolt changed the sprinting landscape?
I think Bolt has transcended athletics. He has gone outside our sport and everybody knows who he is. He is on TV now and has his media work with Virgin and Visa and all that. He's a great star, who is great for the sport. I've ran against him about 13 times in my career and every time I have gone against him he's brought something. Some pizzazz and a bit of life to a sport that really needs it to be honest.
Is the success of superstar sprinters the best way to encourage young Irish runners?
We had a period when a few sprinters came along at once. Me, David Gillick, Derval (O'Rourke) and Joanne Cuddihy. We were always trying to figure out how we all came along together because there was a real middle and long distance culture in Ireland. I'm not sure how it all happened but I would like to think that us, as a group, would inspire others. At the Olympics, everyone is going to watch the 100 and 200 metres and for me, personally, it would be great to be involved. I missed a world record run (by Bolt) in an Olympic final by one place and I do not want that to happen again.
Can their dauting speed of the Jamaicans be put down to natural advances?

I honestly think it is. For whatever reason the Jamaicans are running fast, I don't think it is drugs. I could be very wrong but I hope I'm not. It is almost as if we have awoken a sleeping giant. I know people on the ground in Jamaica and they have noticed the changes in the past five years. Kids there really beileve they can be world champions and are staying in the sport. They have a confidence about them where they believe anything is possible.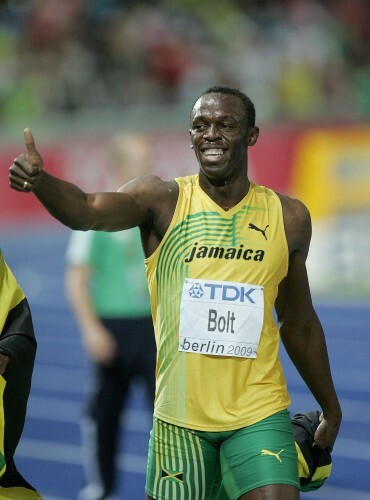 The stunning success of Usain Bolt has given sprinting a worldwide profile.
Credit: INPHO/Morgan Treacy

What would give you hope against the domination of Bolt and his Jamaican compatriots?
You've got to look at someone like Christophe Lemaitre (of France). He came third in last year's World Championship and has run sub-20 and was the first ever white man to run sub-10. Once one person does it, it's not a big deal anymore.
Exclusive Six
Nations Analysis
Get Murray Kinsella's exclusive analysis of Ireland's Six Nations campaign this spring
Become a Member
Who was your inspiration when you were starting out as a runner in Galway?
Sonia O'Sullivan inspired me, totally. I'm of the age where I was nine-years-old when she was in Barcelona, 13 when she ran in Atlanta and 17 when she won silver in Sydney. Coming up through Irish sport, and following the highs and lows of her career, she was an inspiration. As for sprinting, it would be guys like Frankie Fredericks and Michael Johnson.
Do you think you need to get back down, and beyond, your Irish record time of 10.18 seconds to go far in London?
Yes. At the end of the day, you need to be running fast. Your baseline needs to be fast. I'm looking to get back to the times I was hitting regularly in 2008. Consistency is the plan. I do need to get quicker but I want to do that at the right time. Wallace Spearmon ran 9.9 the other week and people were saying that is too fast. I'd rather be too quick too early than too slow too early.
How do you thinkyou will fare at London 2012?
I've been so close on so many times to making finals. My aim is to be top 12 at the Olympics. There are so many guys that are around the same level from 6th to 20th in the world. If I can be in the top 12 I have a chance of making the final. I got so close in Beijing. If I can repeat that or do better I can make the final. If I can make the final we'll see – top six, whatever.