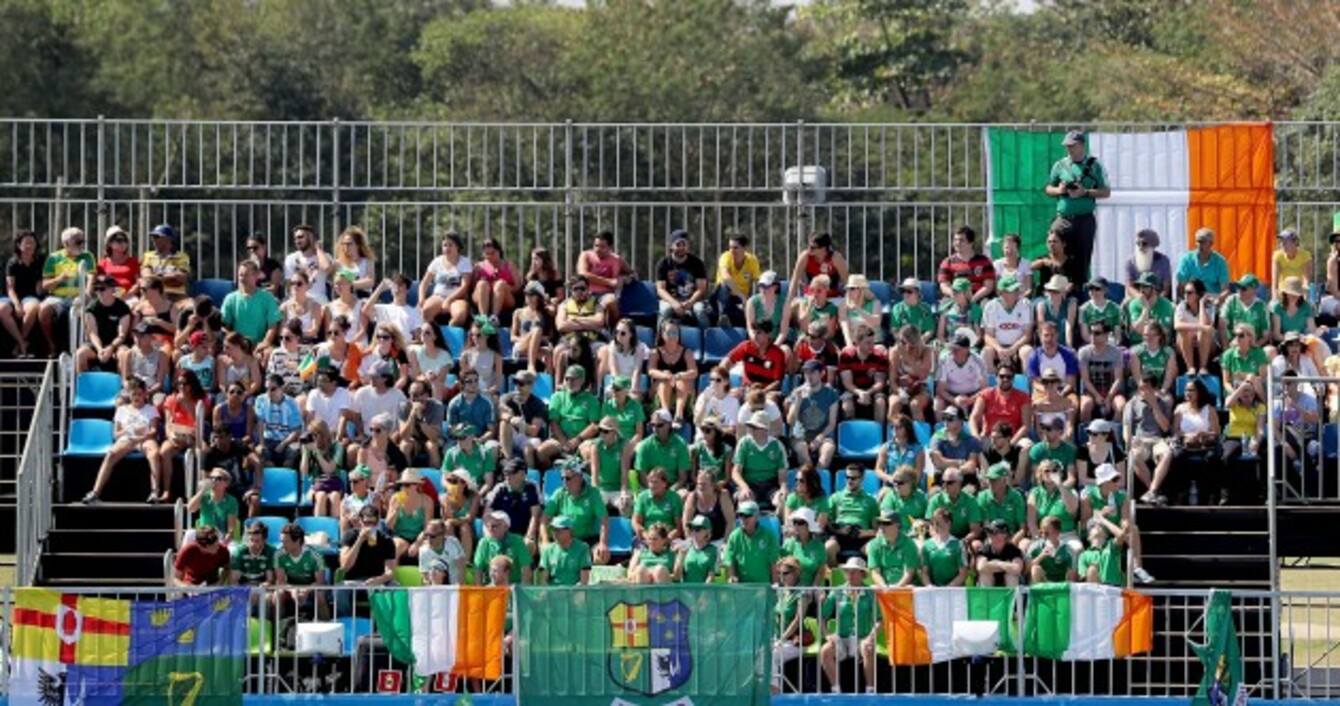 Image: Dan Sheridan/INPHO
Image: Dan Sheridan/INPHO
—Sinéad O'Carroll reports from Rio de Janeiro
"DO YOU HAVE another job?"
An Indian journalist can't hide his incredulity as he speaks to Ireland's Paul Gleghorne following Ireland's agonising defeat to his home country in their Olympic Games opener.
Gleghorne, like many of his teammates, does have a full-time job. He is an accountant. But he's also an international hockey player.
The 29-year-old Antrim man explained to his interviewer:
I dedicate a lot of time to hockey. You just have to make the most of your time outside of work. I'm in full-time employment but in the last few months I've been given a lot of time off to prepare properly for the Games.
The players' employers (many of whom were lenient and understanding with career breaks) are just one layer of a support network that has been invaluable to a team which received little funding and had to raise the cash for Rio for themselves.
Those sacrifices, however, mean that the achievement of Olympic qualification doesn't just belong to the 16-man squad.
The players left behind with the heartbreak of not being selected, the parents, the siblings, the better halves and the wider 'hockey family' community are all deserving of fair dues.
For most, seeing the Green Machine make their debut at the Olympic Hockey Centre in Deodoro will be more than enough.
Sitting in the stands was Johnny Watt, older brother of forward Mikie Watt, who came out to Brazil with girlfriend Tori Crossan ahead of his parents and sister who will all travel from Belfast today after an important wedding this weekend. 
Johnny himself has to leave the city on Friday to make it back to Dublin on time to be groomsman for his friend.
Missing the Games though was never in question despite these tight schedules, the travel time, cost, Zika and all the other pre-Olympic controversies attached to the location.
"You couldn't miss it," says Caoifa Madden, girlfriend of Monkstown's David Fitzgerald, Ireland's reserve goalkeeper who has just overcome a shoulder injury.
Even if that means forgoing camogie championship matches, family holidays and honeymoons.
"We got married four months ago," explains Aoibhne Magee, wife of prolific midfielder Eugene.
People keep asking how married life is. I have to answer, 'Who knows? I live on my own.'
"He works full time but he's been on a career break since May but that doesn't make much difference as he's been in Dublin since then."
The pair will honeymoon in Mauritius after the Games. But that's 18 days away. Right now, priority for Aoibhne and her sister Fiona O'Neill is getting to today's game against the third-seeded Netherlands (10pm Irish time).
The trio of Madden, Magee and O'Neill arrived in Rio on Saturday morning, just hours away from tip-off in the Indian match.
As has been well documented, the Brazilians are having some trouble getting ticketholders to the arenas and into the stands. Despite the empty seats at the Irish game, it was so in the Olympic park where it is located.
Straight off an overnight flight (in the same clothes and without a shower; and in the case of Magee – a physio – two hours sleep after a night on-call), they arrived just in time to hear the final whistle thanks to a 90-minute train journey taking two-and-a-half hours.
"We will be the first people in the stadium," exclaims O'Neill, who along with her sister is missing two league games and a first-ever senior championship match with their camogie club Ballela in County Down to witness the momentous occasion for Eugene et al.
Sacrifices. All made in the name of sport. And family.
But if the lads do well, it will change the way hockey is played in Ireland.
A simple explanation from Madden who, originally from Laois, works two jobs as an assistant psychologist and is waiting to apply for her doctorate.
Those life adjustments don't go unnoticed by the team.
What are they
really like?
Rare insights on sport's biggest names from the writers who know them best. Listen to Behind the Lines podcast.
Become a Member
A goalscorer in yesterday's 3-2 defeat, Conor Harte told The42 that seeing those tricolours and hearing the supportive cheers did make a difference.
"It's amazing. If you think back to the London Olympics, you'd think, 'Yeah, nice big Irish contingent because it's across the water.' But to have these guys travel 12, 13 hours is fantastic and we're so grateful," he said.
Many watching the game at home yesterday will have seen the empty seats in the stand but it's not something that bothered the Machine.
According to coach Craig Fulton, "Just so long as the right people are here to support the lads!"
Not just all in the blood
Kevin Empey, who describes himself as one of that 'hockey family' despite not having a relative on the team, echoes Madden's earlier statement, telling The42 that the occasion could change the sport completely for Ireland.
A father of three teenage boys who play for their respective Irish underage teams, he and his wife decided to delay a planned family trip in 2015 to wait to see if the dream of qualifying a team for the first time since 1908 came true.
The big holiday became the 2016 Rio Olympic Games. The real destination though is the Olympic Hockey Centre.
As the five-strong Empey family walked through the gates yesterday morning, the three jersey-clad boys soaked in the atmosphere, presumably seeing themselves in those jerseys, on that blue surface, taking that penalty corner and being the next generation who can take the sport to yet another level. A quarter-final? A medal? Gold?
Surely those boys will take the stories back to their schools and their clubs. Spread the good word that sacrifices bring rewards. That the Olympics beget Olympians.
More from The42 in Rio: