GOALS CHANGE GAMES and that was particularly evident in the Tipperary win over Galway.
Despite finishing on 3-13, after just 16 minutes Tipperary had one point on the scoreboard. Danny Cummins missed a great goal chance and Tipperary went down the far end and got one of their own. It sparked them into life but there were plenty of warning signs in defence.
A massive part of Galway's strategy this year has been their defence. I have looked at two of Galway's games this year here on The42 and I was very impressed with their defensive shape in both the Mayo win and Roscommon draw. They were compact and managed to close the lines very quickly, sniffing out any trouble.
The defensive plan feel apart on Sunday. Tipperary got ahead and Galway had to have a go but as a result completely lost their defensive shape. Early on we can see the Galway swarm in effect as Philip Austin gets swallowed up by five Galway defenders.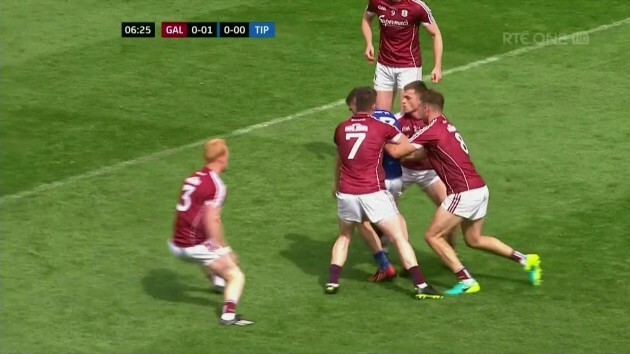 Galway like to keep a line of players across the 45 and, if necessary, men inside. Tipperary regularly played with two inside. This is a strategy more teams might need to adapt. By not playing anybody inside it doesn't allow you to stretch the defence at all and instead that full-backline can join the swarm in front.
What I really liked about Tipperary's attacking shape was that Sweeney and Quinlivan played really deep and against smaller men. This meant that the gap between the 45 defensive line and the inside line was big enough for balls to be played in without giving Galway time to close them down.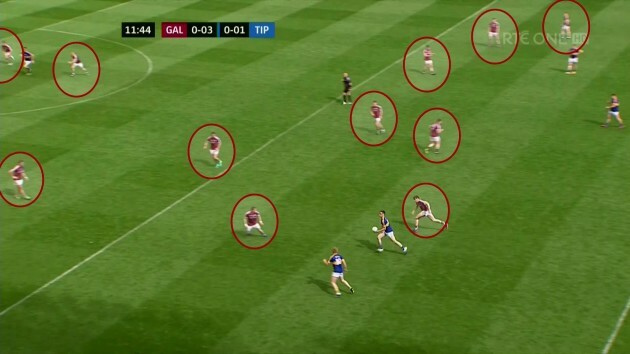 Although this play didn't result in a score, it was a sign of how Tipperary were trying to play. Galway have their defensive shape in place. Sweeney has a little look to see where Quinlivan is and makes an excellent run across the pitch, not looking for the ball, creating space right behind him.
Josh Keane finds Quinlivan who turns and puts the ball wide on this occasion. But it was that space between the lines that Tipperary were keen to find as often as possible.
Tipperary defending the counter
Tipperary's attack was excellent all day but they will have worries at the other end. Galway managed one goal in the first half but really should have had three. Danny Cummins and Gary O'Donnell both had wonderful opportunities to hit the net.
Galway were looking to move the ball as quickly as possible once they could get their hands on it. After a successful turnover Paul Conroy plays a long ball to Sice that clears six Tipperary players.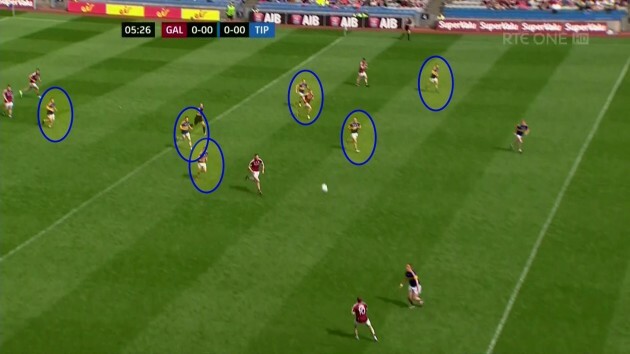 Sice immediately delivers the ball into the forward line, despite it being 4-v-3 in favour of Tipperary, their sweeper can't react to such quick ball. Two kick passes and Galway have launched a very impressive counter attack.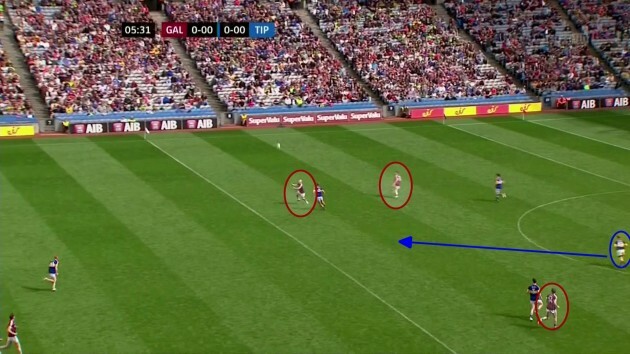 Bill Maher comes across and prevents a goal chance but it was an early sign of Galway's intentions to move the ball quickly.
Danny Cummins' goal chance came again from two quick kick passes. Shane Walsh used his pace to create some space in midfield and then delivered an early ball into the Galway forward line.
Another cross-field ball follows and it's 2-v-2 inside.
Cummins has a wonderful opportunity to put Galway five up.
Gary O'Donnell's goal chance came a few minutes later but from a very similar attack. Galway moved the ball quickly to the Tipperary 45 and Gary Sice played a diagonal ball over the sweeper.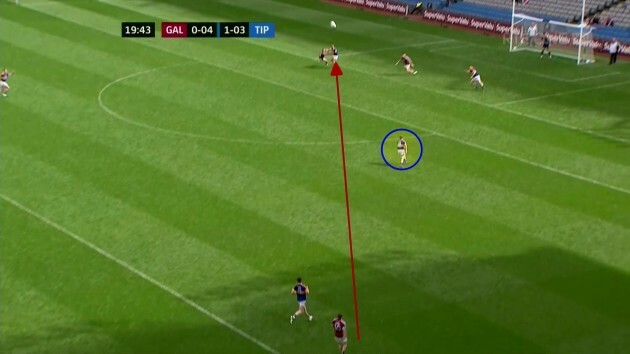 By switching the play, Bill Maher gets drawn to the ball and leaves a bit of space behind and doesn't spot O'Donnell's run on time.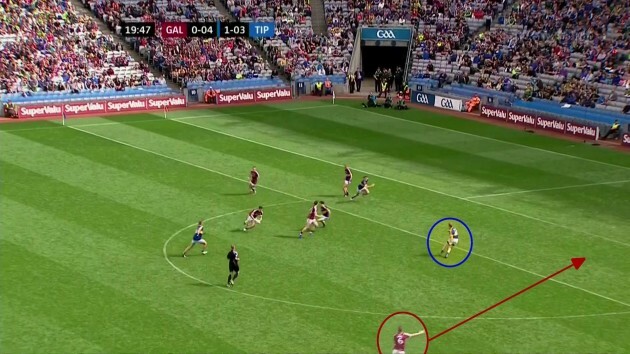 Galway's three goal chances all came from quick counters where the ball was moved by foot. Tipperary could face one of the best counter-attacking teams in Tyrone in the semi-finals and this has to be an area for concern. They did more than enough at the other end to win this game but against Tyrone or Mayo will those chances be missed?
Tipperary goal
Tipperary's first goal swung the momentum of this game. Galway had looked relatively comfortable to that point and led by three. The move started with a great defensive read deep in their own 45. It also shows the fine margins in games.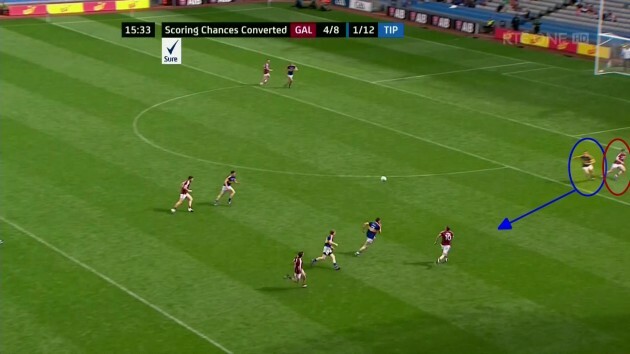 Without this interception Galway look on for a goal chance, but instead it's intercepted and Tipp launch the counter.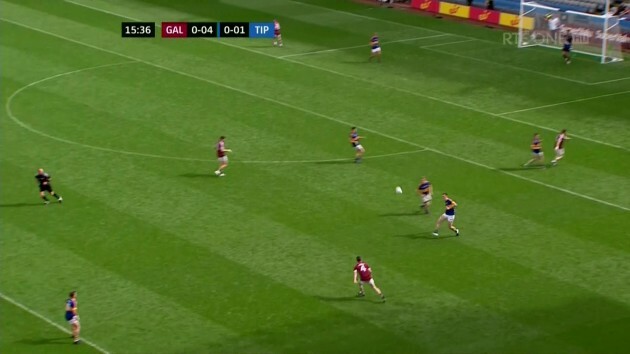 As Tipperary reach the Galway 50 you can see George Hannigan point to the runner behind him as he continues his run.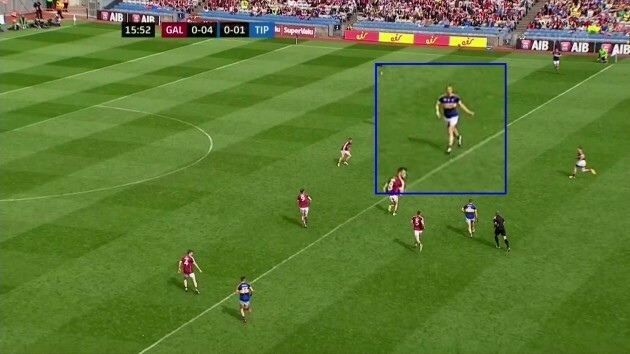 Galway have plenty of men to deal with this attack but just a couple of seconds of ball-watching catch them out.
Conroy and Bradshaw have everything under control and as Acheson steps inside Conroy, Bradshaw is there to halt the run but two Galway players take their eye off the runs and instead get attracted to the ball.
Robbie Kiely sneaks past Eamonn Brannigan and George Hannigan simply continues his run while is counterpart Thomas Flynn gets attracted to the ball.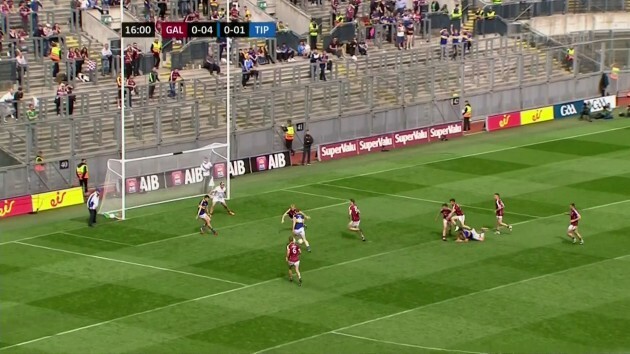 Momentum shift
From the next six kickouts, Galway only won one (which they created the O'Donnell goal chance from). While Galway had looked effective in possession, Tipperary simply starved them of the ball after the goal. From the sixth kickout following the goal, Tipperary scored a point and were then leading by 1-6 to 0-4. It was 13 minutes where Tipperary simply blew Galway out of the water.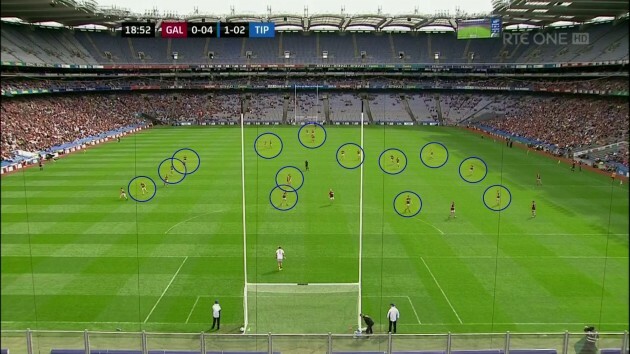 Tipperary pushed up on the kickouts, backed their big men in midfield and as a result we saw some excellent high-fielding. They coughed up a goal chance in the first half but ultimately their bravery was rewarded.
While Galway steadied the ship, they had a similar spell in the second half where they just couldn't seem to get their hands on the ball. Tipperary won 4/6 of the Galway kickouts at the start of the secondnd half. It was only when Tipperary led by 10 that Galway started to get their hands on the ball again from kickouts. Maybe conceding the kickouts isn't the only option!
Tipperary were impressive and no doubt the story of the weekend, but defensively there are questions marks and against a good counter-attacking team may struggle.
Kerry win at a canter
It feels impossible to gauge where Kerry are. Dublin and Donegal have enough to be worrying about between themselves than to be concentrating on Kerry at this stage, but Eamon Fitzmaurice would have gained nothing by playing his hand at this stage. Kerry will have to rely on their in-house competitiveness to get match-sharp.
There were small glimpses of Kerry's vulnerability to being run at through the middle and I still feel that is a problem they need to address, but Clare never looked like they would score enough to frighten Kerry.
While I think Donaghy has some issues on the defensive side of midfield, he still offers a lot and those talking of his engine not being what it should be can take a look at this example.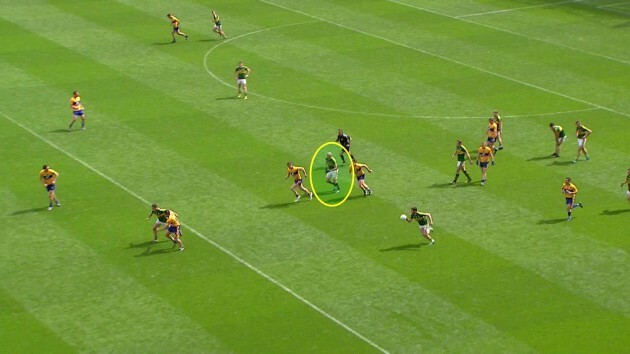 Donaghy helps Kerry turn the ball over. Moments later he is just outside the Clare 50 launching an attack.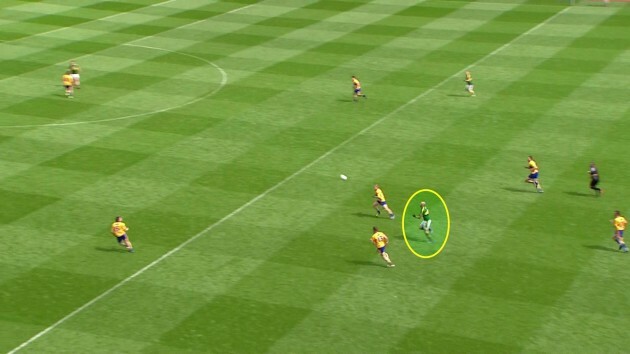 When Donaghy drifts into full forward, especially coming from midfield, he causes confusion and it makes defenders think. Yes this is not Cian O'Sullivan as sweeper but Conor McManus is the type of forward that has caused O'Sullivan to be unsure at times and it allowed Monaghan enough time and space in the league this year.
All you are looking for is a second or two where a player is unsure and then you can exploit the gap. Sure, Dublin are going to be better than Clare at this but Donaghy as an option to drift inside could just create enough space for other players.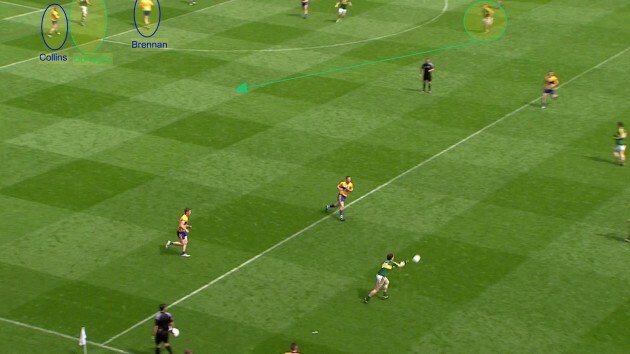 Here, Podge Collins has tracked Donaghy's run, clearly at a height disadvantage, Gary Brennan is keen to take Donaghy in case of a high ball. There are a few seconds where Collins and Brennan are a little slow in swapping roles and as Brennan leaves the space at the top of the D, James O'Donoghue is more than happy to take the space and kick an easy point.
One other point on Kerry is how much fouling they did on Sunday. They constantly slowed Clare's momentum and, while it wasn't always clever fouling, it prevented Clare from ever playing any sort of counter-attacking football.
Clare finished the game with 57% possession but often that was just going lateral with hand-passes, as Kerry had killed any chance of a fast break through, at times, some good defending but at other times they were happy to foul.
Tipperary played a brand of football the traditionalists would be happy with and it was great to watch. How they balance that attacking flair with their vulnerability to the counter will be interesting to watch.
Mayo might be a better opposition for them than Tyrone.