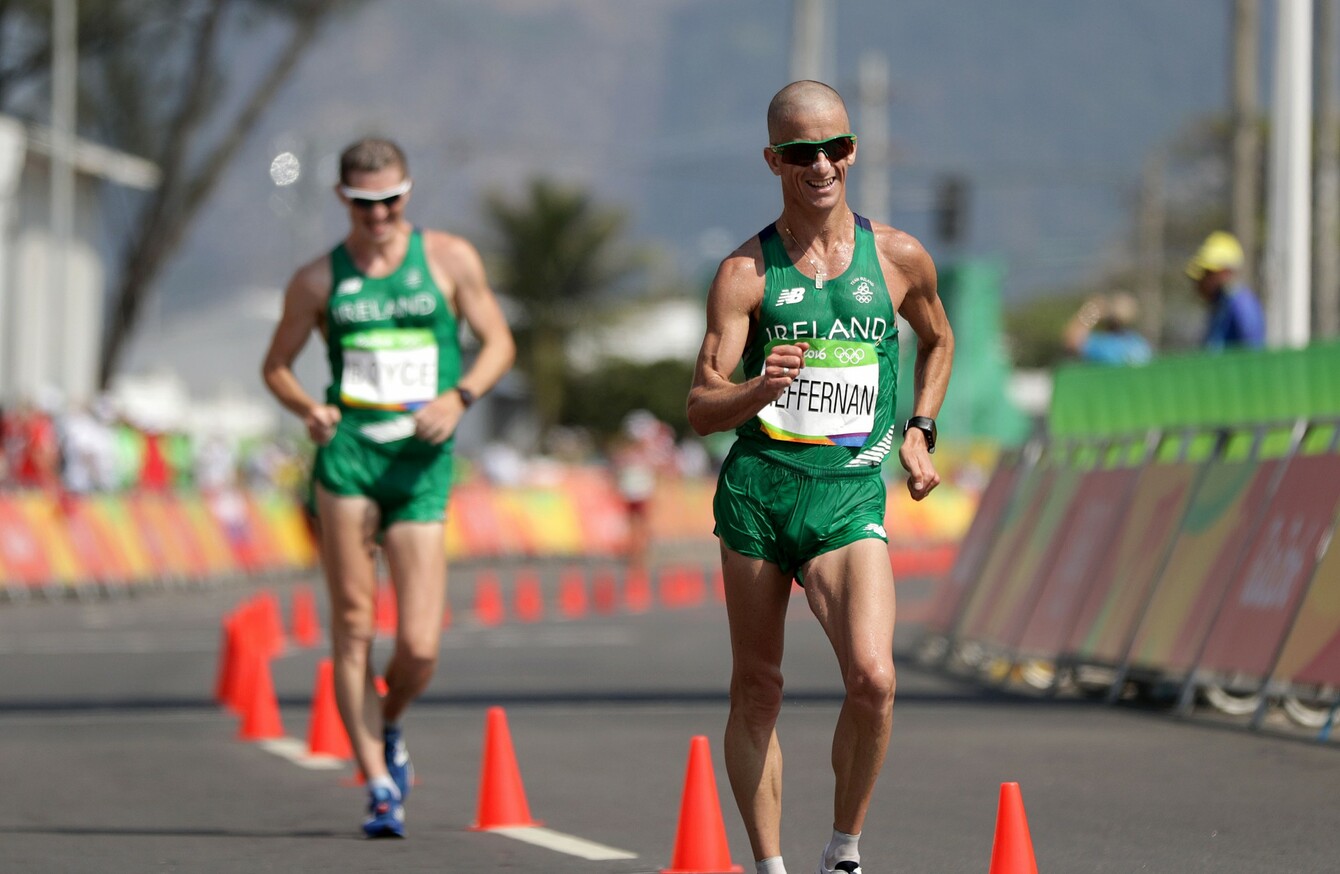 Boyce chases Heffernan early in the race.
Image: Morgan Treacy/INPHO
Boyce chases Heffernan early in the race.
Image: Morgan Treacy/INPHO
Updated 17.15
CORK'S ROB HEFFERNAN found little reason to be disappointed after he gritted his teeth to finish sixth in today's 50km walk at the Olympic Games.
And soon after the race concluded, he was bumped up a spot to fifth as Japan's Hirooki Arai was disqualified, but that decision was later reversed on appeal.
Heffernan, at his fifth Olympic Games, came home just under three minutes behind winner Matej Toth of Slovakia who set a time of 3:40.58.
In hot and humid conditions in Rio, the arduous race looked excruciating at times with French world record holder Yohann Diniz stopping several times, suffering diarrhea on top of the cramping leg pain every other competitor had to deal with.
"I tried to win the Olympic Games and I finished sixth," Heffernan told RTE at the finish line.
"At one stage I thought I had a chance at winning when Yohann came off the front, I made a move to go and my legs were cramping really badly for the last 12-15k.
"But you know, to finish sixth in the Olympic Games, my fifth Olympic Games, to still be one of the best in the world… and on another day I think I could have been further up — I have to be delighted."
From behind the barrier, Heffernan's wife and coach Marian also felt there was a podium place in store, but the 38-year-old just couldn't close the gap.
"You don't know until you get to 40-45 (kilometer mark) what you have in the tank, Mar was saying 'push on', my heart-rates were good, but my legs were cramping and I needed to hold it together.
"Sixth position in the Olympics is still a phenomenal performance and I'm delighted.
"The support of everyone back home, the last 5k were really tough, but the kids are watching back home, everyone supporting me back home – I'm really aware of that – and I'm delighted to still be one of the best in the world and not far off (first)."
Australia's Jared Tallent came second, 20 seconds behind Toth with China's Yu Wei now fourth after Arai's DQ
Ireland's Brendan Boyce finished in 18th place, but Alex Wright was forced to bow out before the 35km mark.
The42 is on Snapchat! Tap the button below on your phone to add!