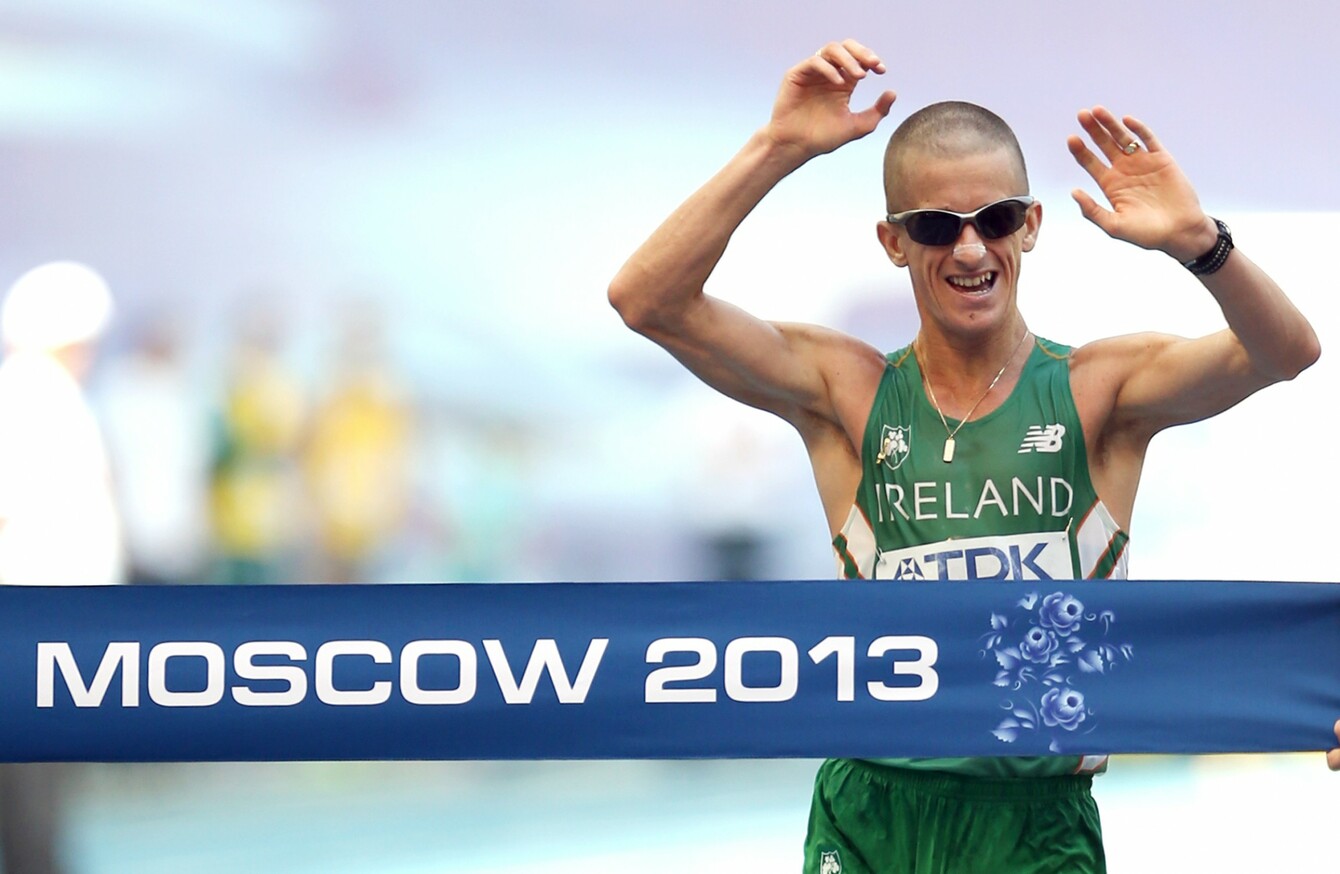 Rob Heffernan crosses the finish line after winning the 50km race walk at the 2013 World Championships.
Image: INPHO/Ian MacNicol
Rob Heffernan crosses the finish line after winning the 50km race walk at the 2013 World Championships.
Image: INPHO/Ian MacNicol
ROB HEFFERNAN COULD win medals at two different Olympic Games this year but he's trying not to think about either of them.
The 37-year-old from Cork is waiting to hear form the Court of Arbitration for Sport who, this Friday, will hear the final case between the IAAF and Sergey Kirdyapkin — along with five other athletes — who were issued with "selective disqualification of results" by the Russian Anti-doping Agency.
If the Russian loses his case, then he will be stripped of his gold medal from London and Heffernan will be automatically promoted to Olympic bronze.
But it's something he tells himself he can't afford to get too excited about.
"I was chatting to my agent Derry in December and I was saying that we need to sort out the presentation because I was starting to dream about it," Heffernan told The42 at the release of the Road to Rio video series from sponsors Nissan today..
"But Marian (Heffernan's wife) and myself were chatting at home and she said that while it is huge, you have to put it to the back of your mind.
"As the year goes on, my priorities are increasingly different than they were in November/December. The closer it gets to an event, the more specific my training gets so you've less time to be focusing on the intangible stuff.
"So while it's sitting there at the back of my mind, I've more important things to be dealing with a the moment."
Though the 2013 world champion is keen to look forward, he's currently working on a biography that's allowed him some moments of self-reflection, a luxury not always afforded to athletes with another block of training just around the corner.
"I've a fella ghost writing (the book) and he came down to Cork and we met for four or five hours and had some lunch and it's good, it's a bit like therapy going back over how I've managed to get here.
"It's really enjoyable and it's clarified things with me about how I got to where I got to and that's important at a time when everyone's chatting about Russians and doping and I just wonder why people don't focus on the positive like 'how did Rob Heffernan come from nothing to win a world championship?'.
I'm a clean athlete, why can't we rejoice in that, why does there always have to a concentration on the negative?
"The fellas on drugs really don't effect 90-95% of the athletes in Ireland anyway."
Heffernan makes a valid point, suggesting that way before a Russian athlete like Kirdyapkin considers taking performance enhancing drugs, he or she has come through race-walking school, has been given access to elite training methods and has been provided with a level of state support that just doesn't exist in a lot of countries.
Outside of the illegal aspects, it's an approach Heffernan says he can't help but admire and, who knows, maybe he could be the one to show them how to win cleanly.
"I've chatted to Russian athletes and they came up to me after a race and shook my hands and I was a bit confused because I said to myself 'fuck, these are meant to be monsters' but they were only young fellas.
"The were telling me about the training they did and I asked them why they didn't do 20km and they laughed at me and said 'it is for girls, 50km is a men's event'.
"They went on to say they do 240km a week training and they just do whatever they coach tells them to do.
"The environment that they train in, there are so many positive things there, but the Russians' will to win is so much that they'll dope their athletes on top of it and I think they even deny it to themselves that they're doing it.
"Like, I asked the Russian lads about it and they were oblivious to it so it's just something that's systematic. So my mentality is that if an athlete here who trains with his wife behind him in the car, with the kids in the car, can beat these guys, it shows that I've built a training system that can compete with the Russians, minus the doping.
"There's something about the win-at-all-costs mentality, besides going illegal, that I like but I've had that conversation with Marian and she says that if you take the drugs off them, they won't be able to do that training. I think they could but, at this stage, would they know how to train clean?
"Maybe they need someone like me to come in after Rio, someone who's won clean, to come in and clean up Russian race-walking."
Training is not something that comes easy to Heffernan but he knows it's a neccessary evil to achieve what he wants in Rio later this year.
"For me training is just a means to an end. Like, I've this morning off but this has been planned a month in advance so that I've more energy to talk and do everything. Training's hard, it's very hard but then, if you're not able to do it you're miserable so it's a double edged sword. It's just work that has to be done to compete.
"Marian is brilliant because I've no organisational skills) She ends up doing more work than me. We're just back from the Canaries and I'd more time to watch her in action, getting all my drinks ready in the morning, doing my physio, getting the babies' bottles and all their food and getting them to bed.
"If Marian had to go away to make a phone call — we'd only one place with a reception — it always felt like 'why did the kids pick this ten minutes to act up'. She's great that way."
And as a dad of four, his kids fill his mind when he's not thinking about training.
"It is tough being away but then, I haven't been away since Beijing until last week and while Marian came over with the two babies, the two eldest wouldn't want to be with us anyway 'cause they're doing their own things.
"They're at an age where you can chat to them on Skype or Viber and it's not as hard but missing the babies growing up — they go through huge changes so quickly — but I'm only away a couple of times this year before Rio so it's not that much."
Later this year, Heffernan will become the first Irish athlete to take part in five Olympic Games with a real chance of taking home a medal. It's a long way from struggling to get on the school team when he first took up the sport.
"Race-walking probably kept me from being thrown out of schoool but, when I look back, I struggled to get on the team, I never even got out of Munster until I was 15-16 but — when you simplify it all — it's about achiving your goal at any level for any sport so I'm just lucky that my level is winning world and Olympic medals.
"It would be great to take gold, it would be the dream, but I'm at it long enough to know that I can't even think about that right now because I need to get through all my training, all the blocks of work up till then.
"But look, as the saying goes, I'm thick enough to try anyway."