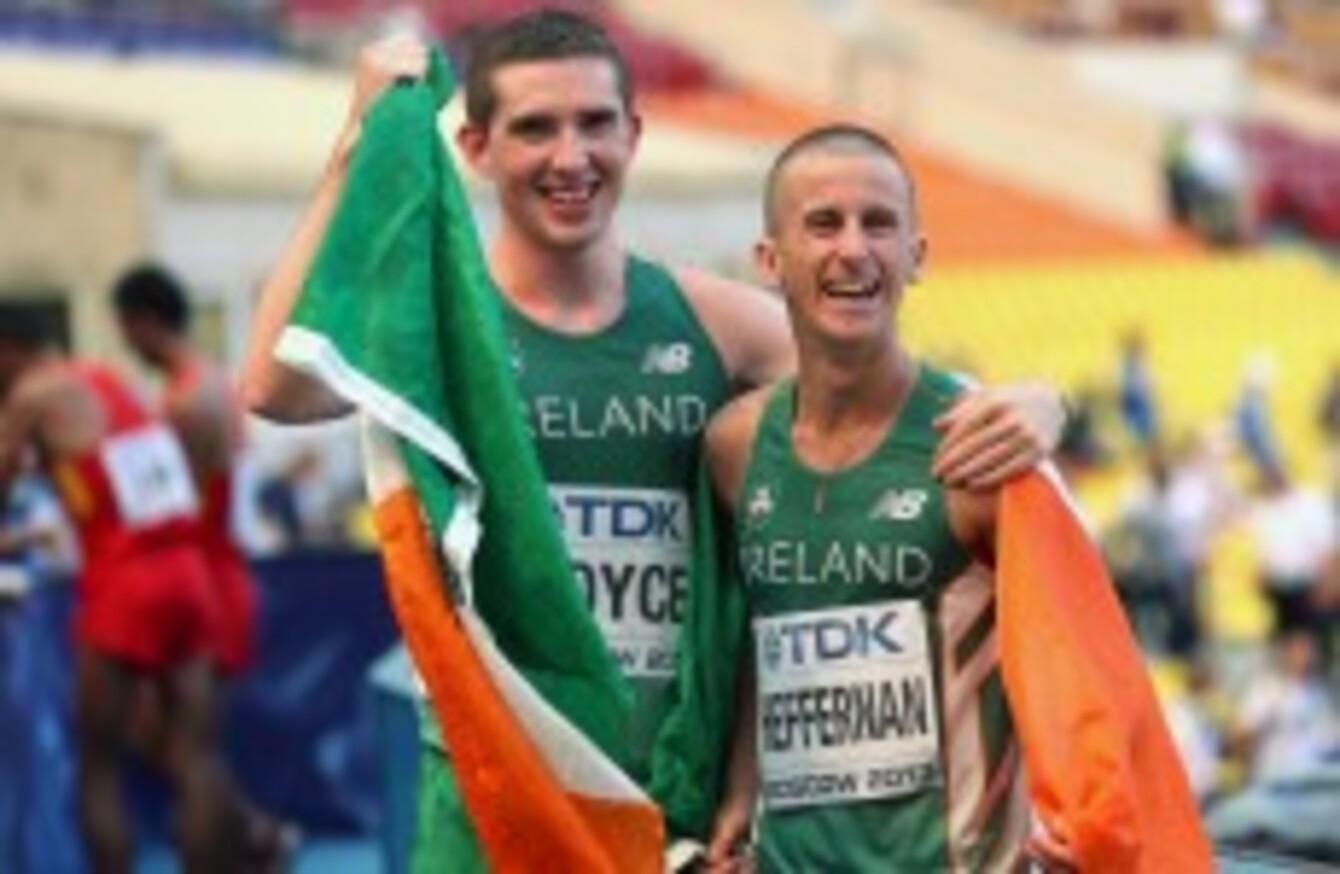 Ireland's gold medal winner Robert Heffernan alongside Brendan Boyce who finished in 25th position.
Image: INPHO/Ian MacNicol
Ireland's gold medal winner Robert Heffernan alongside Brendan Boyce who finished in 25th position.
Image: INPHO/Ian MacNicol
IRELAND'S LATEST WORLD champion Rob Heffernan has dedicated his career to fulfilling his dreams of success in a major championships.
The Togher AC athlete has represented his country at four Olympics since 2000 and came agonisingly close to a place on the podium at London 2012 when he was pipped to the Bronze medal.
That disappointment has been forgotten though with his fantastic performance in Moscow this morning as he claimed Ireland's third gold medal at a World Athletics Championship.
The Cork star, named 2012 National Athlete of the year following his brilliant displays in the London Olympics where he also finished 9th in the 20k walk, claimed a world over-35 record when he won in the 3k walk at the Cork City Sports in July.
The 36-year-old has won an amazing 15 National Indoor titles, including earlier this year capturing the men's 5k walk crown in a time of 19.13.03 and his hard work and will to win had already marked him out as one of Ireland's greatest athletes even before his career defining gold at the 2013 World Championships.
In 2000 in Sydney he finished in 28th position in the 20k at his first Olympics. Four years later in Athens there was heartbreak as Heffernan was disqualified during his race but he made amends with a fantastic 8th place finish in Beijing in 2008.
Throughout the early part of his career Rob specialised in the 20k in major championships but at the European Championship in 2010 he took part in the 50k walk as well, taking fourth place in both events in Barcelona.
It hasn't been an easy ascent to the top for Rob as demonstrated in the video below from some of his early races in 2000 and 2001, but his dedication and drive have brought him to the very top.

YouTube: murraylambden
He has been greatly helped along the way by his wife Marian, a huge influence on his career and herself an Olympian in London 2012, and prior to last summer's Olympics the two of the them spoke to Ryan Tubridy on the Late Late Show about some of the sacrifices that they endured to get to become the best in the world.

YouTube: rte
Heffernan admitted at the end of last year to Cork's RedFM that despite the initial disappointment of his fourth place finish in the Olympics, he would be back for a crack at Rio in 2016 and  he felt that he could go on and dominate the 50k scene between now and then. Now with a world championship medal in his back-pocket, don't bet against the Togher AC star backing up that claim in three years' time.