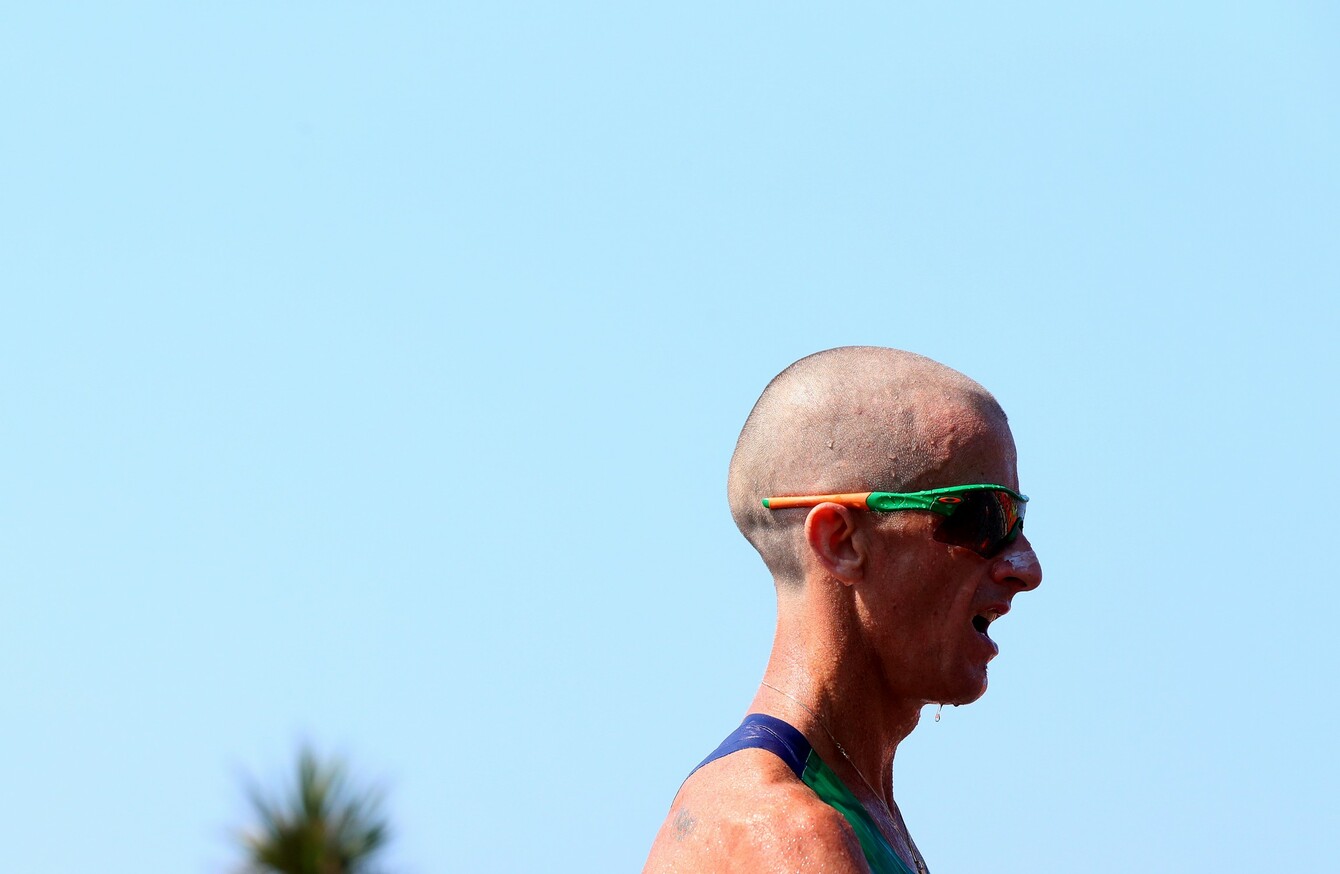 Image: James Crombie/INPHO
Image: James Crombie/INPHO
–Sinéad O'Carroll reports from Rio de Janeiro
CROSSING THE FINISH line in an Olympic race in fourth position is a fate that has befallen many Irish athletes.
This Games, it was the turn of 400m hurdle man Thomas Barr.
He was chuffed. "The best and worst position outside the medals," he acknowledged, but he was taking it with grace and charm.
The Waterford man is only 24 years old and has "put himself on the map" with a sub-48 second run.
The foggy cloud of doping scandals that hangs over Rio right now leads athletes to wonder about their positions on the track.
By 2020, the International Olympic Committee will likely have upgraded fourth-placed athletes to medals.
Speaking in the complete hypothetical, Barr said such a victory would be "hollow", unwanted.
No euphoria on crossing the line, no laps of honour draped in the tricolour, no hefty lump of metal hanging around the neck on disembarking a plane at Dublin Airport.
Rob Heffernan is an Olympic bronze medallist but he has experienced none of the above.
When he crossed the line in London 2012, he was in fourth position.
Following the disqualification of Russia's Sergey Kirdyapkin over drug use, the Cork man was bumped up a place.
Yesterday, he didn't know where his medal was but he was back at the Olympics and delighted with a sixth place finish in the 50k walk.
"I'm around long enough to appreciate how good that is," he told reporters.
"Tomorrow morning, I'll probably be disappointed not to win a medal but that race can go any way and I'm delighted. Sixth in the Olympics is sixth in the Olympics. So I have to be satisfied."
The race was played out under the blistering Rio sun with 31 of 80 competitors failing to complete the course (12 were disqualified; 19 didn't finish of their own accord). Ireland's own Alex Wright succumbed while sitting in 34th place, conceding that he had not taken on enough fluids to safely complete the hard toil that is the walking competition.
The leader until after the 30k mark, Yohann Diniz also had a disastrous moment, falling back and eventually finishing in a brave eight.
There was a time when Heffernan thought he could take a gold.
"When Yohann came off the front, I was like, 'Fuck, yes, I'm going to win this'… And then my legs started cramping up.
"From 36 to 38k on, I was getting serious cramps and I had to kinda stay conserved because you appreciate how good a sixth position is that could become a DNF (did not finish)."
Happy with a 'good' top-10 placement, the 36-year-old can start planning his own medal ceremony – one four years in the making.
His bronze medal isn't with Pat Hickey, as he joked post-race. But it is with the OCI back in Ireland.
A celebration is being planned for November in Cork.
"There is a big crew from Donegal coming – and that's the furthest point away. All the county will celebrate it and today is still very positive. We'll have a good day now. We'll have an Olympic ceremony in Ireland and we'll all enjoy it."
But there are always niggles. Yesterday, Heffernan wanted to move as it looked like he could take control after those in front faltered. But he was in agony and had to consolidate. His legs, arms, groin, everywhere was cramping, he said.
"I know what a sixth place means," he adds. "Obviously, I want to win a medal. I wanted to win a medal in Sydney but it wasn't to be. Today is still good and I live to fight another day."
Heffernan wanted the elation of the podium, the euphoria of the Games one more time, despite the history books' declaration that he in Olympic medallist.
And today mightn't even be the end of the road. "People always go on about retiring but if you're competitive and you're giving people joy from your performances, and I'm getting joy, then why not?"
The 2020 Olympics are on in Tokyo. You saw it here first.
More from The42′s team in Rio: