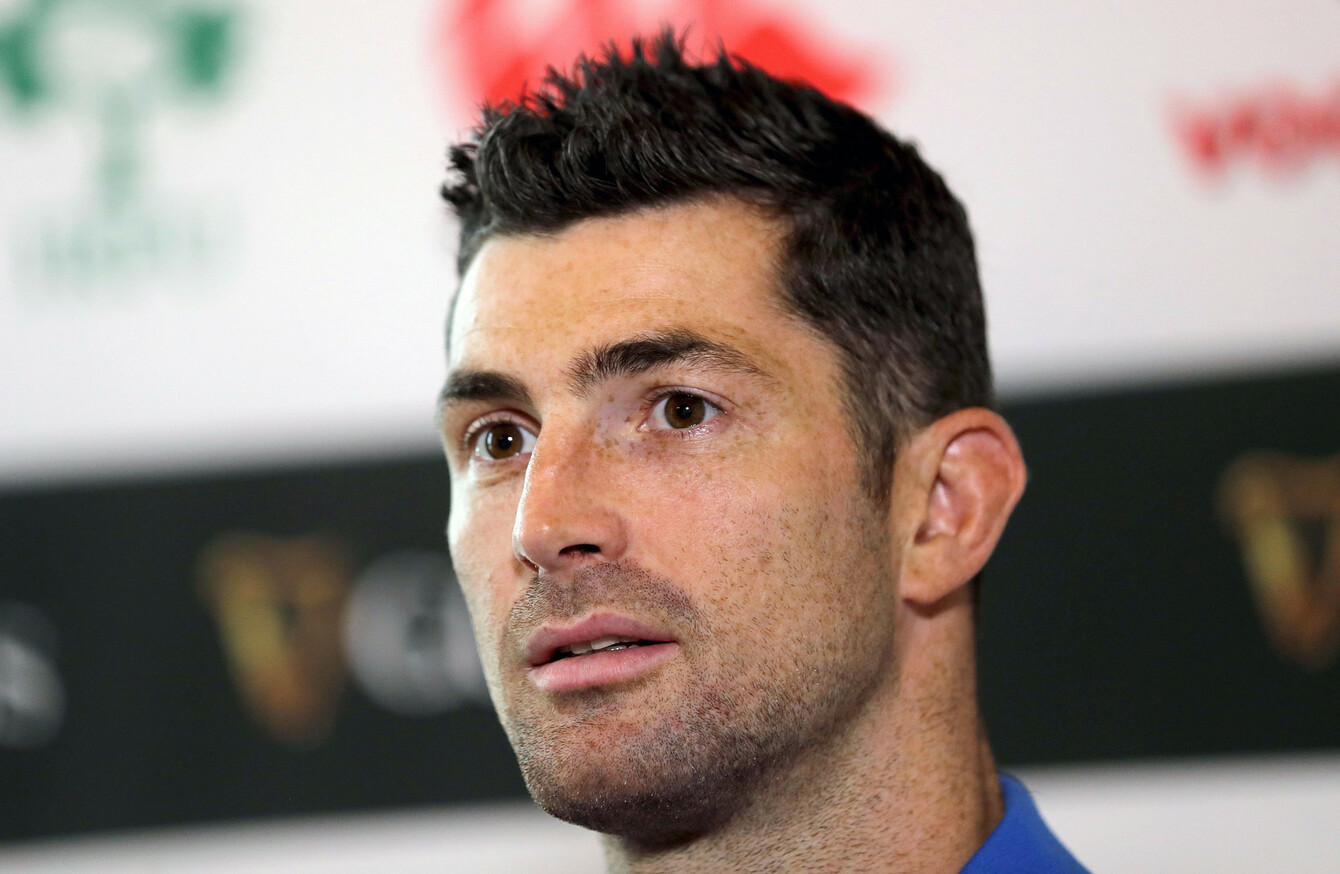 Image: Dan Sheridan/INPHO
Image: Dan Sheridan/INPHO
IRELAND'S 23-20 VICTORY over Fiji was "probably a close enough escape in the end," said Rob Kearney, but with the visit of Argentina looming, the Leinster fullback wasn't keen to dwell on past displays.
Not least those which took place two years ago, and so 'revenge' isn't really on the table when Ireland face Argentina for the first time since their 2015 World Cup capitulation in Cardiff, as Kearney sees it.
"The revenge thing and, you know, the World Cup performance is probably something that will be spoken about a little bit on the outside," he said.
Not so much on the inside, then.
The 31-year-old explained: "We'd like to think that we're a very different team than we were in that game two years ago. We've changed our defensive systems quite significantly – we defended pretty poorly that day.
"We've moved on quite a bit, as have they in the space of two years, so it [revenge] is certainly not something that's going to be too far on our radar."
He spared no personal expense, though, in briefly recalling that fateful World Cup exit from his own perspective.
"It's all negative! 100%.
That was as bad a game that I can remember in an Irish jersey. Ah, it was a World Cup, it was a quarter-final, we had done so well in the games before that. There was this massive goal we had as a team of getting to a semi-final. We lost, obviously, a few key bodies, but we felt that we still had enough personnel to be able to win the game.
"The start was gutting for us but we showed great character to get back into it, and then we let it slip again. So there's very few positives that we took from that game."
The Louth man, whose solid outing aided Ireland's resounding victory over the Springboks two Saturdays ago, mentioned the 'big transition' in Ireland's defensive system during the intervening years since Andy Farrell took the reins from then-Ulster-bound Les Kiss.
In that sense, he doesn't see the need to re-analyse 2015′s disappointment with this Saturday's fixture in mind, but admits Ireland's current crop – many of whom shared his disappointment on the field that day – won't escape footage of their darkest day entirely.
"Nah, we won't look at specific things. A lot of the [Argentina] guys that played then, we expect to play this week. So, when we go through some of their profiles and things like that, there will be clips of that game that we played two years ago.
"You know, it's tough viewing but it's part of the job. You've got to look at those tough times as well.
Listen, it'll be no surprise [to hear] it's a big game for us. It's one we desperately want to win – maybe more so than some other games. But it's unprofessional to focus too much on that [2015] game, because I think as a group we're very process-driven. As soon as we start getting distracted by peripheral things that happened two years ago, I think you take your eye off the ball a little bit, and that's something we try not to do.
"We're very driven on just a lot of moments within an 80-minute game."
Following Kearney on media duty at Carton House, Ireland assistant coach Greg Feek echoed the fullback's sentiments.
"I suppose looking at that, there's been a lot of water under the bridge since then, a lot of different players come into our environment, and we've even got a new coach in there – I don't know if you him, he's a big guy, quite loud.
"We probably haven't looked, it's quite a wee way back now. We've got so much to do it's about focusing on the now, and getting our group together.
"There are still some guys who were there and there might have been a couple of chats", Feek added, "but we're definitely forward focused. And if there's anything you take from the past, you just grab the learnings and go.
"We know what's coming and we know what we need to do to try to combat that."
Feek confirmed that Ireland came through today's training session unscathed, with only Joey Carbery definitively ruled out for this weekend's Argie-bargy.
Kearney, too, was questioned as to his club team-mate's future and, more pertinently, as to whether it lay at out-half (he laughingly interjected: "I like where you're going with this – he's not a fullback, is he?").
The laughing stopped, however, when it was put to him that should Carbery be perceived as Ireland's back-up – and perhaps future – 10, he might be better off leaving Leinster for a rival Irish province in order to consistently start there.
"That's in no way for me to comment on, that," Kearney replied.
"It is a little bit of a dilemma, but that'll be up to the coaches to talk about that. And I know Leo [Cullen] and Joe [Schmidt] have a very good relationship.
Joey has played a lot at 15 this year – needs must – and he's done a superb job, at that. I think the most important thing for him is that he's getting on the field one way or another. But there's a huge amount of games – and big games – coming, week in, week out. With the squad we have at Leinster, there's a huge amount of rotation.
Still, even in rotation, Carbery is unlikely to start over a fit Johnny Sexton for Leinster's most crucial showdowns, which begs the question as to whether Ireland can truly see through Joe Schmidt's plan of cultivating at least two fully-prepared players for each position come Japan 2019.
Kearney responds: "You take 30, 31 players to a World Cup. Are every one of those 31 players going to be frontline for their province?
"You know, I don't think it's the case, and we might look at it now hypothetically and say, best case scenario, your 31 players going to the World Cup are all first-choice for their province, but I don't think in World Cups gone past that we've had that luxury. And other teams as well – not just Ireland."
As for Ian Keatley, who's set to deputise on the bench in Carbery's stead – for this Saturday's Test at least – the Ireland fullback was more than complimentary in his appraisal.
He's improved significantly. You know, he had a tough couple of years, there, down in Munster, and I think coming on at the weekend and doing what he did, he brought a real solidity to the game. They weren't two easy kicks that he had to slot over. And obviously with Joey being out, he's taken a fair bit more control over the last couple of days in training.
"He's played a good bit of rugby, he's played in the Six Nations – that Italian game a couple of years ago where he was very good – so he's always been in and around camp, and he did very well when he came off the bench at the weekend."
Of Ireland's potential out-half dilemma, Greg Feek added: "I suppose for us we have to just look at that situation, when people come to an environment we back them to understand how we play the game.
"And if we're developing players in that position or if we have someone come in we want to make them feel as comfortable as they can.
"Whoever that person is, if they do what is required and can do that with composure then hopefully the rest of the game can fit around that.
"We try not to get too stressed about that.
There are always situations in different positions on the pitch where if you lose a couple of players then there could be trouble. It's difficult to have depth in every position that's world class anyway.
"We're lucky we have really good players who can slot in in that position, and we'll see what happens going forward. But at the moment we're not too concerned about it."
The42 has just published its first book, Behind The Lines, a collection of some of the year's best sports stories. Pick up your copy in Eason's, or order it here today (€10):