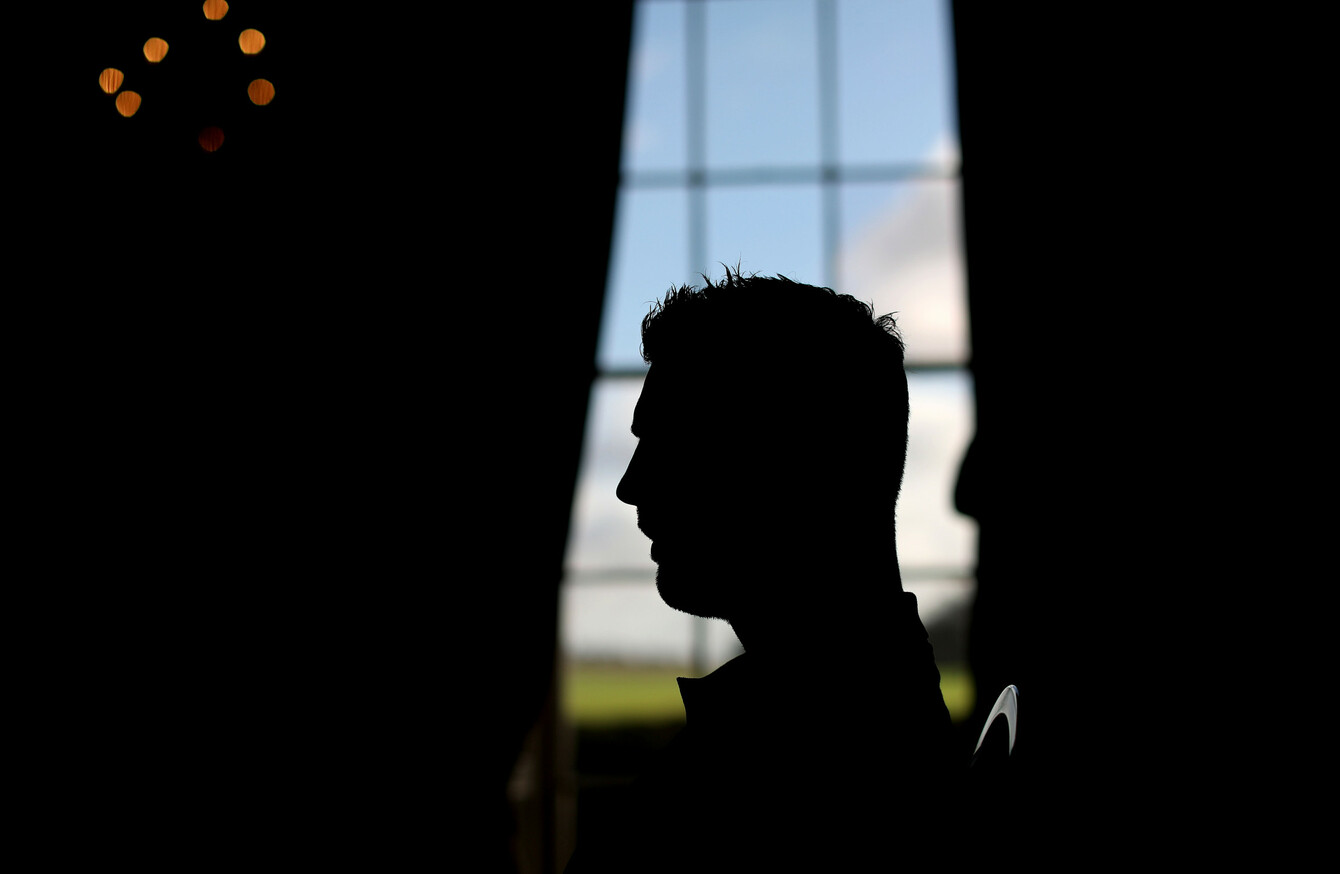 Image: Dan Sheridan/INPHO
Image: Dan Sheridan/INPHO
Sean Farrell reports from Carton House
A NEW SIX Nations campaign, a fresh start to the international year and a fresh approach from Ireland, who broke up the January slog with a warm-weather training camp in Spain last week.
But to kick-start the week and set the tone for what promises to be a bruising – if eminently winnable – trip to France, the familiar face of Rob Kearney was the one put in front of the media.
It's a role Kearney is often trusted with, his comfort and assurance in speaking makes him an ideal candidate to head up the week's messages as the sole orator on a Monday of Test week.
They don't come much more senior than the fullback either, one of only two in the current squad (along with the captain) to have a Grand Slam in their personal honour roll.
Perhaps that longevity plays a part in some of the discontent in many quarters about Kearney's long-held position as the top fullback in the land. Over the years, while Kearney has been an assured and solid presence for his coaches, the sight of more unpredictable counter-attacking talents – Tiernan O'Halloran, Simon Zebo, Jared Payne and now Jordan Larmour – tearing it up for their province has instilled a sense that Ireland are missing out on a little spice.
It's to Kearney's credit that he doesn't brush off the current clamour for Larmour with that overused sportsman's lie: I don't pay attention to the media.  Word always filters through somehow. Yesterday, when the subject of Joe Schmidt was raised, Kearney alluded to their infamous Soldier Field interaction — 'you need a big one' – and that strikes to the heart of how the Louthman deals with criticism. It's weighted. If the messages from the coach and within the camp tell him to stay the course, he can deal with any outside opinions.
He doesn't have to like them, though, and asked if he has felt under-appreciated by the wider rugby-watching public, Kearney says:
Yeah, you probably do a little bit. It's only human nature that we like to be appreciated as people and probably even more so as sportspeople.
"But it's more important to me that the coach and my team-mates understand what I bring as opposed to maybe some element of the fans. So yes to your question, but there are probably more important people to me as well."
Kearney spoke about the pressure being put on him by the prodigiously talented Larmour yesterday, but the 31-year-old's November performance served to rubber stamp the faith Schmidt has in him and he will be Ireland's starting fullback come the weekend.
The prospect of travelling for opening weekend ought to bring sharp reminders for this squad after a Murrayfield misfire this time last year. The lesson to learn? There is no time to feel your way in to the Six Nations, a slow start can impact the entire campaign.
"We just didn't get out of the blocks at all. We let Finn Russell play in a dinner suit. He had all the time in the world to pull the strings. They caused a lot of damage in the first 20-30 minutes. That is the biggest lesson that we learned.
I suppose mentally our whole focus this week will be about the first 20 minutes.
"Obvious question is: 'why wasn't that your focus last year?' Well sometimes you are trying to concentrate on so many things and you'd think it was a given you would get out of the box so quickly. And you know you have that one day when you are just off a slight bit and you get punished for it."
Focusing the mind for Paris should be easier than Edinburgh because of historical data too. Traditionally speaking, Irish teams get overrun by rampant Bleus and have won away to France just five times since World War II.
"Facts are facts and it is a tough place to go and win," adds Kearney.
"You go in the back (of Stade de France), you go under the tunnel so you don't actually see a huge amount of the fans. But it's loud, it's very noisy, it's probably my favourite anthem. They're all giving it holly. Sometimes you have a music DJ on the sideline which is unusual. There's just an intensity to it."
"There is something about the French and the Stade de France, they are a tough team to beat. Like I say it has happened so few times, we are lucky enough to have a lot of guys within the group who have done it (won either with their province or with Ireland in 2015) and that does make a difference.
"We would like to think we had a good November which obviously leaves us in a good frame of mind and we would like to take a good step forward and keep building on our performances."
We all like the fresh, new and exciting. But on days like the Saturday ahead of Ireland, experience will be priceless.