IN A SIGN of the times and the task at hand, Joe Schmidt has selected Ireland's biggest centre partnership of the modern era for Saturday's Test against South Africa.
Fullback Rob Kearney acknowledges that Robbie Henshaw and Jared Payne will bring a new dimension to the national team's back play, but established habits will continue elsewhere, particularly with the kick chase.
"I think it's really exciting," says Kearney of the new midfield pairing. "They complement each other well, they're big lads – the biggest centre partnership we've seen in a long time. Robbie brings a really good freshness and youth there, and Jared is in for cap number one. He brings a huge amount of experience to his game as well."
Henshaw is in the unfamiliar 12 shirt, but Kearney points out that he expects Ireland's centres to "vary it up a little bit at times and play old-school left and right too." Whatever about the potential lack of understanding in the partnership, the Leinster fullback has utter faith.
When you go into these big games, the one thing that I know the two guys will give is 100% commitment and a huge level of physicality. Once you bring that into any game, regardless of the size of it, we'll be well on our way.
"They may not have played that combination or Robbie might not have played a huge amount at 12, but I think that can be overplayed a little bit. If you just bring a huge amount of aggression, physicality and commitment, it makes up for a huge amount of the rest."
Henshaw is over 6ft 3ins and weighs around 100kg, while Payne is 6ft 2ins and not far behind on the weighing scales. Their stature makes them ideally suited to the physical challenge Jean de Villiers and Jan Serfontein will pose in Dublin this weekend.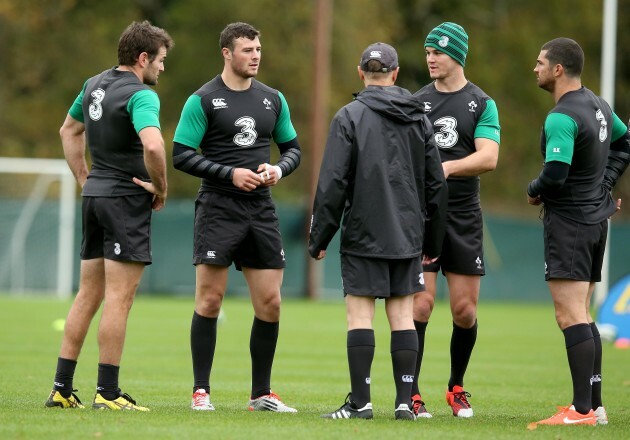 Dan Sheridan / INPHO Ireland's backline has a slightly unfamiliar look to it this week. Dan Sheridan / INPHO / INPHO
In terms of attack, Kearney admits that the selection of Henshaw and Payne may change how Ireland function.
"Yeah, it probably does. They're going to be a little more confrontational in contact, they might take the line on a little bit more. I suppose there's a little bit of learning for me, as well, in terms of the running lines I run off them and trying to read their next few steps.
"So there's a bit of pressure on me as well to make sure I can make those reads."
It's worth recalling how directly Joe Schmidt used Brian O'Driscoll from the 13 channel last season; the Ireland coach does want his centres to make aggressive impressions on the gainline. Henshaw and Payne look suited to doing so.
Another cornerstone of Schmidt's game plan during the Six Nations triumph was the stifling kick chase, most often led by Andrew Trimble, Dave Kearney and his brother at fullback.
The back three personnel may have changed, but Ireland's desire to compete in the air will not be in any way reduced.
"It all starts with the kick, doesn't it?," says Kearney of Ireland's kick chase. "You've got maybe three metres either side of where you want the ball to land, but you want it to be perfect.
Dan Sheridan / INPHO Andrew Trimble and Kearney chased kicks superbly last season. Dan Sheridan / INPHO / INPHO
"Your timing into the jump, winning scraps, there's luck involved in it too. We've done a huge amount of practice on that over the last few weeks and we're very confident in that area of the game. It's definitely going to be a go-to for us.
Looking down the line to Australia and the strength they have in their back three, game plans may change a bit.
"But I think the aerial battle is always a strength to our game and it's something this team goes to. We'll be doing it hopefully again at the weekend."
The Springboks fullback Willie le Roux has deservedly been credited with broadening the attacking palate of Heyneke Meyer's side over the last two seasons, but there can be a looseness around his creative flair at times too.
Kearney recognises that fact and says Ireland will be ready for any spilled kick receptions or mis-judged chip kicks.
"I think he's a class player, very good," says Kearney. "I haven't played against him yet, he's burst onto the scene 18 months ago and he's a real go-to player for them. He tries a huge amount of things and he's capable of a turnover or two.
"We just need to be there to pounce on the scraps when he does."