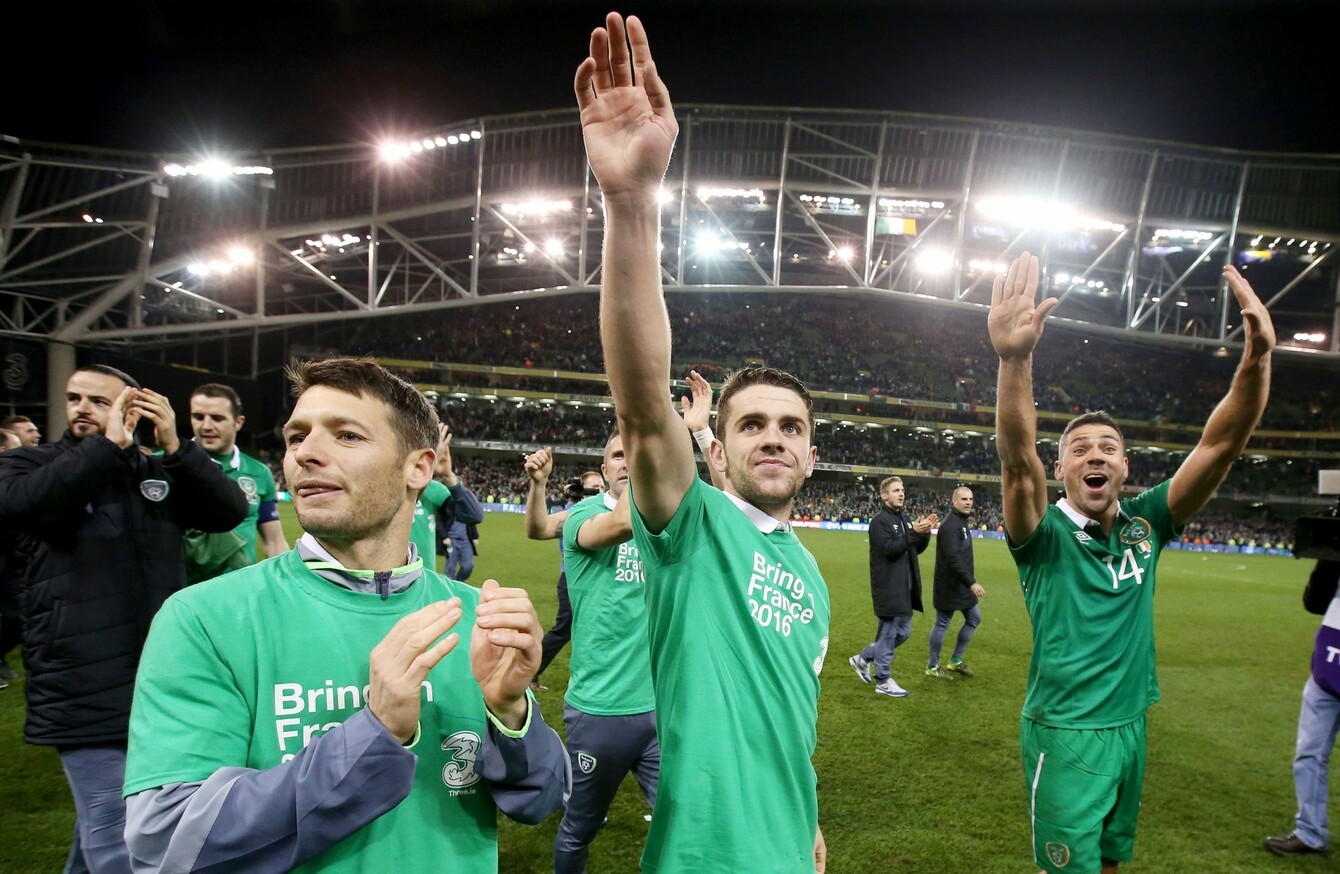 Image: Cathal Noonan/INPHO
Image: Cathal Noonan/INPHO
— Niall Kelly reports from the Aviva Stadium
IT WAS A special night for all of Irish football, but for Robbie Brady and Jeff Hendrick, it was that little bit sweeter.
The two young Dubliners grew up playing schoolboy football together at St Kevin's in Whitehall.
And as Ireland led Bosnia-Herzegovina with 20 minutes to play, they were still side-by-side, plotting the country's path to Euro 2016.
They stood together over a free-kick and conferred before Hendrick stood back and allowed Brady to do his thing.
The Norwich man whipped the ball behind the Bosnian back four and when it found its way to Jon Walters, the striker smashed it past Asmir Begovic to guarantee Ireland's place in France next summer.
"I said I fancied it despite the 10 brutal ones I had before that!" Brady recalled. "I knew I had to get one right.
"I'm just glad Jonny stuck with me. We had a chat about where I wanted him to go when I was hitting it and he stuck with me to be fair and got on the end of it and put away the second goal excellently.
One out of 10 is not great but when it means as much as that, I'll take it all day.
As Walters wheeled away in celebration, Brady turned to the Irish bench where assistant manager Roy Keane was the first to meet him.
"It was too far to go and celebrate with the lads!" he explained.
"(Roy) was the first person that came into my path and emotions were flying high, so I got a hold of him.
And he joked: "I think he might have said that you were bound to get one at some stage or something smart!"
Brady and Hendrick now have seven months to look forward to their first major championship appearance, and on the basis of Monday's performance, Ireland's next generation are ready for the challenge.
For tonight, though, they're drinking in a dream come true — one that they achieved together.
It's a special night for the two of us. Since we first started kicking a ball I've been in the same team as Jeff, so to play in such a massive game and such a massive deal for the country, to go and push us through tonight is a special night for me and him.
"I'm so proud of him as well for it.
He added: "You grow up dreaming of these type of moments. It's a bit of a cliche but you really do.
"This has always been my dream to play in front of an Irish support as good as tonight. You don't want to let anyone down and I would have been an awful shame with the results that we picked up to let everyone down tonight.
"I'm happy for everyone involved – bring on France!"