THERE WAS SOMETHING so very non-Irish about it.
Think back to those other crucial goals.
Yes, there was Ray Houghton's neat, cushioned header against England in '88. Ronnie Whelan's shinned effort against the Soviets will always be technically tainted. Two years later, Kevin Sheedy followed up a mis-hit pass by rifling one to the bottom corner.
The vast majority have followed a similar path.
Niall Quinn's bundled effort against the Dutch, Houghton's beautiful but bizarre lob over Gianluca Pagliuca, Robbie Keane's last-gasp finish against Germany.
Even Shane Long's winner against the same opposition during Euro 2016 qualification was assisted by Darren Randolph.
Not many of our high-profile strikes are quite aesthetically appealing.
But last night was different.
Changes
Ahead of the Italian assignment, we had written about Martin O'Neill's inability to change things during the games against Sweden and Belgium.
In both, there was an inevitability to conceding. The substitutions failed to bring about much difference in terms of the defensive reinforcement or creativity in the final third. There was a lack of technical nous.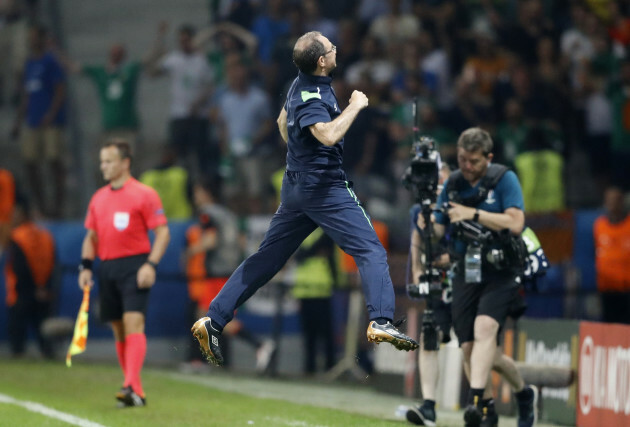 Frank Augstein Frank Augstein
But, in Lille, the calls were smarter.
Aiden McGeady was the first player to be introduced and took up his usual position wide right.
It was a 4-3-3 of sorts at that point, with him and McClean trying to get as high as possible to support Shane Long. Both Jeff Hendrick and Robbie Brady covered the ground in behind and James McCarthy patrolled the middle of the park.
But that only lasted for a few minutes.
Wes Hoolahan's introduction for McCarthy meant the system changed again and it was during that transition that Lorenzo Insigne took advantage and curled the right-footer against the butt of Randolph's upright.
After the scare, Hoolahan had a free role behind Long. Without the ball it was a 4-4-1-1 but quickly turned into a 4-2-4 with Brady and Hendrick minding the house.
The numbers in attack led to a very casual Italian side almost conceding on 84 minutes. Bonucci was closed down immediately by McGeady as he took a poor touch on the edge of his area and Hoolahan failed to convert from close range.
Italy went straight down the other end where one of their substitutes, Stephan El Shaarawy, cut inside and shot straight at Randolph.
Immediately, the goalkeeper began another Irish attack, with Brady receiving the ball on the left – about 35 yards from his own goal.
Composure
Against Belgium and at certain times during last night's game, we saw Ireland panic in possession.
In Bordeaux, they wanted to relieve pressure and get higher up the pitch so they thumped hopeful balls forward that Shane Long had no chance of getting close to.
Against the Italians, there was a tendency (probably understandable given there was a target man in Daryl Murphy) to go direct on occasion – those booming clearances from the back usually. But it wasn't working and easy for the opposition to cover. It was no surprise when Murphy was the first man to be replaced as O'Neill reverted to his more usual style.
As the minutes ticked by, you would've expected the Irish to grow increasingly anxious but, going back to O'Neill's decisions, they had players on the pitch who liked the ball at their feet and with the end-to-end, stretched nature of the final 15 minutes, those players had space to work in too.
It would've been pretty easy to bring Keane in early, alongside McGeady, play two up front, two wingers and hope for the best.
But O'Neill's thinking was more nuanced, probably aware the Italians were still, unusually, pushing players forward and that such a tactic could lead to Hoolahan getting the time to carry an influence in the final third.
It said much that when Brady took possession and turned, there was 12 yards of space in front of him and a litany of blue shirts trying to funnel back and cover a quick counter.
It was a time for cool heads.
Initiative
You have dyed-in-the-wool types who will talk of the forward pass, how the easy route is to knock it sideways or take an extra touch, turn around and play it backwards.
Some will counter such an argument by extolling the virtues of possession and patience.
But there's a time and a place.
It was still refreshing to see McGeady, so often derided for making the wrong decision (as evidenced by two earlier moments – one a wild shot on his left foot from the edge of the area and then a poor cross from the right that was gobbled up by Salvatore Sirigu), going against type somewhat and opening the game up.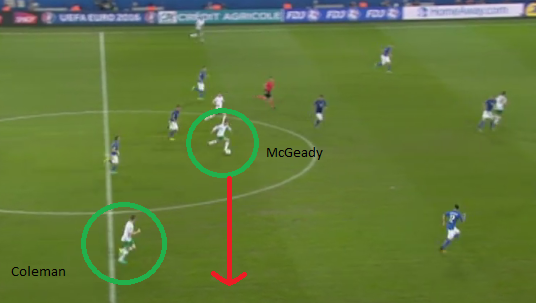 It may not look like much but the safe ball here is to Coleman and try and exploit an advantage out wide and wait for support to arrive in the area.
In fact, Hoolahan had initially gestured to McGeady to play it to the full-back.
'Courage and Balls'
"We need players with courage and balls", said Roy Keane in advance of the Italian game.
It was a very Keane-like statement, simplifying the game and what it's about.
No need for stats, graphs and clipboards – the winner is about who wants it more, etc.
Again, it was easily countered. Keane himself found himself on the wrong side of plenty of moral victories when wearing a green shirt.
And, with the assistant coach banging the aggression and physicality drum in his pre-game comments too, you feared that the Irish display would be pretty one-dimensional. Plenty of perspiration and a lack of inspiration.
But 'courage and balls' can be interpreted in a variety of ways. Different players offer up different definitions.
As evidenced by Brady and Hoolahan last night.
Exclusive Six
Nations Analysis
Get Murray Kinsella's exclusive analysis of Ireland's Six Nations campaign this spring
Become a Member
Hoolahan had just missed the best chance of the game. Immediately afterwards, he stopped and put his hands to his face in disbelief. You wondered whether the incident would linger for the player and the team.
Yet, when picking up the pass from McGeady, he didn't do the simple thing. He didn't wait for Coleman to get on the overlap and work a hopeful cross from the corner.
Instead, he looked for the big pass, the game-making ball.
It was 5v5. He knew that if the delivery was good enough, they'd stand a chance.
Call it courage. Call it balls.
Eight seconds earlier, Brady had first touched the ball. He hadn't stopped running in the interim.
Fatigued from such a massive exertion of energy, he moved into the space behind Bonucci.
It was a gamble. Ireland had five men ahead of the ball and had just conceded a decent opportunity moments earlier to El Shaarawy as the Italians broke quickly from defence. A clearing header from the Juventus centre-half and the Irish were vulnerable again.
Call it courage. Call it balls.
Brady wanted it.
The finish
Brady was brave, following the cross all the way.
It was last-chance stuff. He didn't think of a possible collision with Sirigu and only had eyes for the ball.
The cross was perfectly placed.
The goalkeeper, who had looked decidedly unsure with crosses – completely missing one from McClean earlier in the half – had a decision to make.
Stay on his line or try and get out in time to smother?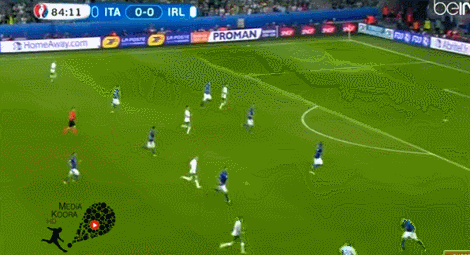 In the end, he didn't really do either.
Three passes, 10 seconds of football and Ireland were through.
Originally published: 18.18