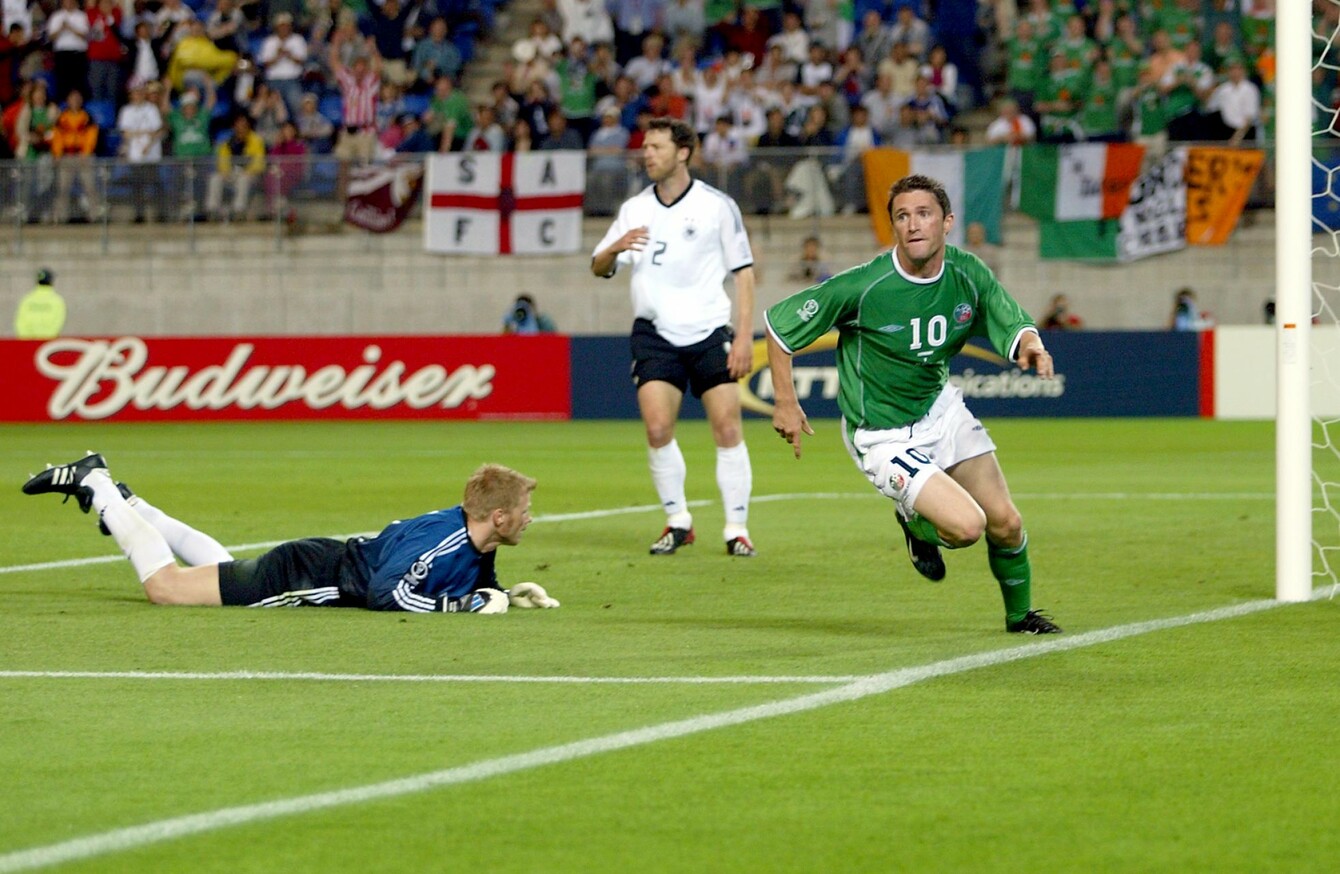 Robbie Keane takes off in celebration as Germany's Oliver Kahn looks on in dismay.
Image: INPHO
Robbie Keane takes off in celebration as Germany's Oliver Kahn looks on in dismay.
Image: INPHO
IT'S HARD TO believe that 15 years have passed since Robbie Keane scored that stunning goal in the World Cup.
Germany looked to have secured the victory on the back of an early goal from Miroslav Klose inside the opening 20 minutes.
And without Keane's equaliser, Ireland were in real danger of facing a group stage exit for the first time at the World Cup.
The goal didn't arrive until well into injury time, but it was worth the wait and it sent Irish fans into hysterics.
Keane retired from International football last year, and ahead of Ireland's crucial World Cup qualifier against Austria, he's reminiscing on his memory of THAT goal.
"Every player has big moments in their career. They have moments where you're special and people will always remember.
"But for me, this was my moment."
Reflecting on the tense moments building up to the goal, Keane recalls:
"They were a fantastic team and they scored early in the game as well. As the game kept going on and on, I think, "We've got a chance here."
Source: Three Ireland/YouTube
"I remember we brought on Quinny (Niall Quinn), because we knew Quinny would be an impact player.
"When he came on I knew there was going to be an opportunity for me to get onto one of his flick-ons. As I was running onto it, I got a good touch and after that the rest was history.
Celebrations quickly ensued, and Keane remembers it being something of a tight squeeze, and a moment he will never forget.
"I just remember running across behind the goal… the fans, and doing the usual cartwheel and as I did the cartwheel, I remember just getting pushed into the advertising boards.
"You got all the substitutes coming down, the staff coming down hopping on top of me. And that was the moment that changed my life."
Let's take a moment to relive that fabulous moment again, shall we?
Source: dinadangdong/YouTube
Robbie Keane was interviewed by Three as part of the team sponsor's #TheCallUp campaign.
The42 is on Instagram! Tap the button below on your phone to follow us!