Updated 17.35
ROBBIE KEANE IS no longer the first name on the team-sheet, but he's not ready to go quietly into the night either.
Martin O'Neill has spoken a number of times about the importance of getting an away goal when Ireland travel to Bosnia-Herzegovina on Friday night.
With Jon Walters suspended and Shane Long now ruled out of the first leg, it looks more and more likely that Daryl Murphy will lead the line in a 4-5-1.
That Murphy has never found the net for his country, and had gone 13 club games without scoring before last weekend, is a bit of a concern.
With so much at stake, is now the right time for Keane to have a quiet word and remind O'Neill of his international CV?
"I don't think I need to do that," was the brusque response from the captain. "I think 67 goals probably says that, no?"
It was around this time last year that O'Neill took the bold move of leaving Ireland's record goalscorer on the bench against Scotland in Hampden Park. It was the first time since June 2001 that Keane, now 35, had been fit for a competitive international but not started.
His place in the team is no longer guaranteed; he has only started in two of Ireland's five competitive fixtures since, didn't feature on one of the biggest occasions in Irish football's recent history, the win against Germany, and had to be content with a substitute cameo against Poland.
His role is changing from main man to mentor but his hunger to be involved is impossible to hide.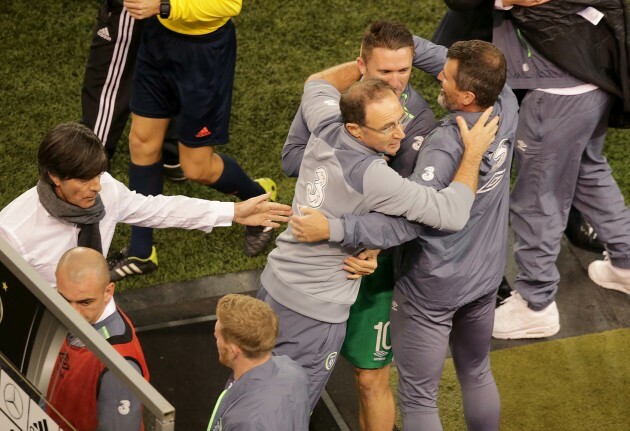 Morgan Treacy / INPHO Keane celebrates with Martin O'Neill and Roy Keane on a famous night for Irish football. Morgan Treacy / INPHO / INPHO
"First and foremost I'm a player and I still have a lot to offer.
I scored 20 goals in 24 games for Galaxy this year — it's not like I'm on my way out.
"I can still score goals and get the opportunities."
He added: "If you're not playing games, I think it's important that every player is ready and not sulking and behind the team. We're all in it together.
"We started off a couple of years ago in this campaign as a group of players with togetherness about us and we have to continue that way. For me as the captain, I have to make sure that the players know that."
"Of course every player wants to play but the manager has to make the decision that's right for the team.
I keep going back to it, the team is more important than any individual. If I play or if I'm called upon, I'll be more than ready.
Keane's record in play-offs is as good as you'd expect with five goals from the four ties (eight matches) in which he has been involved.
Two of those came in the away leg against Estonia four years ago, and Keane sees similarities between preparations now and then.
"I get a sense this week in training, the same feeling that I had against Estonia, that the players are relaxed and that's not a bad thing.
"Sometimes the players can get very tense when it comes to a situation like this but I think it's important that the experienced players like myself try not to speak about it too much.
"It's nice to try to keep it in the back of your mind, it's always there, and just be a bit more relaxed.
"Going into that game against Estonia it was the same and thankfully we managed to score four goals away from home.
"I think this game is probably going to be a little bit different to that, it's not going to be as easy as that, but we certainly have a good chance of going there and getting something out of the game."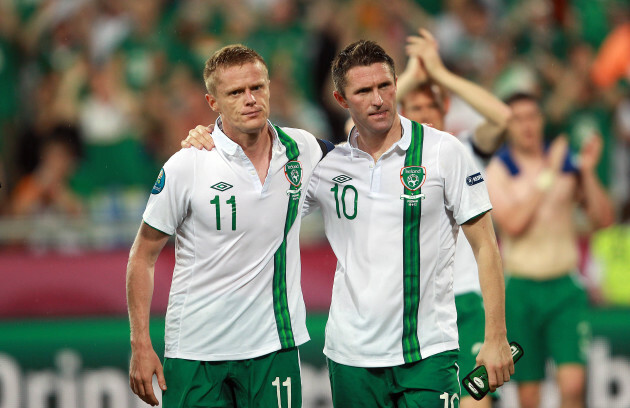 Donall Farmer / INPHO Devastated: Keane and Damien Duff at the end of Ireland's Euro 2012 campaign. Donall Farmer / INPHO / INPHO
Set against the high of that win over Estonia and securing the country's return to the Euros for the first time since 1988, Keane needs no reminder of how the story ended.
Three games, three defeats, one goal scored, nine conceded, and the first team on the plane home.
Sometimes you just have to look at the facts in front of you. Were we good enough? No.
"The teams we played against, two of them got to the final and Croatia were a very, very good team.
"Would we have liked to have done better? Of course, but we had three teams ahead of us that were way better than us at the time."
Beating Bosnia isn't about unfinished business, though. It's about writing the next great chapter in this country's story — and in Keane's.
"We're on the brink now of qualifying for a major, major tournament. It's exciting."