Though the great sport successes are always fondly remembered, there's a special place reserved for those painful moments too.    
In the build-up to this summer's World Cup, we will examine a selection of the biggest tournament tragedies and chart the social and cultural impact they had on players, managers and fans. 
In the first of a series of essays, we look back on Roberto Baggio and how his incredible performances in the USA 20 years ago remain overshadowed by a missed penalty.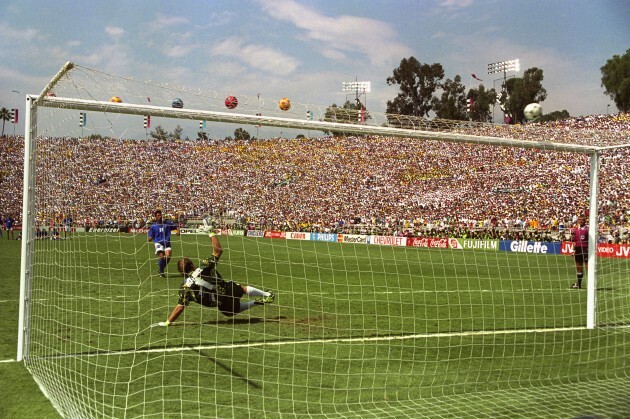 EMPICS Sport EMPICS Sport
IN THE SECOND-ROUND game against Nigeria, he scored the decisive winner from the penalty spot using the exact same strategy.
A long run-up, starting a few inches outside the eighteen-yard line, slowing the stride as he approached. He wrapped his foot around the ball and struck it to the goalkeeper's right, his favoured side. He never went high with penalties. They were always hit low, controlled, measured.
But as soon as he connected with this one, it was high. Too high.
As it sailed over Taffarel's crossbar, Roberto Baggio stared straight through the target he'd missed, placed his hands on his hips and bowed his head. It was difficult to understand. Just like him.
John Foot, author of the definitive Calcio: A History of Italian Football, explains that the whole episode was largely inexplicable.
"For years, one of the best Italian TV shows about football would get lots of fans in a studio, talking about the games. The fans would include a nun, a writer, a singer – all hardcore supporters – but it was very light and funny. The opening credits started with Roberto Baggio's miss but with a guy singing that Baggio had actually scored in his mind because he was a mystic.
"In many ways it became a bit of a national joke. Because Baggio was incredibly good at penalties so it didn't fit that he missed. And then that's the one he becomes most famous for."
Soccerex / YouTube
In 1994, Italian football was at its peak. The three most expensive players in the world – Gianluigi Lentini, Jean-Pierre Papin and Gianluca Vialli – all played in Serie A. In May of that year, Fabio Capello's Milan won their third straight Scudetto. On the 18th of the month, at the Olympic Stadium in Athens, Milan destroyed Johan Cruyff's Barcelona 4-0 in the Champions League final. But the flurry of goals was somewhat out of character.
Capello was a pragmatist and built his side around a magnificently meagre, almost impenetrable defence. In 1994, Milan won the league title having conceded an astounding fifteen goals in thirty-four games. They scored just thirty-six. They drew more than a third of their matches. Their leading goalscorer, Daniele Massaro, barely reached double figures. On their way to winning the Champions League, they racked up ten clean-sheets.
The guile, artistry and creativity were kept to a minimum but when it came, usually it was courtesy of the Yugoslavs like Boban or Savicevic. For Capello, his Italians grafted. Others provided the flash.
The spine of that Milan side was also the backbone of the Italian national team. Baresi, Maldini, Donadoni, Albertini and Massaro all started the 1994 World Cup final. But, just like at Milan, the Italians grafted. Under Arrigo Sacchi, the Azzurri were disciplined, compact and worked as a unit. There was little room for individuality.
The most consistent Italian goal-getter at the time was Beppe Signori at Lazio. By the summer of 1994, he had been crowned Serie A's top-scorer for the second successive season. In the space of two campaigns, he had scored forty-nine league goals. Meanwhile, in his first season at Parma, Gianfranco Zola had built impressively on his formative years with Napoli, scoring eighteen times. Both had to make do with bit parts under Sacchi. He already had one individual who was almost impossible to read.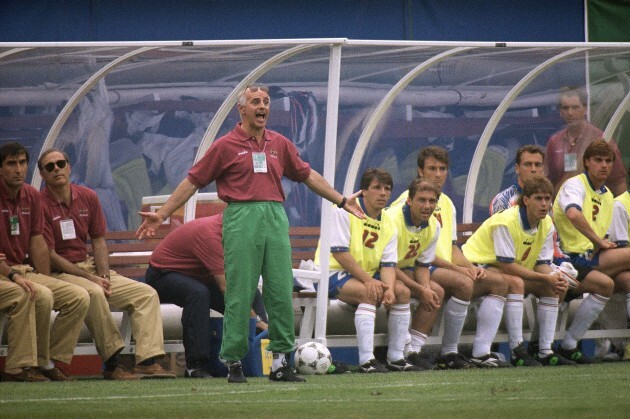 AP / Press Association Images Saachi crafted a disciplined Italian side. AP / Press Association Images / Press Association Images
"Italians didn't really know what to do with Baggio," Foot says.
"He was a Buddhist and everyone went on about that, though few knew what it meant. But it certainly meant he was a bit weird. Have you ever heard of another Buddhist footballer? He didn't fit anything.
He was very unusual, unique in the way that he played and extraordinary in that way. Not very fast but he still could do anything. He didn't fit any of the stereotypes. He was hated and loved.
Even in 1994, it's that moment when he scores the last-minute goal in the second-round. Italy are out against Nigeria. There probably would have been riots in the airports. But from that moment, a bit like Paolo Rossi in 1982, it just changes the whole tournament. He becomes the best player of the World Cup after that."
Up until the 88th minute of a last-sixteen game against Nigeria, Baggio suffered through a turbulent, forgettable World Cup 1994. Later he claimed to have struggled with the pressure.
He was the team's only game-breaker. Without him, Sacchi's Italy lacked style or grace or elegance. Against the Republic of Ireland in their opening game, Baggio was stifled, single-handedly it seemed, by Paul McGrath.
elregioenatlanta1 / YouTube
In the second game, against Norway, things got worse. Midway through the opening period, goalkeeper Gianluca Pagliuca handled outside his area and was sent-off, making World Cup history in the process. Sacchi sent on Luca Marchegiani with Baggio, inexplicably it seemed, making way. After twenty-two minutes of Italy's second World Cup game, their most important player was benched.
Baggio was humiliated and furious with Sacchi. As he trudged towards the dugout, he muttered to himself, "This guy (Sacchi) is crazy."
Italy won the game 1-0, Baggio's namesake Dino popping up with a crucial header as the game seemed destined for stalemate. Afterwards, Sacchi defended his decision to remove Baggio so early, claiming his striker was nursing an Achilles injury and, with Italy down a man, couldn't be relied upon to help out defensively.
The fact that the Scandinavian opposition – managed by the infamous Egil Olsen – seemed to have had little interest in attacking didn't seem to matter. Baggio, once again, paid the ultimate price for not conforming to type.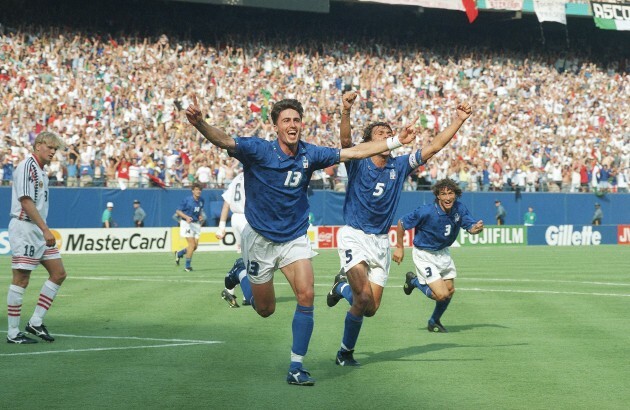 AP / Press Association Images Baggio was substituted early on against Norway, leaving his namesake Dino Baggio to score the winner. AP / Press Association Images / Press Association Images
"When he fell out with Sacchi after being substituted, the mask slipped," says Foot.
"He was lip-red as he was walking off and that got splashed across all the papers. But usually he was someone who was never quoted. And if he was, no one would ever really get what he was saying. Like, in some ways, you couldn't get the way he played. He'd go through the whole defence and you couldn't work out how he'd done it. It wasn't through pace, it wasn't through dribbling, it was through these movements he did."
Baggio sought solace in prayer. He chanted the Buddhist mantra, the Daimoku, in silence, desperately trying to find inner strength.
He had converted to Buddhism in the 1980s, when injuries first began to punctuate his career. He found religion reassuring and tranquil and perhaps Baggio enjoyed the freedom of expression Buddhism allowed him. His chosen denomination was based around developing wisdom and understanding and was in contrast to the rules and regulations of Catholicism he had left behind many years before. His faith was a metaphor for his career.
Eventually, his wisdom and understanding saved his World Cup.
Trailing to Emmanuel Amunike's 25th-minute goal, Italy struggled to create any real chances against the Nigerians. After an hour, Zola was introduced. Ten minutes later, he was wrongly sent-off. Fate, it seemed, was conspiring against the Italians and they were set for elimination.
As the minutes ticked by, the Azzurri bench was growing increasingly anxious. Franco Baresi, who was unavailable due to injury, gestured at Sacchi that Italy needed to go direct. Time was running out.
Tony Diodo / YouTube
With two minutes left, Roberto Mussi made a clever run down the right flank. He cut inside one defender, headed towards goal and offloaded to his left, just as he was about to be challenged. Baggio waited, unmarked. The ball rolled into his path and he struck it first time from fifteen yards. He knew where he wanted to put it. A sweeping side-foot to the far corner.
It was perfectly placed. He had equalised and Italy were still in the World Cup.
He was reborn.
In extra-time, he created the penalty from which he scored. From the left corner of the area, he spotted Antonio Benarrivo's overlapping run and scooped an immaculate pass over the Nigerian defence and into the full-back's path. Benarrivo was brought down and Baggio did the rest. He was on a roll.
silverblacksky1 / YouTube
A tight quarter-final against Spain looked set for extra-time before two passes from Nicola Berti and Signori tore the Iberians to shreds. The latter flicked through for Baggio, who rounded Zubizarreta. But as he stepped past the goalkeeper, the ball skewed awkwardly off his boot and narrowed the angle considerably. Still, he managed to drive it home, despite Abelardo desperately stretching to make a block on the goal-line.
He saved his best for the semi-final against Bulgaria. After twenty minutes, Italy were awarded a throw on the left side. Donadoni found Baggio who rolled one defender. In an instant, he was away.
He evaded another challenge, impishly moving across the edge of the area. He looked up. The shot was on. Maybe a low drive to Mikhailov's near post? Never. Instead, he curled a strike around the goalkeeper's left hand, bending it to the far corner.
Five minutes later, Baggio made a darting run into the right channel of the area. Albertini clipped a perfectly weighted pass towards him and he drove an instinctive strike right across Mikhailov. He had single-handedly qualified Italy for a World Cup final.
EveryFourthYear / YouTube
"People say he wouldn't follow team orders, that he would do what he wanted and he fell out with a series of managers over that," Foot says.
"Maybe that's what made him so different. Italy, at that time, had a big problem with 'fantasy players' and many of them left Italy. The 'Sacchian revolution' took away a lot of space from players. Zola went to Britain, as did Carbone and Di Canio. These more individualistic players couldn't find space anymore.
Baggio found space on the edges."
With twenty minutes left in the Bulgaria game, Baggio was forced off with an injury. In the dressing room afterwards, he sat away from his team-mates and placed his head in his hands. Many wondered if he was giving thanks or worrying about the pain in his hamstring.
He was desperate to play in the final against Brazil but his rehabilitation was hampered. Italy, having played the semi-final in New York, had to travel six hours across America to prepare for the decider, set for Pasadena in California. The Brazilians were already there.
Psychologically, Baggio felt rushed. He carried a relatively minor injury but, essentially, had just two proper days to recover. Travel was inconvenient. His training amounted to kicking a ball against a wall in the function room of the team hotel. Later, he admitted to subconsciously worrying about hurting himself in the final, particularly in the early stages. Others worried about him too.
On the morning of the game, hundreds of Buddhists assembled in a Bangladeshi temple and prayed that Baggio would be fit. Baggio had paid for the temple's renovation after some local monks had traveled to Italy to meet him. The prayers worked and Baggio played but with a huge strapping on his thigh. Unsurprisingly, the game passed him by.
Unsurprisingly, the missed penalty in a World Cup final came to define him.
Soccerex / YouTube
"He had almost won that World Cup on his own and played three or four incredible games as part of a very mediocre team," Foot says.
"You look at that side and there were some incredible defenders but not much else. And he was such a good penalty taker. Other Italians had missed in the shootout already and even if Baggio had scored, Brazil would've won by getting their next penalty but it becomes about the centrality of the TV moment."
Baggio was broken. After the game, as his team-mates went for something to eat, he locked himself in his room.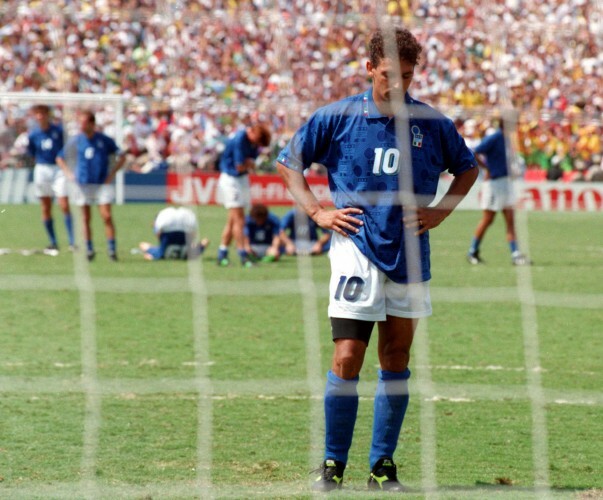 AP / Press Association Images AP / Press Association Images / Press Association Images
He was twenty-seven, at his peak, when he missed the penalty against Brazil.
But, between July 1994 and June 1998, he played just four times for the Azzurri.
Sacchi never selected him for Euro '96 and Italy bombed. Baggio's club career stalled too. He would spend one more season with Juventus before Marcelo Lippi sold him to Milan.
He endured a difficult spell at the San Siro and when Sacchi arrived there as manager, he was frozen out completely. He remained misunderstood. He seemed set to join Carlo Ancelotti's Parma but the move broke down when the young manager, intent on sticking to a rigid 4-4-2, concluded that he couldn't fit Baggio in his system.
So, at the age of 30, Baggio returned to where he enjoyed it most: the edge.
He found solace and rediscovered himself elsewhere, at smaller, almost nondescript teams. His rebirth signaled a return to the national side as part of Italy's 1998 World Cup squad.
"You look at his career and it's very weird," Foot says.
"Even at his peak, he goes to Bologna and Brescia who are struggling, mid-table teams and prefers to play there than with Juve or Inter or Milan. Like, he played one incredible season with Bologna where he scored over 20 league goals with incredibly mediocre players around him. He was amazing to watch at Brescia, where he played with Andrea Pirlo. But he never made it with the big teams.
"That moment where he moved from Fiorentina to Juventus – there were riots in the streets of Florence. But he didn't really want to go. Some people said he couldn't play with that team-mentality and that's why he ended up as a star in Brescia and Bologna and not the star with Juve, Milan or Inter where he, in various ways, kind of failed. He won things with them but he didn't become the kind of central figure that he was at Fiorentina and Bologna and Brescia – the more marginal teams."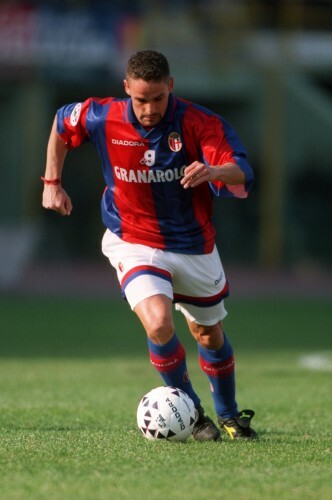 EMPICS Sport Baggio enjoyed a revival during his time at Bologna. EMPICS Sport
Unlike Baggio, the Italian nation wasn't plunged into a state of depression owing to his penalty miss against Brazil. They had been here before and anyway, they hadn't held out much hope prior to the tournament. Reaching a World Cup final was perceived as a significant overachievement.
"Italy had a similar penalty problem to England," Foot says.
They would always lose in shootouts up until Euro 2000 and Francesco Totti's chip against Holland. So, in many ways, 1994 was a repeat of four years previous when Italy had also been eliminated on penalties. And 1990 was much more traumatic. But 1994 did create some heroes in defeat. You've got Baresi as the tragic hero and Baggio, kind of.
I don't think Baggio's penalty had a massive effect and Italy would continue to go on and lose unluckily until 2006. So it fitted a pattern of getting very close.
No one liked the 1994 team, really. Everyone hated Sacchi as national manager and the polemics around that tournament were incredible. Italy were seen to have done well getting to the final. It wasn't a national trauma."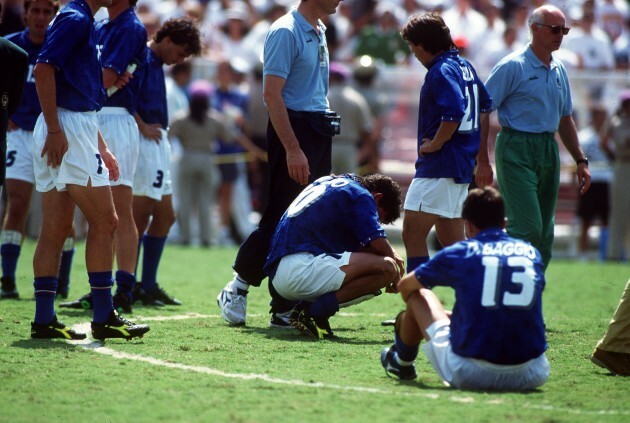 EMPICS Sport EMPICS Sport
Baggio retired in 2004, aged 37, and hasn't done much since. Just like during his playing career, many remain puzzled by him.
"Italy has never figured Baggio out," Foot says.
"He doesn't fit in the football culture and he hasn't been given a job afterwards of any substance. He doesn't play the game. He's not part of any system. He doesn't work in any way that people can understand.
Outside of the pitch, he didn't exist. He wasn't interested in being a public figure or a celebrity or a star like a Balotelli or a Maldini. He wasn't a 'big city' person at all. He wasn't someone who'd be seen in nightclubs. He didn't fit with that celebrity culture, even though he had all the skills of a Beckham or someone like that.
So he's the anti-celebrity whereas Totti is very much always present, always marries the TV/celebrity wife, very much a Rome-type of guy. Baggio doesn't do any of that stuff. You think to yourself, 'When was he actually happy'? 'When did he enjoy playing football'? 'Did it make him happy?' It's quite hard to tell if it did or not."
His missed penalty in 1994 proved a sort of death knell for the glorious period of Italian football. The next eight years would see the country win just one solitary Champions League title. There was increased competition. There was a free market.
Throughout the nineties, other European leagues splashed enormous amounts of money and broke transfer records. Very quickly, Spain became the destination for the world's best players. England cultivated what was arguably the continent's most exciting league. Between Dortmund and Bayern and, briefly, Bayer Leverkusen too, German teams were competitive again. But Italy were left behind. Baggio's miss signalled the beginning of the end.
"The decline did probably begin some time around 1994," Foot says.
"Maybe the penalty miss is a symbolic turning point. But I think Italy had already missed the boat by then.
They had missed the boat commercially on what the Premier League had done. They missed all the appointments with making lots of money and revamping the game. They could've won that World Cup but it would've been a strangely uninspiring victory, as it was for Brazil. But no one remembers that, do they?"
Epilogue
June 11th 1998, Stade Lescure, Bordeaux, France
PalinhoTV / YouTube
He had already weaved his magic earlier on. Paolo Maldini had played a measured long ball towards him in the left channel. Others would've chested it down, shielded it from the two Chilean defenders in close proximity and waited for support. But not him. He turned his body toward goals as the ball dropped. With a perfectly-weighted flick of his right boot, he slipped it through for Christian Vieri who side-footed home.
But this was different. 85th minute. He tried to send in a cross from the right side of the area. It hit Ronaldo Fuentes on the hand from close-range. The referee pointed to the spot. A penalty.
He placed his hands on his knees and slouched forward, as if drained. Enrico Chiesa and Dino Baggio came over to offer words of encouragement. He took a few moments and slowly walked to the spot. He grabbed the ball and placed it.
A long run-up, starting a few inches outside the eighteen-yard line, slowing the stride as he approached. He wrapped his foot around the ball and struck it to the goalkeeper's right, his favoured side. He never went high with penalties. They were always hit low, controlled, measured. As soon as he connected with this one, it was in.
It was in.