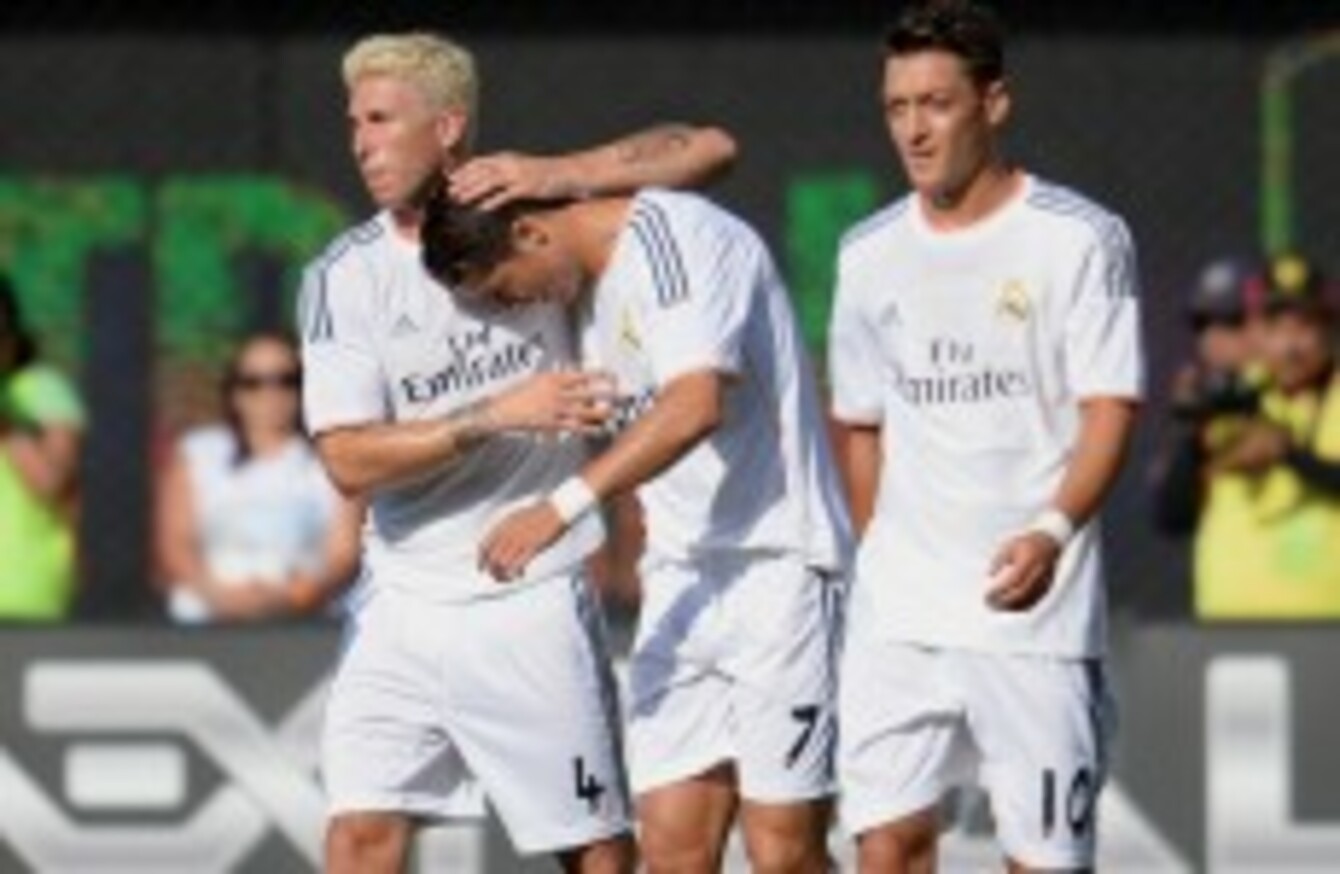 Ramos believes Real have superior individual stars to Barca.
Image: Action Images
Ramos believes Real have superior individual stars to Barca.
Image: Action Images
SERGIO RAMOS INSISTS he would rather play at Real Madrid with Cristiano Ronaldo and Mesut Ozil than Barcelona duo Lionel Messi and Neymar.
The Argentinian attacker enjoyed a stunning 2012-13 campaign, scoring 46 times in 32 Liga games as Barca cruised to the title.
He has now been joined by Brazilian superstar Neymar, who backed up his €53million price-tag with a series of sparkling displays for his country at the FIFA Confederations Cup, which Brazil won on home soil.
Despite the talents of the Camp Nou pair, however, Ramos is delighted with the attacking options at the Bernabeu.
Ronaldo netted 55 times in as many games last term, while Germany international Ozil racked up a superb 24 assists in 52 games, also scoring 10 goals of his own.
Real have also bolstered their attacking ranks in the close-season with the signing of Isco from Malaga.
The 21-year-old was hugely impressive for the Andalusian side last term and also helped Spain Under-21s to the UEFA European Championship title in July, scoring three goals in five outings.
"Neymar and Messi? I prefer Cristiano, Ozil and Isco, my team mates here," Ramos told ESPN.

"No-one is in any doubt that they are great players, but I just prefer those who are in our team."
Ramos is in confident mood ahead of the new season, with Carlo Ancelotti having replaced the divisive Jose Mourinho as Madrid manager.
The Portuguese fell out with a number of his first-team squad last season, but Ramos is enthused by the early going under Ancelotti, as well as an influx of young Spanish talent into the team.
He added: "I just think about the good things that happened. I'm not a resentful person. I just remember all of the things I learned during a period which is over now.
"A new coach has arrived and we have a few new players. Now the squad is younger and the emphasis has been on bringing in young, Spanish players and that is positive ahead of the new season, which we're really looking forward to.
"Those of us who have been at the club for a while realize that we need some stability regarding the coach's position – it's what we need to help us to win as many trophies as we can."