LAST UPDATE | Jan 17th 2023, 8:31 AM
THE FANS HAVE moved on to the bars to celebrate, Ulster are rushing off to catch their flight home to Ireland, and the dust is settling on La Rochelle's win when we catch Ronan O'Gara for a chat in a corridor of the Stade Marcel-Deflandre.
He's just back from a post-match visit to the VIP section, keeping everyone happy even amidst his busy job of coaching the team and running rugby affairs off the pitch too.
Three of his sons are in tow. So we learn that Max is now eight, Zak is 10, and JJ is 12.
"Who's your favourite Ireland player?" the lads are asked. They all reply that they don't know. It's surely just a bit of shyness in front of new faces but, to be fair, they've been seeing more Top 14 rugby than anything recently.
O'Gara has two other children, 14-year-old twins Molly and Rua, and they have all already seen a fair bit more of the world than your average Irish kids. His coaching career has brought them to Paris, Christchurch, and now the west coast of France.
O'Gara's wife, Jess, calls and his three sons head off towards the changing rooms so their dad can chat about life with La Rochelle, where he's in his second season as the big boss after working under former director of rugby Jono Gibbes for two years.
While there are some Munster fans who yearn to see O'Gara return to the province at some point and he recently attracted interest from the RFU as they considered the England job, it's clear that he has a very good thing going with La Rochelle.
A Champions Cup title in his first season in charge was a huge achievement, but it's as important to him that life away from rugby is good. The O'Garas live in the beautiful Île de Ré, an island just off the coast that attracts tourists from around France and, increasingly, from Ireland. O'Gara likens it to West Cork or Kerry with nice weather. This is now his family's home and they're happy.
"If it doesn't work for my family, it doesn't work for me," says O'Gara. "That's the reality, you know?"
"This is a career where you can end up very quickly in a one-bed apartment on your tod because you've given so much to the job.
"That's the fear and that's what can happen because you become completely… not overpowered but engrossed in it and I don't want that to happen."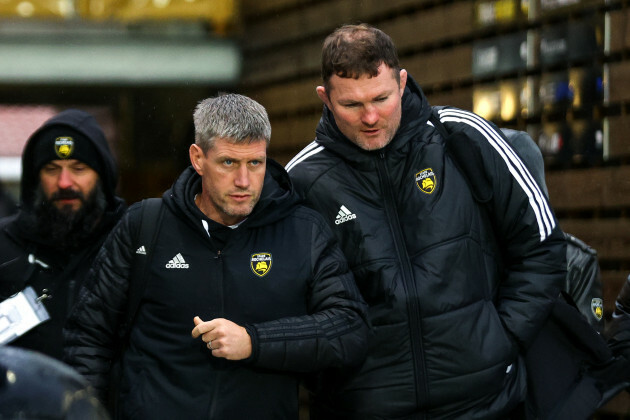 James Crombie / INPHO O"Gara with La Rochelle forwards coach, Donnacha Ryan. James Crombie / INPHO / INPHO
His family's happiness there is one big reason why O'Gara recently signed a new five-year contract with La Rochelle that runs until 2027. Another big reason is how strong a club Stade Rochelais is.
Having reached the pinnacle of Europe, they want to stay at the top but also win the club's first-ever Top 14 trophy. They sit third in the league table at the moment. Their victory in last season's Champions Cup final Leinster has infused the whole organisation and the whole town with a new-found sense of belief.
"It's hard to understand the shift, prior to May to where we are now," explains O'Gara. "There's probably certain factions of the crowd who are in disbelief because you won Europe – because if there's a trophy to be won, everyone would assume it would be the Bouclier [de Brennus, the Top 14 trophy].
"The way sometimes it was built up was that Leinster were untouchable but I was confident that we could get them. And that happened.
"But since then there's a great energy and the standards are a bit higher. They want more, which is great, and the atmosphere is great. It's a great rugby town."
Indeed it is. The population of La Rochelle is only around 75,000 but the Stade Marcel-Deflandre has sold-out for 76 consecutive games now. Even if the 16,000 capacity isn't the biggest, it's a phenomenal achievement. When they won the Champions Cup, more than 35,000 people turned up at the homecoming celebrations in the old port in La Rochelle. They were incredible scenes.
Rugby is the clear and distant number one sport in La Rochelle. Everywhere you go are flags or people wearing club gear. And when they flock to the Marcel-Deflandre, they create one of the best atmospheres in the sport. A visit to La Rochelle should be close to the top of any rugby fan's bucket list.
The latest show there wasn't La Rochelle's best in torrential rain. But having made several changes to this starting XV, O'Gara took some pleasure in seeing his side eventually grind over for the winning try against Ulster with the clock in the red.
"It's easy to gloss over but it's very important," says O'Gara. "We found a way. There weren't many options in those conditions for either side. 
"It says a lot about the team because we had a lot of changes, an awful lot of changes.
"It was frustrating in some respects and then you have to draw yourself back a bit because you've no Atonio, no Bourgarit, Sazy didn't start, Skelton didn't start, Tanga didn't start.
"But that's what you need – you need a squad and that's the big message we're trying to spread here. We want to compete on two fronts and I think when Kerr Barlow didn't start, Danty didn't start, we've got great competition for places and we found a way to win."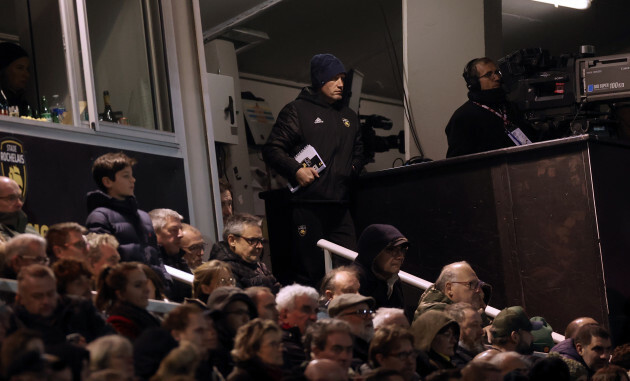 James Crombie / INPHO O'Gara watches on from the stand in Marcel-Deflandre. James Crombie / INPHO / INPHO
We saw evidence of O'Gara's willingness to make tough calls on Saturday too, with wing Teddy Thomas hooked at half time after failing to deal with some aerial targeting from Ulster. His head coach says Thomas "needs to respond now in a positive way."
O'Gara has the final say on all rugby matters in La Rochelle but he's aware that he doesn't know it all. He has put his hand up following bans for his behaviour towards match officials, recognising that he needs to control his competitive streak at times. O'Gara's current touchline suspension concludes at the end of this month, but it hasn't caused much upheaval to his coaching.
He has lots of faith in his assistant coaches, including his former Munster and Ireland team-mate Donnacha Ryan. Ex-Munster back row Sean Dougall has also been working with the club on their contact skills.
Tipperary native Ryan came on board as forwards coach when he retired from playing in 2021 and is a trusted right-hand man for O'Gara.
"Shkin is good," says O'Gara. "He's doing his coaching badges at the same time as coaching. He's doing a bloody good job coaching, he has two kids, so literally he is snowed under. Every year that goes on, the paperwork involved in those coaching badges gets exaggerated and harder. So he's under the pump but the boys love him.
"He sees the game very differently to me, which is good because it's very challenging. He sees it as a second row, which I could never see it as. I see it as a 10, you know? It's great to have the wisdom of how forwards see it and what detail or information they don't need.
"It's one of the hugely interesting things for me going forward – we all play rugby but we all see it so differently. I can guarantee you that myself and Donnacha see it very, very differently but it makes for great discussions.
"We've just got to join the dots to make it complete."
O'Gara and La Rochelle are doing a good job of exactly that.
Get instant updates on your province on The42 app. With Laya Healthcare, official health and wellbeing partner to Leinster, Munster and Connacht Rugby.