FOR ONE OF the landmark weekends in European rugby, there were a few unpleasant visuals during the Heineken Cup semi finals [apart from Munster's loss].
Saracens eviscerated Clermont 46-6 in front of 25,942 supporters at 82,000-seater Twickenham. Meanwhile, over in France, Toulon held off Munster at a Stade Velodrome building site. The main stand of the Marseilles ground — the one Sky Sports set up their cameras — was unopened due to construction work.
Stade Velodrome is one of the stadiums that will be used for Euro 2016 and, as soon as the final whistle blew on Toulon's 24-16 win, workers moved in to remove all traces of the high stakes rugby match.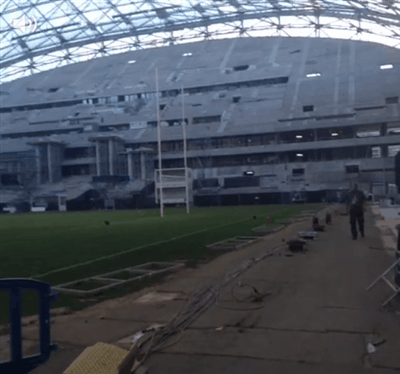 RCT Toulon RCT Toulon
Ronan O'Gara, speaking on Today FM this morning, slammed tournament organisers for staging his former side's semi final at the unfinished stadium. After stating 'the European Cup is a much poorer competition without Munster in it', O'Gara turned his fire on the ERC decision-makers. He declared:
They deserved a better stadium that [the] one for yesterday's game. To have a game of that importance in a stadium with one whole stand malfunctioning is a disgrace. I couldn't believe it when I arrived at the ground. People had to watch, and play in, a game that.. it was the equivalent of the whole East Stand of Croke Park being gone for the semi-final of the European Cup. Just staggering really."
O'Gara continued, "There was over 10,000 Munster supporters there yesterday; they deserved better than that… If you're playing there too, it has an effect. For every set-piece on that side of the pitch, there's no vocal support. Players feed off that; both sets of players."
O'Gara, a two-time Heineken Cup winner with Munster, believes allowing Rob Penney's men were 'always going to have a purple patch' but laments that errors and penalties allowed the French side to go in 18-9 at half-time. "Munster made four or five errors that they usually wouldn't have," he commented. "That's what happens at this level. They don't intentionally drop a ball from a kick off or intentionally spill a ball inside their own 22 and give away a penalty. But when you're stressed, these things happen.
O'Gara was unsure if Toulon were playing within themselves for much of the match, suggesting that the French side were capable of responding to any late scoring surges if needs dictated. The crestfallen reactions of players such as Simon Zebo, James Coughlan and Ian Keatley, among others, at the final whistle pleased O'Gara as it demonstrated, to him, that Munster were not happy with just reaching the last four. "That's the attitude of winners," he remarked.
Dan Sheridan / INPHO Donncha O'Callaghan is applauded off the pitch by Toulon players. Dan Sheridan / INPHO / INPHO
Donncha O'Callaghan, who was interviewed later on the Ray D'Arcy Show, did not attempt to use the stadium's unfinished surrounds as an excuse but admitted that it made for an atmosphere that was 'a bit odd'.
He commented, "Journeys home are always worse when you lose but the support was incredible… sometimes it feels like we don't deserve our supporters but they never separate from the team. They stay with us through the highs and lows. There are Munster supporters today and they've lost too."
"The disappointing thing for us is that it was all our errors," O'Callaghan continued. "It was penalties, including my own… If it was a five point game with six or seven minutes to go, with some of the players we have they can pull out big plays. But we made too many errors ourselves and that's the hard bit to take. You don't mind if a team thumps you out the gate and you can come away saying 'They were really good'. It's when you make mistakes yourself and when it lands on your own doorstep it is harder to take."
*You can listen to the full O'Gara and O'Callaghan interviews on the Today FM Player.