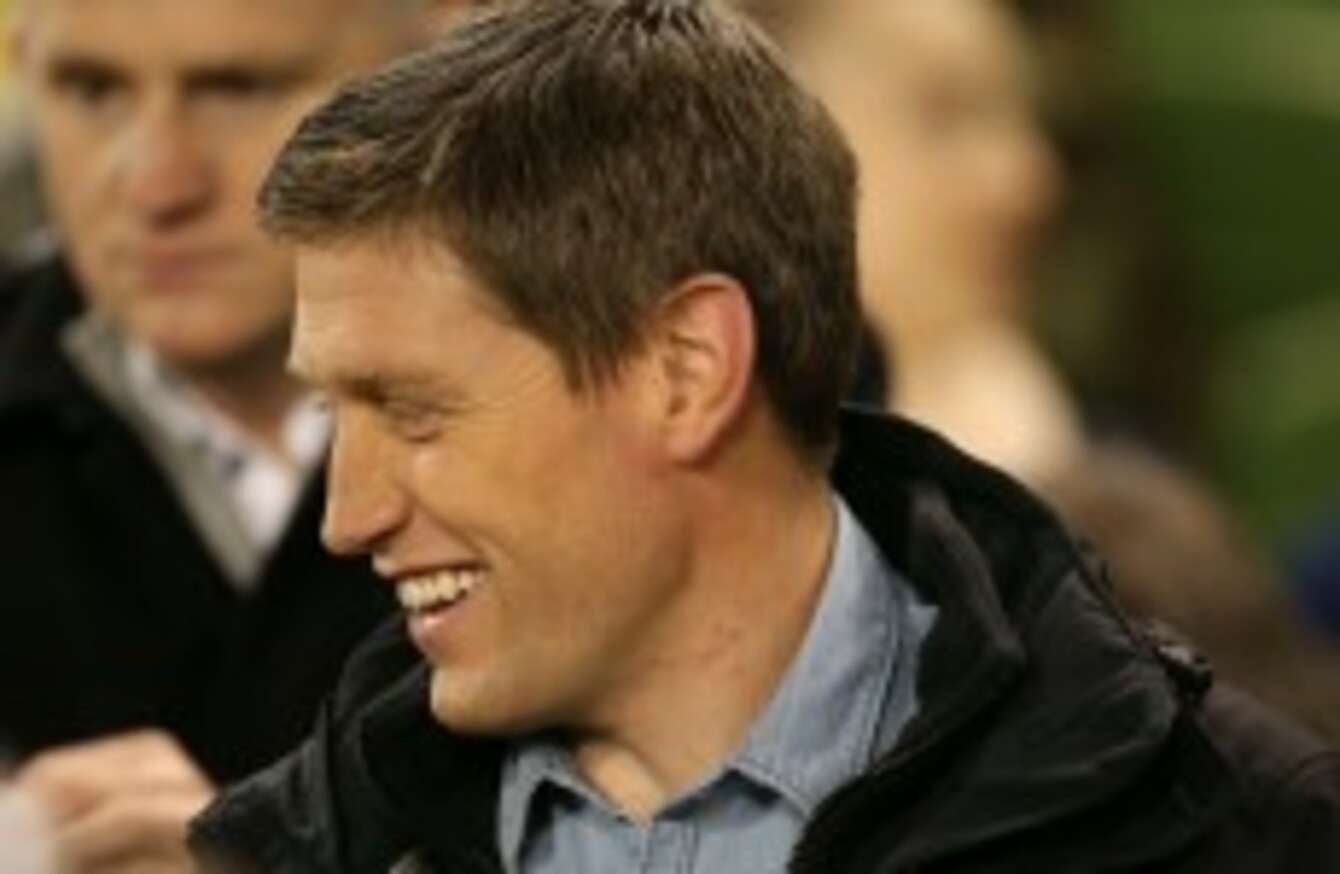 Ronan O'Gara takes in Ireland's match against Australia earlier in the season.
Image: Billy Stickland/INPHO
Ronan O'Gara takes in Ireland's match against Australia earlier in the season.
Image: Billy Stickland/INPHO
RONAN O'GARA HAS revealed he is close to signing a two-year contract extension at Racing Métro, in a deal that will see him promoted to assistant coach.
Speaking on Newstalk's Off the Ball this evening, O'Gara confirmed he is likely to stay on with the Top 14 side and take on greater responsibility for Racing's defensive systems.
"I'm hopefully finalising a two-year deal at the minute, on half decent terms," he said. "It's not… people think O'Gara is in France for money. It isn't [the case]. It's a massive pay cut from playing days. It's really back to zero… I like rugby and I know the Irish system well but I've come to realise, there's more to life than Cork and I have to get out there and see it.
"I really get on well with the two coaches — Laurent Labit and Laurent Travers – and they've promoted me. I'm assistant coach next year and I want to progress but there's so much more to do."
O'Gara says talk of a possible Munster role is not unwelcome but he believes his promotion at Racing will provide a greater role than one he would have been given in Ireland. "I'm probably learning [in France] multiplied by 10 so hopefully, for the bigger, longer term project, that will benefit me."
Whirlwind 12 months
O'Gara admitted it was 'very difficult' at the start of his tenure with the Parisians but believes much progress has been made over the past nine months. He admitted, however, that there was 'not enough quality to beat a team like Toulon' in the Top 14 semi-finals. He believes the 16-6 losing scoreline flattered Racing.
The Cork native was proud of his team's efforts to reach the last four after a slog in a league he believes can often produce average performances and matches. "It's a difficult, difficult league because you have to play in all conditions and the duration of it is mentally sapping. So, from that point of view, it's glass half full as opposed to half empty."
O'Gara said he had undergone a huge change from the ex-player who was taking his first steps into coaching to a man who is now considering extending his stay in France. "It's obviously been a whirlwind 12 months," he said, "because it takes a bit of time for your head to adjust from a player to a coach.
The first two months were almost a case of stand back and observing and not having direct responsibility or anything. But then you become part of the team and as one of the coaches told me, I did kick the door down a little bit to get where I am in terms of my role in Racing but that's what I wanted to do. I needed to express myself and get in there."
He added, "I really enjoy working with the two of them — Labit and Travers — but there's a lot of work to do." Having initially signed on as kicking and skills coach, O'Gara has added defence to his portfolio. "Technically," he added, "because Irish teams have been so good in terms of attack, if you can put that in, you write it out or draw it down in a diagram. It's great."
That defensive strategy, he said, is based on two he firmly believes in; that of Munster and Ireland. "It's controlled, as opposed to an Ospreys type where everything is rush defence… the ability to coach the rush defence mixed with the controlled defence is what interests me. From playing 10, what do you like? You like time on the ball. What wrecks your head is when you don't really know what's coming next from a defensive point of view."
It was not lost on O'Gara that he was 'an average tackler' in his playing days. He believes he made up for that shortcoming by being defensively aware and an organiser.
See Sport
Differently
Get closer to the stories that matter with exclusive analysis, insight and debate in The42 Membership
Become a Member
He remarked that he has not had too much time for reflection, on his rapid rise, as he is busy being an assistant coach of a team chasing top honours domestically and in Europe.
Asked if he was aware of the increased media, and fan, interest in goings on at Racing, O'Gara joked that the French club had almost turned into a fifth province. The money in France is huge, he said, and 'average players are getting paid ridiculous money'.
As for whether or not he is loving life as a coach, O'Gara hesitated before replying, "It's challenging because I've been in a really tight dressing room, where we were like brothers, to gone. Overnight. Finished. Good luck.
"From nothing more to do with [Munster] to driving over to a different country where you're a nobody, it's very different."
You can listen to the full interview here.