LAST WEEKEND, RONAN O'Mahony made a rare error and ended up with a yellow card.
Stade Français fullback Hugo Bonneval was in the air at Thomond Park when the Munster wing collided with him and sent the Frenchman sprawling. With O'Mahony's feet still on the ground, JP Doyle went for the card after a brief TMO consultation.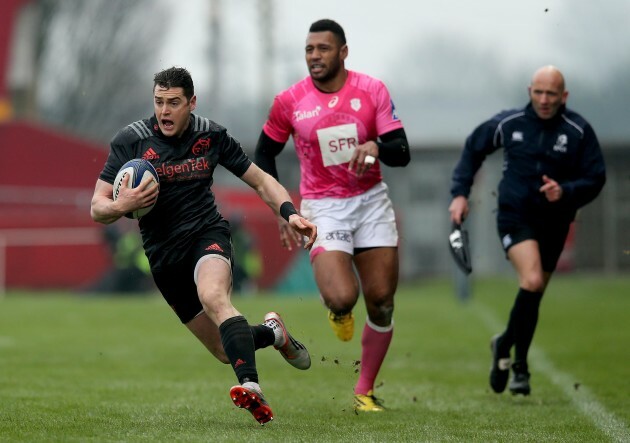 Ryan Byrne / INPHO O'Mahony was in good form again last weekend. Ryan Byrne / INPHO / INPHO
O'Mahony has hounded after kicks with appetite and accuracy for Munster across his six appearances so far this season, making the incident all the more surprising.
"It was just a timing thing," says O'Mahony. "You wouldn't ease off or anything, you'd go hell for leather. It was just a timing thing trying to get up in the air. Just misread it with my eyes on the ball and he got over me and obviously it didn't look great."
That moment aside, it was the latest impressive performance from O'Mahony and he says he was "pretty pleased" with how he did in the bonus-point victory. The Limerick man was used extensively by Anthony Foley last season, making a total of 19 appearances, and would likely have had more game time this season but for a troublesome groin issue.
Osteitis pubis delayed the start of O'Mahony's season until October, but he is making up for lost time. His work rate has been exemplary, his tackling fierce and his burst of pace always a danger.
Watching Munster live underlines how strong the former Castletroy man's communication has become too, as he embraces the opportunity to roam infield that the game plan created by Foley and Brian Walsh allows.
"With a groin injury at the start of the season I was out for four or five months and that's obviously out of my control. It was a bit longer than I expected, but the coaches told me to get back playing rugby and stay fit and you'll get you chance," says O'Mahony.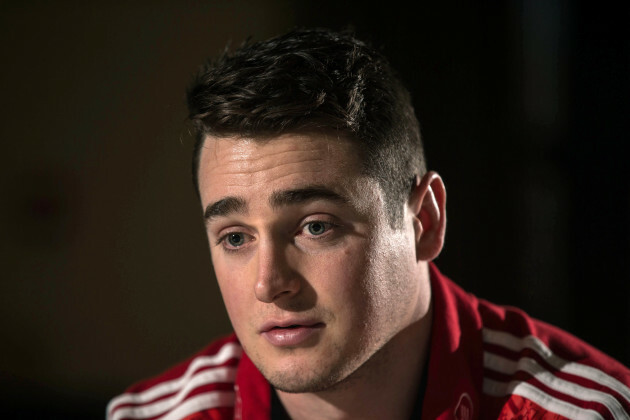 Cathal Noonan / INPHO Cathal Noonan / INPHO / INPHO
"The chances have come, so you want to grab them with two hands when you are there and there is no better stage than Europe."
Now 26, the likes of O'Mahony will be expected to stand up over the coming months as Munster face the prospect of playing without their Ireland call-ups.
Those international players will feature in Sunday's Champions Cup clash with Treviso in Italy of course, but Keith Earls, Simon Zebo, Conor Murray, James Cronin, Tommy O'Donnell, Donnacha Ryan and CJ Stander will head for Carton House thereafter.
Some of those men may be released to Munster intermittently, but the likes of O'Mahony will be on the training paddock every day back in Limerick. As Munster look to salvage their Pro12 season, the less renowned squad members will be essential.
"Like every other Pro12 team we are going to be missing our internationals," says O'Mahony. "It's a crucial period for us, we need everyone to step up. Everyone who maybe hasn't been getting that much game time, may be a bit disheartened that they haven't been getting game time, but there are opportunities coming.
"Everyone is on the ball, everyone should know their roles because when those opportunities come you want to take them with both hands, and stake your claim."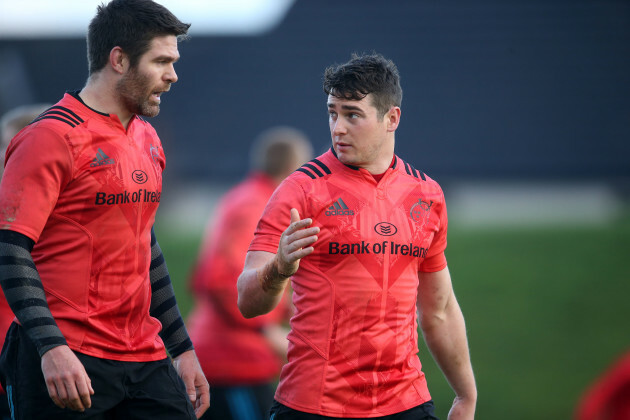 Cathal Noonan / INPHO O'Mahony with Billy Holland at Munster training. Cathal Noonan / INPHO / INPHO
Munster currently sit fifth in the Pro12 table, but if they can build more momentum this weekend in Italy, a winnable fixture presents itself on the return to the league later this month in the shape of Zebre away.
Foley's men enjoyed a positive run during last year's Six Nations, helping them towards an eventual second-place finish in the regular season table. There will be hopes of something similar this time around and O'Mahony believes Munster have the depth to get back on a winning run.
There is unbelievable quality across the team. Not everyone gets a chance but, like myself when I was trying to come through, you are sitting in the background and you are waiting. You are prepared, you are fully clued into what's going on.
"When you do get your chance you just have to take it. Sometimes a lot of lads come in you might not have even heard of. It could be a couple of their first games, a couple of the young academy boys.
"You will see they will put in good performances because it's something they want to do, and it's something they have been working to do for a couple of years."