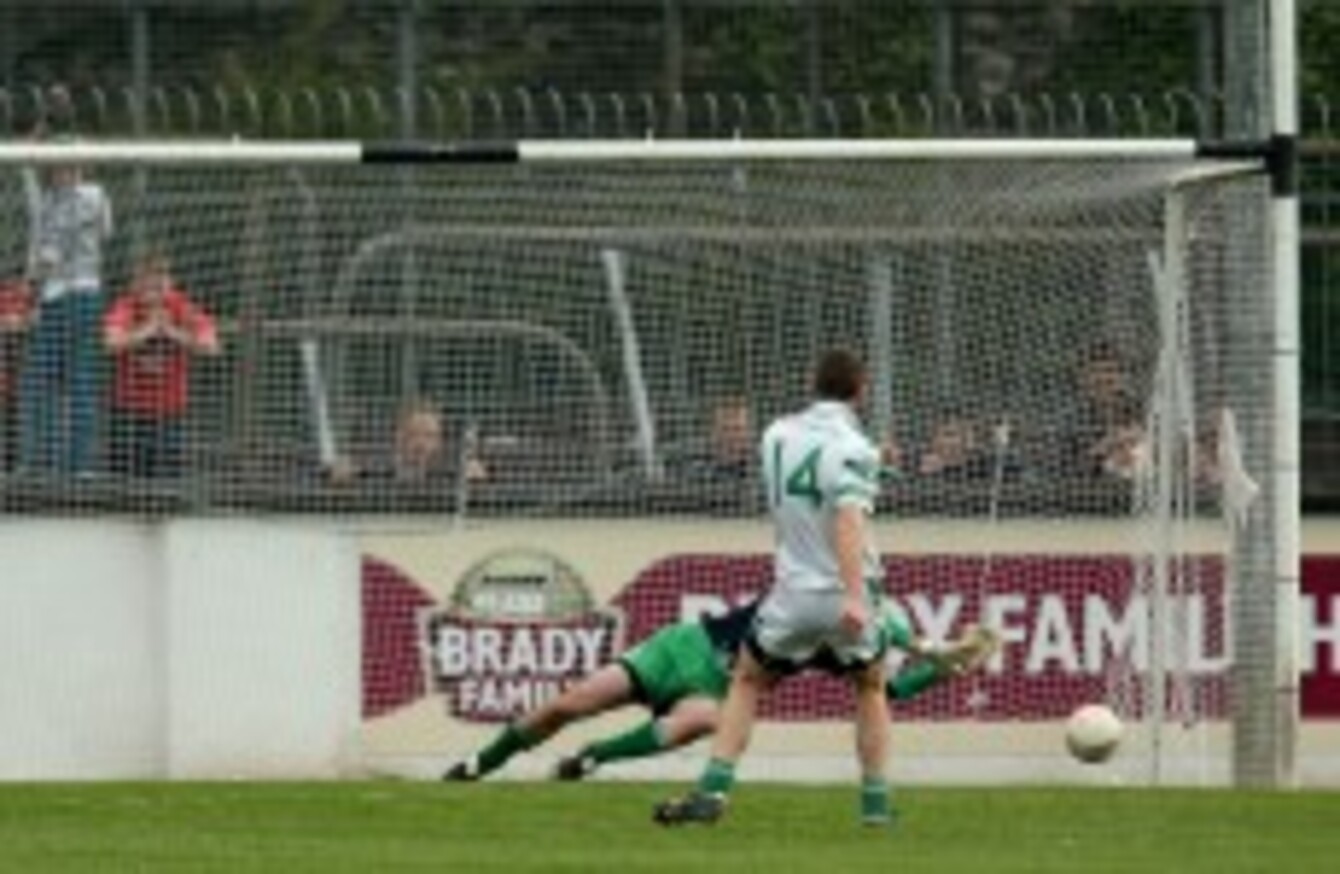 Sarsfields Patrick O'Sullivan saves a penalty from Ronan Sweeney of Moorefield.
Image: INPHO/Ryan Byrne
Sarsfields Patrick O'Sullivan saves a penalty from Ronan Sweeney of Moorefield.
Image: INPHO/Ryan Byrne
RECENTLY-RETIRED KILDARE star Ronan Sweeney admitted that securing another Kildare senior championship for Moorefield, his and the club's sixth title since 2000, was made all that sweeter as it came against their fiercest rivals, Sarsfields.
It was the fifth time the two Newbridge clubs had faced off in the final in the last 12 years with Moorefield taking victory on the last four occasions.
"Well I suppose it does, there's no point in saying it doesn't. We're from the same town and that but overall, we're champions and that's all that counts. In fairness to them (Sarsfields) they're a young team and they'll be back in many more finals.
"It's great for the town because, them winning the double, the league and championship last year, it really annoyed us and it really stirred us on to work that bit harder this year. We won the double this year so its great that we can get the best out of each other that way, and I'm sure they'll be back stronger again next year."
Trailing by three points at the interval, Sweeney revealed that manager Luke Dempsey told them a few home truths in the dressing room at the break. "He just said it as it was — we weren't performing. We had gone back into our old ways that we had been at at the end of last year and maybe at the start of this year of taking silly shots and not working hard enough in the forwards. Our tackling wasn't good enough and Sarsfields were delivering the ball in far too easy.
"We were lucky to go in only three points behind to be honest with you. We knew we had the work done though and we knew we could call upon that, which in the end we did."
The current secretary of the GPA, Sweeney has also recently taken up a role as selector with the Waterford senior footballers under manager Niall Carew. He admitted that while Moorefield's provincial campaign will take precedence in the coming weeks, he is looking forward to working with the Munster county.
"I'm not complaining, any time you play in a Leinster club championship is unbelievable and that's probably number one for me at the moment. With Waterford we've met up with the squad and I'm looking forward to getting involved with them but we won't be training til the first week of December on the pitch so I can fit both in very easily at the moment."
For now though as he says, he is focussed on playing and hopefully regaining the Leinster trophy the club last won seven years ago. "Hopefully we get a good run in the Leinster campaign because we have had success in it before, winning in 2006. You get a little bit of that taste of success and you really want to knuckle down and do it again because I think we're capable of it, I really do. I think we are capable of challenging with the best in Leinster with a bit of luck.
"This group of players are so ambitious it's unbelievable. I think a lot of fellas felt they let themselves down, and I know myself I did, in the All-Ireland series in 2006. It's very hard to get out of Kildare but when you do you think, we'll have a right go and try and challenge."