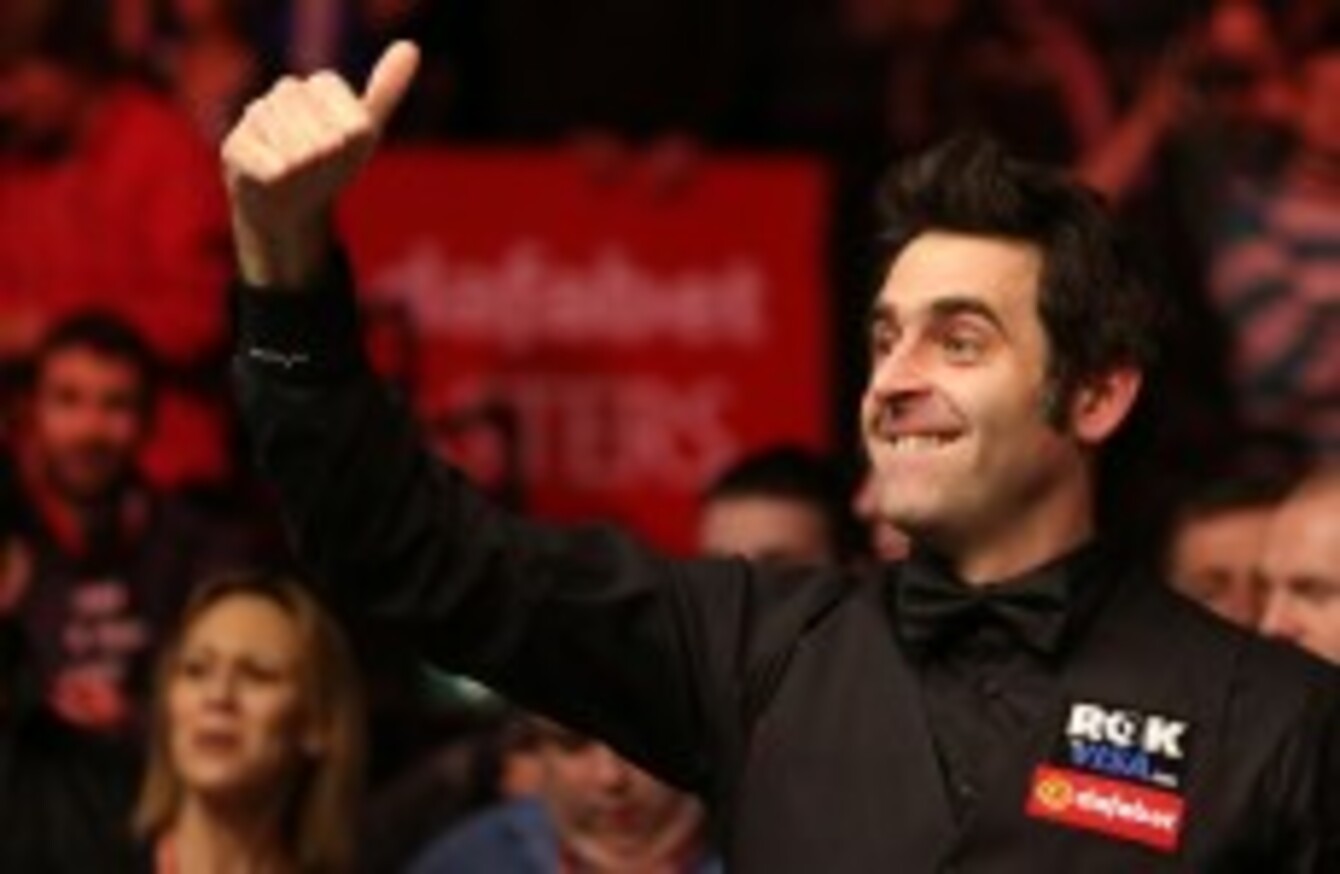 Ronnie O'Sullivan was in devastating form.
Image: John Walton/PA Wire
Ronnie O'Sullivan was in devastating form.
Image: John Walton/PA Wire
RONNIE O'SULLIVAN WON his fifth Masters title with a 10-4 win over defending champion Mark Selby in the final at London's Alexandra Palace.
World champion O'Sullivan all but put the result against his fellow Englishman beyond doubt by storming into a 7-1 lead at the end of the first session in the best of 19 frames contest.
'The Rocket' won the opening frame of the evening session while Selby claimed three frames during that second session to give the scoreline a touch more respectability. Indeed, there was a sense he was delaying the inevitable and the 38-year-old O'Sullivan duly won his first Masters title since defeating Selby in the 2009 final.
"Mark loves coming from behind, you never feel you're at the winning line," O'Sullivan told the BBC after collecting a winner's cheque for €242,540 euros. "99% of players would give up; he's made of metal."
Just a year ago O'Sullivan, one of the most talented players snooker has known but with a sometimes volatile temperament, didn't play in the Masters but attended as a spectator amid suggestions he was on the verge of quitting the game completely.
"I enjoyed watching better last year because this is hard work," O'Sullivan joked. "I hadn't been to any tournaments and was enjoying not playing but came down and I knew I missed it. I didn't miss the stress but I missed the lads and being on tour."
Selby, who defeated O'Sullivan in the 2010 Masters final, admitted he had been well-beaten this time. "Whenever he got the chance he put me under pressure," he said. "He's fantastic at taking his chances."
O'Sullivan, in a record 10th Masters final, raced into a 5-0 lead against Selby, himself a three-time Masters champion. He rattled off the first three frames with breaks of 97, 70 and 96 before taking a scrappy fourth, the last before the mid-session interval.
The break did little to interrupt O'Sullivan's flow as he took the fifth frame before Selby spared himself the embarrassment of a whitewash by winning the sixth. However, the world champion took the seventh on a re-spotted black, having been 35 points behind with 35 left on the table, and then won the final frame of the session.