"It's hard to be humble when you're as great as I am."
-          Muhammad Ali
"I learned early to drink beer, wine and whiskey. And I think I was about 5 when I first chewed tobacco."
-          Babe Ruth
"Everyone knows me. I'm more up and down than a whore's drawers."
-          Ronnie O'Sullivan, when quizzed on whether he'd defend his World Championship title next year.
THOUGH THE STARS mentioned above come from vastly different backgrounds and have enjoyed their peak in wholly different eras, each could legitimately be described as being among the greatest ever athletes to compete in their respective sports. Moreover, there are certain levels of similarity between each of them, as illustrated by the aforementioned comments.
All three quotes, in some manner or another, belie the traditional picture-perfect superhero-esque image irrevocably and unfairly associated with those who feature at the very top of elite sports. Ali ostensibly reveals himself to be narcissistic, while Ruth indicates he is an inveterate drinker and O'Sullivan outlines his indecisive nature.
Yet, negative undertones aside, what distinguishes each of the above quotes is that they appear to be brutally honest reflections of each individual's persona. Certainly, the fact that none of these sentiments portray the athlete in question in a particularly positive light suggests they are hardly hiding their authentic personality.

Out of the three, it is now generally agreed that Muhammad Ali and Babe Ruth were unequivocally positive influences on their sports. Ronnie O'Sullivan, on the other hand, for all the virtuoso displays of matchless prowess he demonstrates in his field, has throughout the course of his career been consistently accused of engaging in behaviour that is damaging to snooker.
And there is no doubting that he has, in the past, been prone to ill-advised acts that the sport's authorities have frowned upon – his premature concession of a 2006 UK Championship match against Stephen Hendry being a prime example.
Yet to say that he is damaging snooker, as Steve Davis recently implied, after comments O'Sullivan made concerning his lack of enthusiasm for the sport, seems misleading. On the contrary, there is strong evidence to suggest he is actually increasing interest in the game with each match he plays, and every elusive quote he utters.
Last night, TheScore.ie's report on O'Sullivan's World Championship triumph attracted over 20,000 views. Such a relatively high figure for what is not an especially popular sport (in Ireland at least), suggest it is more than just hardcore snooker enthusiasts that are reading the story. Indeed, it seems unlikely that the piece would have had half as many views in a hypothetical scenario whereby the final featured two players other than O'Sullivan, and had the mercurial figure opted not to end his 11-month sabbatical from the game. In other words, there are undoubtedly many people who are primarily interested in Ronnie O'Sullivan – the brand.
Exclusive Six
Nations Analysis
Get Murray Kinsella's exclusive analysis of Ireland's Six Nations campaign this spring
Become a Member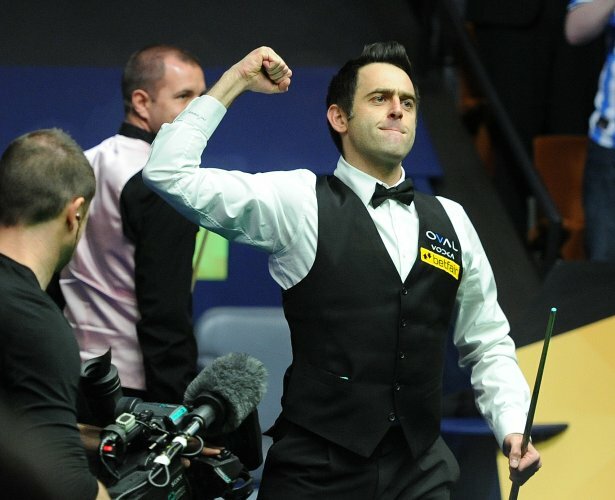 (Ronnie O'Sullivan celebrates after winning the final match during the Betfair World Championships at the Crucible – Anna Gowthorpe/PA Wire/Press Association Images)
And what attracts casual sports fans so strongly to O'Sullivan? It can perhaps best be described as 'the Happy Gilmore effect'. Like Happy Gilmore, the protagonist in the movie of the same name, O'Sullivan comes across as a highly impulsive, temperamental individual whose characteristic honesty and penchant for the unexpected is in stark contrast to the dull image often associated with the sport in question, and thus, he draws an unusually high number of supporters to big events.
Evidence for O'Sullivan's widespread appeal was incisively conveyed in a recent piece by Ben Dirs for BBC Sport. He wrote as follows:
"Huddled outside the Crucible's stage door after any given match during the World Snooker Championship is a gaggle of autograph hunters: 15 at most, mostly men, clutching pristine souvenir programmes and pens to their chests.

"This is unless Ronnie O'Sullivan has just played, in which case the gaggle is swelled by women and small children. "Where's Ronnie?" the kids ask, and you don't have the heart to tell them that their hero is in the press room, telling reporters he's only here for the money and doesn't really want to be here at all."
What can obviously be deduced by O'Sullivan's popularity is that sports fans have an innate attraction to characters. The player's tendency to speak so openly about his feelings of disinterest in the sport and preference for other aspects of life has promptly consolidated his place in the public's imagination. His much-publicised battles with depression and addiction have also inspired a level of empathy not normally reserved for snooker players, who are often stereotypically thought of as cold and machine-like.
Acclaimed sports writer and some-time Score.ie contributor Ewan McKenna last week wrote a piece, which expressed frustration at the anaemic manner of GAA interviews and the increasing prevalence of clichéd PR speak uttered by players and managers, among other issues. It is a frustration felt by most sports journalists nowadays, with stars often appearing to be speaking on auto-pilot, all the while carefully trying to avoid saying anything of interest. Surely therefore, it is these types of attitudes that are far more damaging to a sport, rather than athletes who speak openly at all times, even if it's in the type of negative manner that O'Sullivan often favours.
Ultimately, sports fans appreciate characters and narratives as much as anyone else, not to mention honesty. So, for athletes or authorities to disingenuously attempt to stamp out any vestige of personality or single-mindedness in any given game is self-defeating, and risks alienating those who prefer their idols to resemble something other than monosyllabic robots.