IT WAS NEVER likely Rory Best was going to make a fuss over reaching the 100-cap milestone for Ireland.
The Ulster hooker is about as unassuming as professional rugby players come, down to earth and all about his team-mates.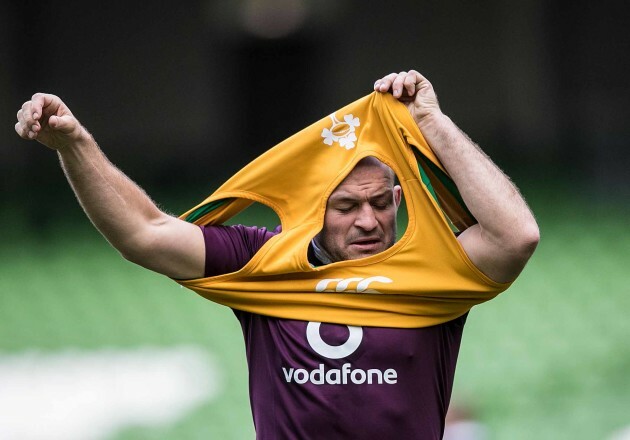 Billy Stickland / INPHO Best at Ireland's captain's run today. Billy Stickland / INPHO / INPHO
He looked a little embarrassed at the questions after Ireland's captain's run this afternoon, having to speak about the prospect of winning cap number 100 against the Wallabies tomorrow.
"I think it will probably be more important whenever I eventually do retire, which will hopefully be a while," said the 34-year-old. "You sit back and you look at everything you've achieved.
"Obviously, what these milestones do is show the amount of support that is out there – not just for me personally, but the whole Irish team.
"The amount of support we got after the Chicago game and now the last 24 hours since the squad announcement. The amount of well wishes you get, social media, text messages. It just brings it home to you that there is a lot of support for us out there and a lot of people who really, really want us to do well.
"When I do look back, this will rank up there as one of, if not the best achievement in the game."
Best says he never imagined becoming a centurion when he pulled on a senior Ireland jersey for the first time back in 2005.
'Can you imagine getting to 50?,' was one of his thoughts as the caps began to rack up. Now, he finds it hard to believe that he is joining a club that also includes legends Brian O'Driscoll, Paul O'Connell, Ronan O'Gara and John Hayes.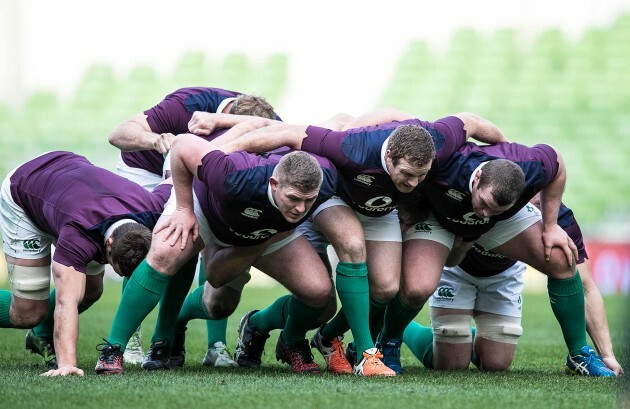 Billy Stickland / INPHO The Irish scrum packs down in the Aviva. Billy Stickland / INPHO / INPHO
He will stick to his familiar routine over the next 24 hours – enjoying the antics of Conor Murray, Simon Zebo and Peter O'Mahony in the hotel room of John Moran, the Ireland bagman, at the Shelbourne this evening, and then sleeping for as long as he can.
As positive as reaching this milestone is the fact that Best's performance levels have not dipped.
"Look, I feel that I am playing well," said Best. "I think there is a lot made about it whenever you turn 30. Everyone says that you're done but, for me, age is just a number.
"When you've never been overly fast and you lose a little bit of pace when you get a bit older, it doesn't really matter. You hopefully make it up in your head.
"I don't see that I'm playing any worse than I ever did so, look, I feel fit. I feel happy with my game and the big thing for me is that I'm really enjoying it."
Assistant coach Andy Farrell paid tribute to Best's durability and the fact that the hooker is playing his best rugby at the age of 34, while head coach Joe Schmidt yesterday compared Best's leadership to that of Paul O'Connell.
"To be fair to Besty, the biggest two similarities I'd make with him and Paul O'Connell are – one, their preparation; they go through the most thorough preparation they can to make sure physically they're ready to go," said Schmidt.
"Two, neither of them say a lot. Neither of them talk a lot. There are other guys who say things in the team, he is action-focused and he just gets on and does his bits of the game really well and he'll spur others on when required.
Tommy Dickson / INPHO Best fielded lots of questions about his 100th cap. Tommy Dickson / INPHO / INPHO
"I've the utmost respect for him."
Schmidt first knew Best as an opponent in Ulster colours, and those experiences made him excited to link up with the hooker on his own team when he took the Ireland job in 2013.
With Best having succeeded O'Connell as captain, Schmidt hasn't been let down.
"I always saw Besty as a really difficult guy to get on top of when I was coaching Leinster," said Schmidt. "We always saw him as the guy who, if he dropped his head, you knew you were on top of Ulster. It just didn't happen.
"He is the guy who a lot of people don't notice, but his clean-out numbers and his carries when there's nowhere to go…
"There's slow ball, a brick wall and Besty will put his hand up and he'll still get his feet under and give a bit of a nudge forward so you can start constructing something.
"Defensively, he works so hard that he's pretty hard to fault. I thought his throwing last week [was excellent].
"Those sort of things… he's calm in the moments when you need to be calm, when you need to get your heart-rate down and be accurate, but when you need you heart-rate up and you need to be working, he can be leading there as well."
The42 is on Instagram! Tap the button below on your phone to follow us!