DONEGAL BOSS JIM McGuinness insists Rory Kavanagh's indiscipline that resulted in a red card in yesterday's Division 2 league final was 'not good enough'.
Kavanagh was sent-off for striking Monaghan's Darren Hughes with a boot and while McGuinness admitted the midfielder looked to have been provoked, he made no excuses for the dismissal.
Donegal now look set to have to plan without Kavanagh for their Ulster opener against Derry on May 25th.
McGuinness believes discipline will have to improve and referenced defender Eamonn McGee's sending-off for a stamping incident in last year's All-Ireland quarter-final loss to Mayo.
"He's lost his discipline. We were here in August and Eamonn McGee lost his discipline and it's not good enough. It's something we could have done without. You represent your county, you've a duty to do the right thing.
"He just got involved in something he shouldn't have got involved in and Eamonn done the same thing. We spoke about it there now and will just have to take that lesson and see what happens in the next couple of weeks.
"He probably was (provoked) but he still has to retain his discipline. That's going to happen and gonna happen in championship football as well. A lot of stuff went on last year in the Ulster final as well and you can't bring that in to the game, You've got to retain your focus, do the right thing and work towards what we're doing in the training field."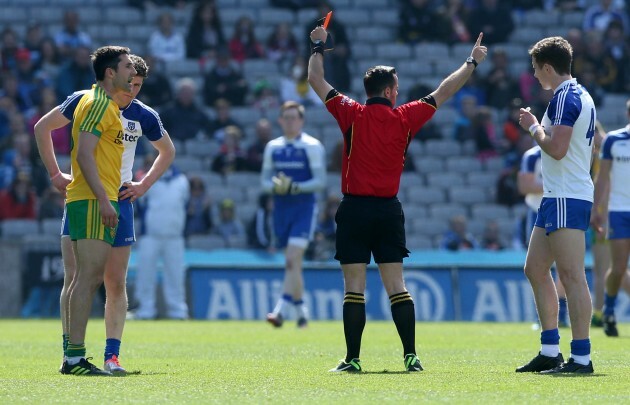 Donall Farmer / INPHO Rory Kavanagh's lack of discipline was 'not good enough' according to Jim McGuinness. Donall Farmer / INPHO / INPHO
McGuinness expressed his disappointment with Donegal's six-point loss as Monaghan gained control of the game in the wake of the sending-off.
"We were pushing on, it was a three-point game and we'd the wind at our back. I thought we could have pushed on and won the game but it (losing a man) leaves it very difficult.
"They're obviously very good with the ball in their hand and they'd a man over and it made the last period of the game very very difficult. We were building momentum but that was kind of taken away. There was only so long you can play with 14 men against a good side with a dry ball.
"It's disappointing because we've played very well through the league and put in some very good performances and now our worst performance of the year was today. We're in a phase of training in terms of Derry and we did work very hard during that week because we're only four weeks out from the game. I don't know if that was a factor or not."
Tommy Grealy / INPHO Tempers flared between both sets of players after Hughes was struck. Tommy Grealy / INPHO / INPHO