Updated at 18.58
RORY MCILROY JOINED the elite list of golfers to have won three of the four major titles at Hoylake on Sunday, but he had to battle all the way against Sergio Garcia and Rickie Fowler before bagging his first British Open title.
At 25, McIlroy joined legends Tiger Woods and Jack Nicklaus as the only players to have achieved that feat by the time they were 25.
The Co. Down man closed with a 71 for a 17-under par total of 271, two strokes clear of Garcia who closed with a 66 and Fowler with a 67.
A further two strokes back came American Jim Furyk with a final round of 65. Australians Adam Scott (66) and Marc Leishman (65) were on 12 under.
It was a magnificent wire-to-wire win from McIlroy, who is just the seventh player in Open history to to so, but the day was not without its share of drama.
Starting with a whopping six-stroke lead, McIlroy confidently birdied the first, but back-to-back bogeys at five and six saw his lead halved as Garcia emerged from the chasing pack.
But he birdied the 10th to keep his challengers at arm's length and then stood firm down the back nine against Garcia and a late push by Fowler.
His third major title follows eight stroke triumphs in the 2011 US Open and the 2012 US PGA Championship.
Danger
Such was the majesty of McIlroy's three first rounds of 66, 66 and 68 at Royal Liverpool that few believed he was in any danger of repeating his collapse at the 2011 Masters when he led by four strokes going into the final round only to shoot 80.
And despite some early movement from such as Robert Karlsson, Marc Leishman and Victor Dubuisson, the rest of the field were too far behind to be able to apply any real pressure on the leader.
But suddenly it changed after McIlroy's back-to-back bogeys, followed shortly after by an eagle from Garcia at the 10th.
The lead was back down to two and the Spaniard had a sniff of possibly finally winning a major title at the age of 34 after a long run of near misses.
But he narrowly missed a birdie at the 11th and playing behind him, McIlroy grabbed another birdie at 10 to ease back to three ahead.
Garcia saw his chances all but vanish when he took two shots to get out of a greenside pot bunker at the par-three 15th and a superb chip by McIlroy to set up par at the 17th sealed the deal.
The man from Holywood had a three-stroke lead with a hole to play and he was able to enjoy a victory walk down the last
For Garcia, it meant the Spaniard remains ranked second in most major starts without a victory with 62, trailing only Lee Westwood who has two more.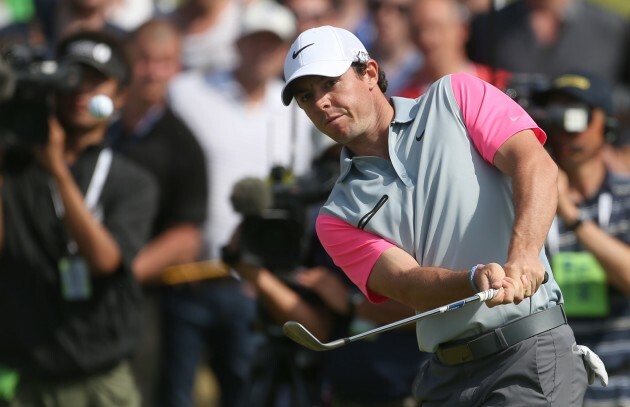 Fowler, a 25-year-old American also seeking a first major title, never really got close enough to worry McIlroy apart from playing in the final pairing with him.
Much prior to the day's main action Tiger Woods struggled in with a 75 which left him 69th out of the 72 players who made the cut – his worst performance in the 18 Opens he has played in.
Defending champion Phil Mickelson was never in the hunt as he closed with a 68 to get to five under and one of the biggest rounds of applause of the day went to 64-year-old five-time former Open winner Tom Watson who had a fine 68.
But the day deservedly belonged to McIlroy and the focus will now inevitably switch to Augusta National next April when he will be in a position to become just the sixth player to win all four major titles during their career.